Frose Cocktail Recipe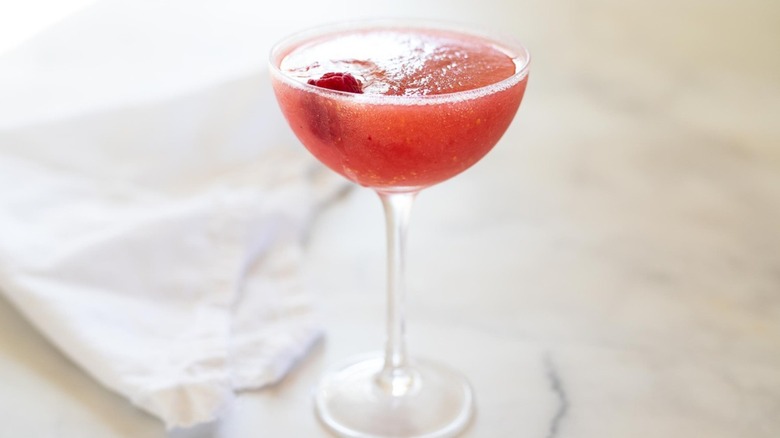 Kit Hondrum/Mashed
We all love enjoying a glass of wine from time to time, but just because you love the classics, that doesn't mean you can't deviate from the norm and try something different. And if you're already a fan of rosé, there's no reason not to try a frozen version of the same thing. Enter frosé. It's got the same delicious taste you love, and it's the perfect drink to sip on a hot day.
Recipe developer Kit Hondrum takes the basic frosé concept of a pink wine slushie made with berries and kicks it up a notch with the addition of some berry-flavored liqueur. "This cocktail recipe is super easy to make," she tells us. Hondrum describes it as being "perfect for a party or date night." It's also something you can enjoy solo, sipping in your lawn chair as you bathe in the glory of a perfect summer evening (or huddle in your living room armchair dreaming of summers to come).
The ingredients you'll need to make this frosé cocktail
Kit Hondrum/Mashed
Frosé starts with rosé, of course. Hondrum picked a dry one since the drink gets plenty of sweetness from the liqueur and the fruit. Speaking of the liqueur, the one you'll be using is the raspberry-flavored Chambord. Instead of making this wine slushie with ice cubes, you'll also be using frozen fruits — Hondrum went with a combo of strawberries and raspberries, but you could go with one or the other or even use frozen blackberries or a frozen berry mix. As a final touch, you'll also be using a small squeeze of lemon juice, although Hondrum says you could also "add a splash of ice-cold vodka to the blender for an extra boozy version" if you like.
Everything comes together in the blender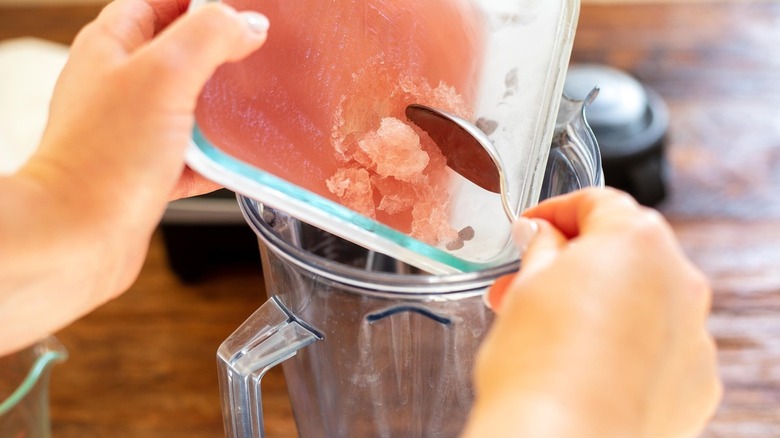 Kit Hondrum/Mashed
The fist step in making this drink involves freezing the wine. Mix a cup of the rosé with the Chambord, and pour the mixture into a shallow container with a lid. Snap the lid on, then stick the mixture in the freezer for at least three hours or up to overnight.
Once the rosé has frozen, scrape it into a high-powered blender and add the fruit, lemon juice, and remaining rosé. Blend everything on high until all ingredients are well combined, which Hondrum says should take about a minute. If you're wondering what type of blender would be considered sufficiently high-powered, Hondrum says, "I use a Vitamix blender with a tamper attachment." If you've used your blender in the past to make smoothies, shakes, or any other type of frozen drink, though, it ought to work for this drink too.
If you want seed-free frosé, there's one more step involved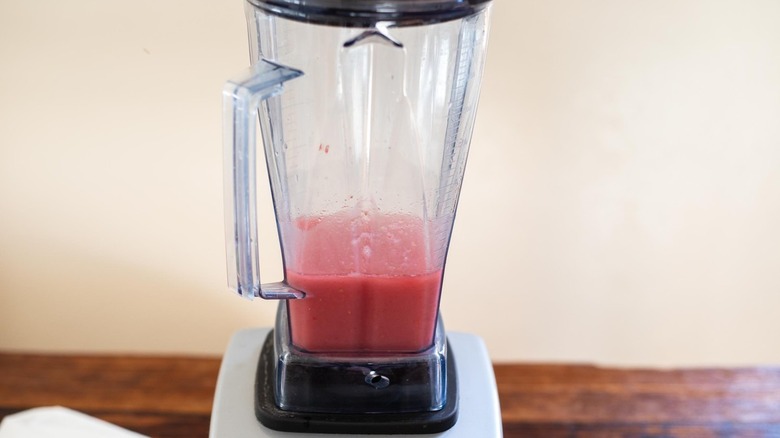 Kit Hondrum/Mashed
If you follow the instructions given above, Hondrum admits, "There will be some seeds in the cocktail." She does say, though, that in order to make a drink that's "perfectly smooth," all you need to do is blend the frozen berries along with the cup of wine and Chambord used at the very beginning of the recipe. Once the berries and booze are well-combined, strain the liquid, then pour it into that shallow container, close the lid, and freeze. Once the mixture is frozen, blend it with the lemon juice and the remaining rosé, and be secure in the knowledge that there should be no seeds left to get in your way.

Our take? The seeds aren't really a problem. If they don't bother you either, you can skip this step.

Frosé makes for a pretty pink drink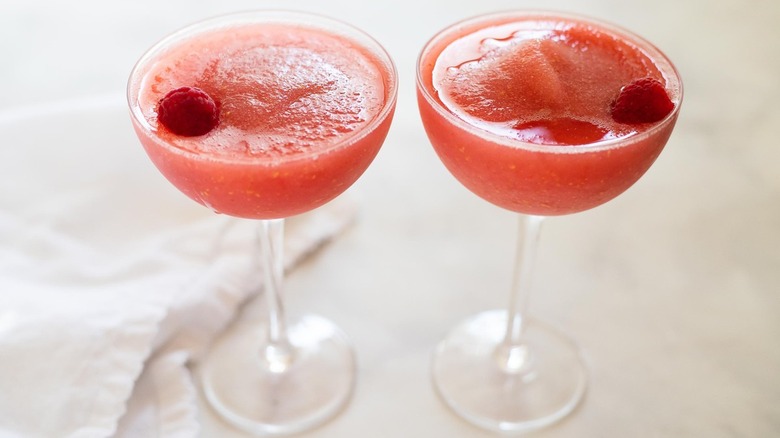 Kit Hondrum/Mashed
Wondering what to call those shallow, bowl-shaped champagne glasses Hondrum used for her frosé presentation? She says those are called coupe glasses. If you don't have any, you could try champagne flutes, wine glasses, or any other type of glass since the drinks will taste just as delicious no matter what drinkware you use. For an extra-pretty garnish, Hondrum suggests fresh raspberries.
Hondrum does say this frosé "is best consumed right away," but she says that it can be stored in an airtight container in the freezer. When you take it out, the frosé should be what she calls "an icy sorbet consistency," but after about 15 minutes at room temperature, it should have thawed to a drinkable state.
Frose Cocktail Recipe
We all love enjoying a glass of wine, but just because you love the classics, that doesn't mean you can't deviate from the norm and try something different.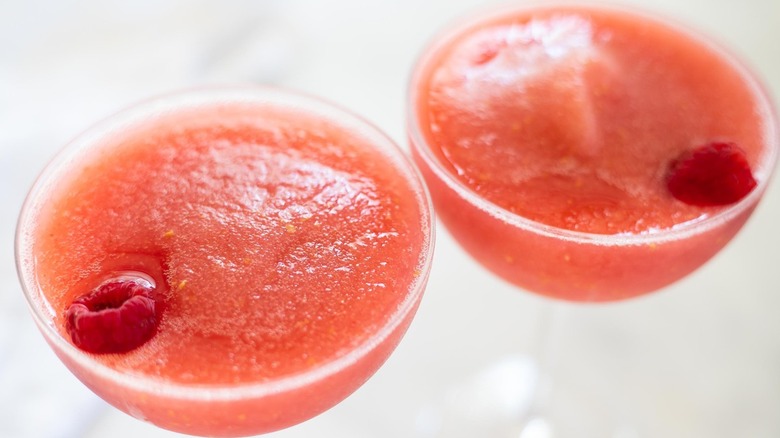 Ingredients
10 ounces chilled dry rosé, divided
2 ounces chilled Chambord
¼ cup frozen strawberries
¼ cup frozen raspberries
1 teaspoon freshly squeezed lemon juice
Optional Ingredients
Directions
Pour 8 ounces rosé into a shallow container along with the Chambord and cover the container with a lid.
Freeze the mixture for at least 3 hours or overnight.
Scrape the frozen rosé mix into a high-powered blender and add the berries, lemon juice, and remaining rosé.
Blend on high until well-combined (about 1 minute).
Pour frosé into coupe glasses and garnish with fresh raspberries if desired.
Serve immediately.