Making Red Lobster's Cheddar Bay Biscuits At Home Is Now Easier Than Ever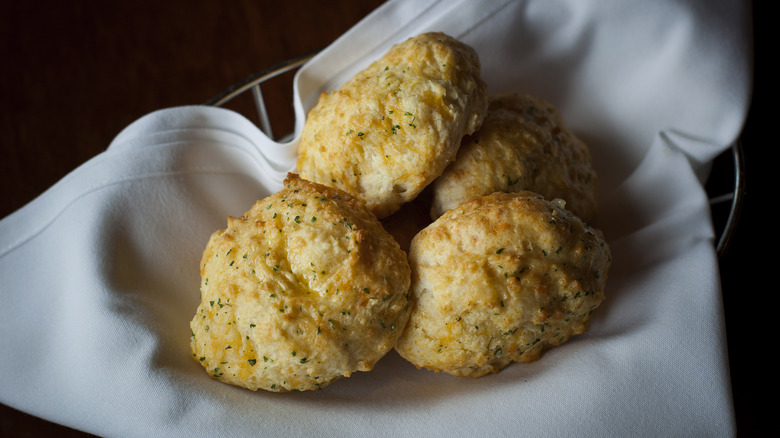 Bloomberg/Getty Images
You might have a hard time finding someone who doesn't enjoy Red Lobster's Cheddar Bay Biscuits. While the chain may have started in 1968, one reviewer noted that the restaurant didn't take off on a national level until around the time the chain introduced its iconic biscuits in the '90s, per The Chicago Tribune. Nowadays, people flock to the restaurant to partake in these signature baked goods, and Red Lobster took notice.
According to Best Products, the seafood empire started selling a packaged Cheddar Bay Biscuit mix at Sam's Club in 2012, later expanding the product range in 2014 to include a gluten-free and Rosemary Parmesan Biscuit mix. In the early days, you would have to mix together a batter and spoon the soon-to-be biscuits onto a tray. Red Lobster has now made everyone's life that much easier by coming out with a new way to buy Cheddar Bay Biscuits: frozen and ready to bake. You just need to heat up your oven, place the biscuits on a tray, and pop them in to enjoy these baked goods at home. While this item might have you eager to go on an impromptu shopping trip, don't think you can find these frozen biscuits everywhere.
A new era for Cheddar Bay Biscuit fans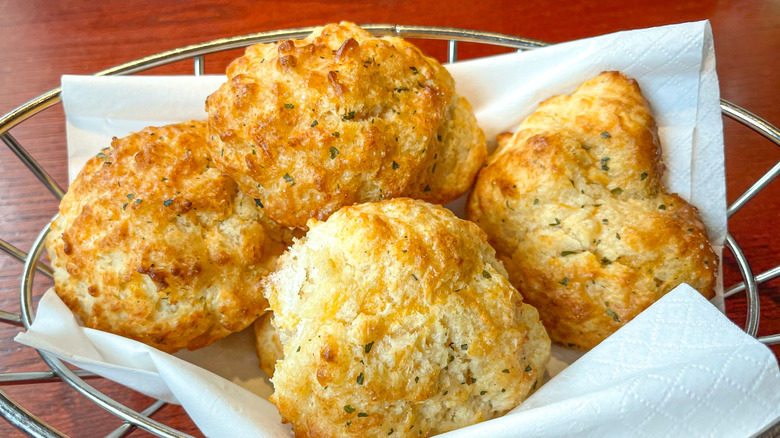 P Maxwell Photography/Shutterstock
According to Food & Wine, Red Lobster fans have to make an expedition out to their local Walmart if they want to get their hands on this product. These frozen biscuits take just 30 minutes to prepare, and the only real work comes in the form of whipping up a dipping sauce, which involves melting butter and mixing in a pre-packaged envelope of spices that comes in the biscuit's package. Best Product reports that each box comes with eight biscuits, so if you need to feed a crowd, you may want to stock up on the product on your next grocery run.
If you can't get enough of Red Lobster's Cheddar Bay Biscuits, this new frozen variety may just hit the spot. When you feel the urge to dig into a basket of these biscuits that won America over, you can't ask for an easier way to prepare them.