Copycat Red Lobster Cheddar Bay Biscuits Recipe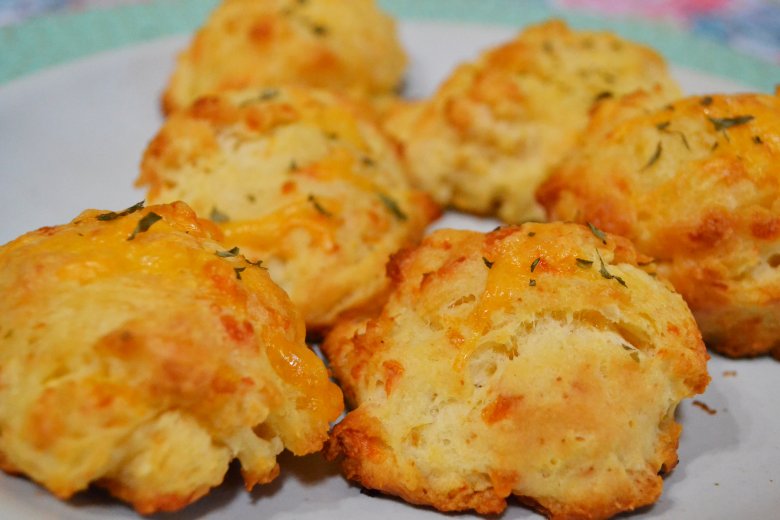 Red Lobster is making a comeback. It's very popular with millennials, and as they're hitting up their inner seafood lover, they're discovering something addictive there — the Cheddar Bay biscuits. The salty, savory flavor is irresistible, and Cheddar Bay biscuits are the premium bread offering that other restaurants dream of devising. We're going to make Cheddar Bay Biscuits, an easy way and a hard way. Both are worth your effort!
Gather your ingredients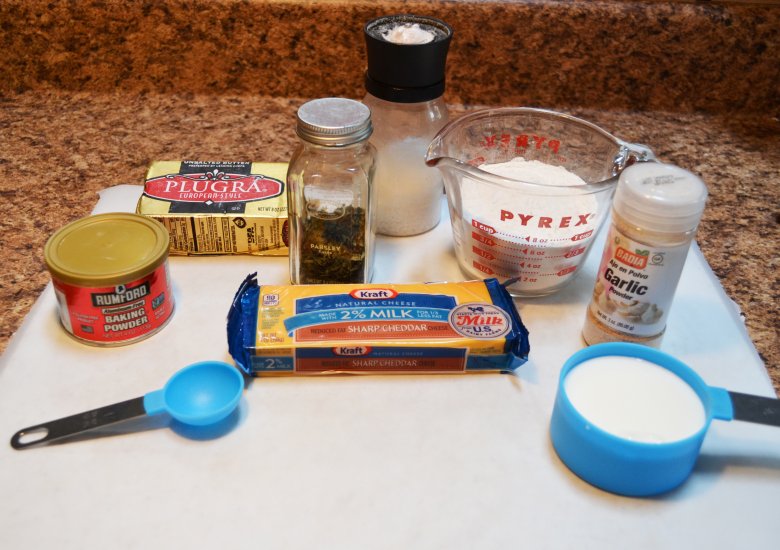 Here's what you need to make your own Cheddar Bay Biscuits: All-purpose flour, baking powder, garlic powder, salt, butter, milk, (or Bisquick), and cheddar cheese. You can find the full list of ingredients and step-by-step instructions at the end of this article.
What's in the Cheddar Bay Biscuits?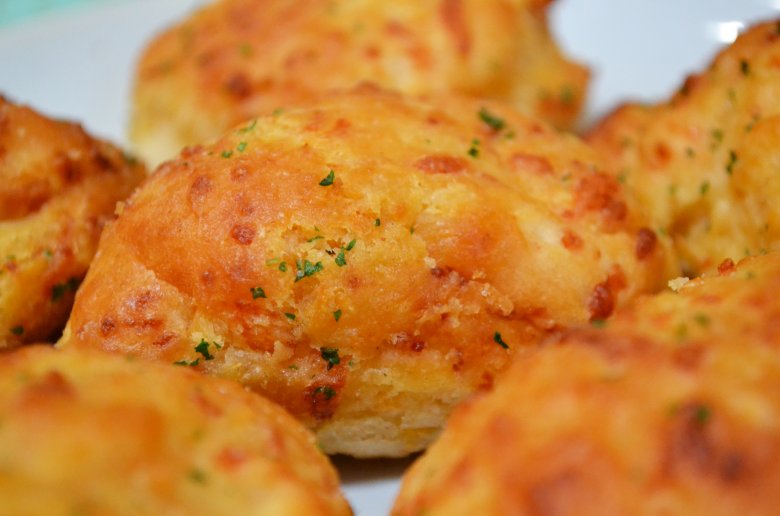 The name itself is very inviting; Cheddar Bay. It evokes images of cheese swimming through a flaky, warm biscuit. Nothing beats a great name, and that's why they ditched the original name, "freshly baked, hot cheese garlic bread." It just doesn't roll off the tongue like Cheddar Bay. But despite the sloppy name, the biscuits were a major hit, and today Red Lobster serves over a million biscuits a day world-wide.  
But you know what's not in Cheddar Bay biscuits? Any "bay" – as in Old Bay. A plethora of copycat recipes insist on Old Bay seasoning as one of the ingredients, but it's not there at all. You can't taste anything remotely close to Old Bay — it's simply garlic. So don't try and read into the name and think it's some clever pun on the ingredients; at its base the Cheddar Bay Biscuit is simply cheesy garlic bread in a southern style staple.   
So we're making biscuits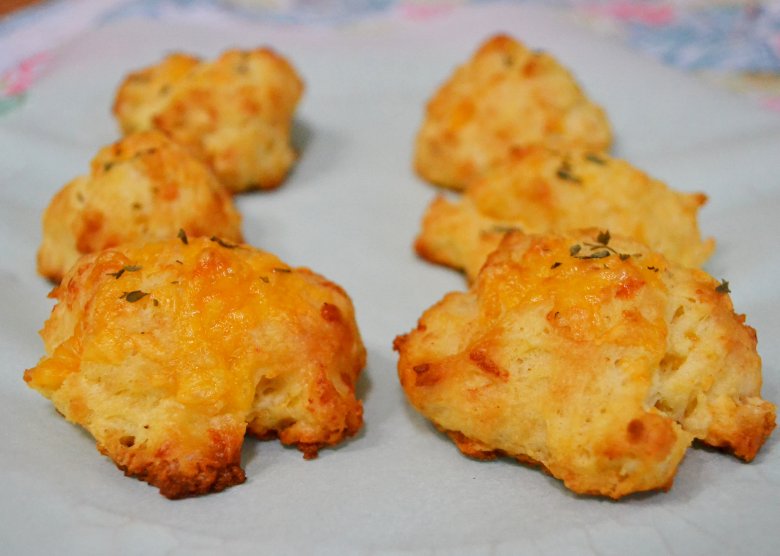 It's a biscuit. That's it. There are many methods to biscuit making, and in the south making "scratch biscuits" is a fine art, and a sacred event. I'm going with a fairly generic biscuit method, as not to reveal my great-grandmother's secret recipe. The reality is, if you have a method of making scratch biscuits you can roll with that — providing you add in the extra ingredients. It's not terribly complicated to make a scratch biscuit, you just have to make sure you get your steps in the correct order.
Flour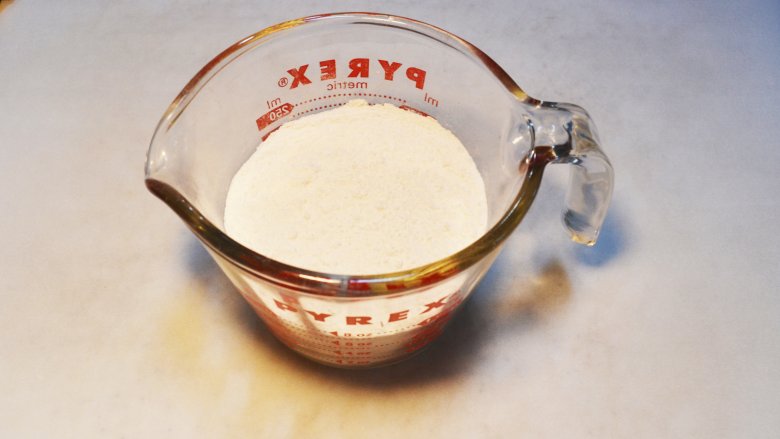 Obviously the key is all- purpose flour.  If you have a gluten allergy, naturally you can substitute gluten-free flour here, and follow the typical steps to get that stuff moving. We need two cups of flour for the biscuits.
Baking powder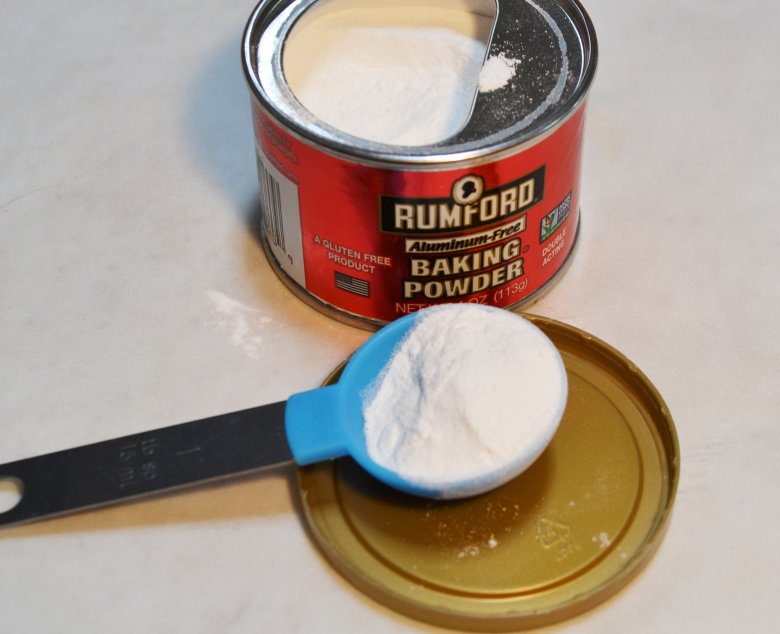 Baking powder is, of course, the chemical reaction that causes things to rise when mixed with a liquid — water, milk, etc. We need one tablespoon of baking powder to get these biscuits off the ground.
Milk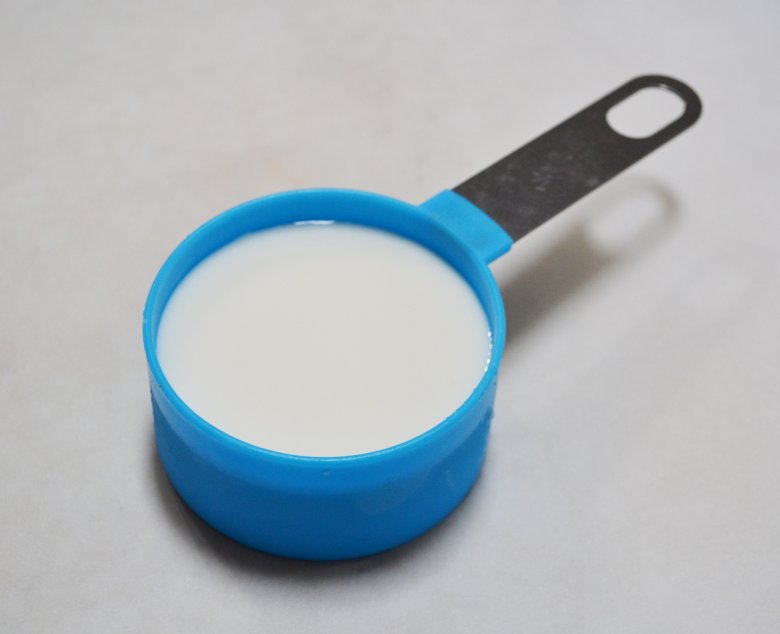 As mentioned, a liquid causes baking powder to do its magic. Milk basically acts as a tenderizer and moistener in the baking process, and also brings just enough fat to the party to assist in the rising process — so don't skimp out on the milk, we need it. A half a cup of milk will do the trick.  
Salt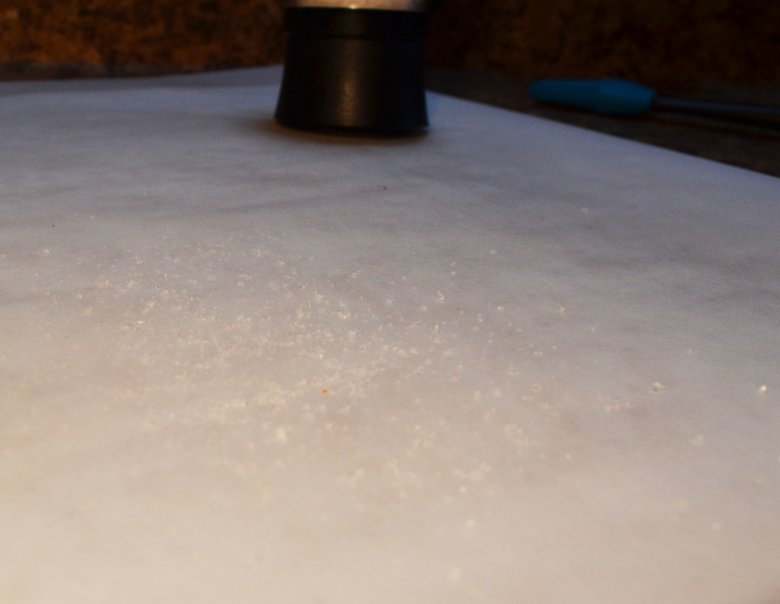 This dish is very salty anyway — Red Lobster puts in way more salt than you may cook with when you're at home.
If you feel the need to cut back on some salt, don't do it here. Adding salt doesn't really do much to aid the cooking but it will give a little flavor to the biscuit. You need a half teaspoon of salt for the dry mix. There are other places to cut back on the salt, such as...
Butter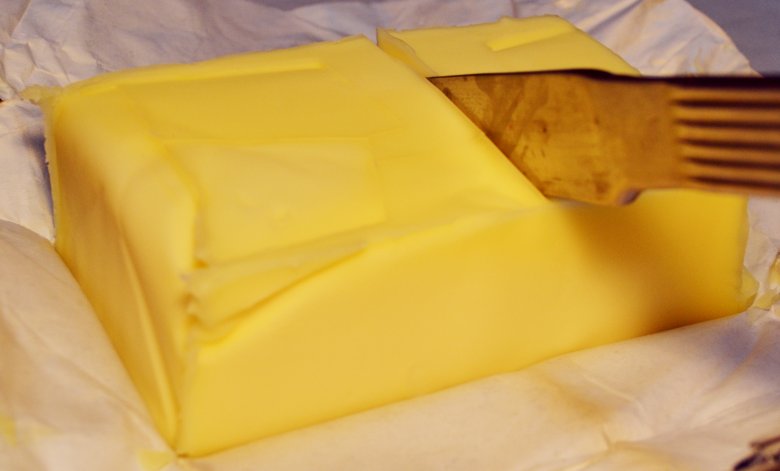 This is the place where you need to decide how authentic you want your biscuits. A Cheddar Bay Biscuit is very salty, so to make them exact you'll want to use salted butter in your preparation of the biscuits — and for the butter melt on top. If you're watching your salt intake, feel free to use unsalted butter. I always use unsalted butter, so from a salinization level, mine won't taste exactly like the Red Lobster ones, but my body will thank me for it.  
Regardless of the butter you use, you want cold butter cubed and dropped into the batter — that will make it a lot easier to create the 'flakes' you want in your biscuits.  
Garlic powder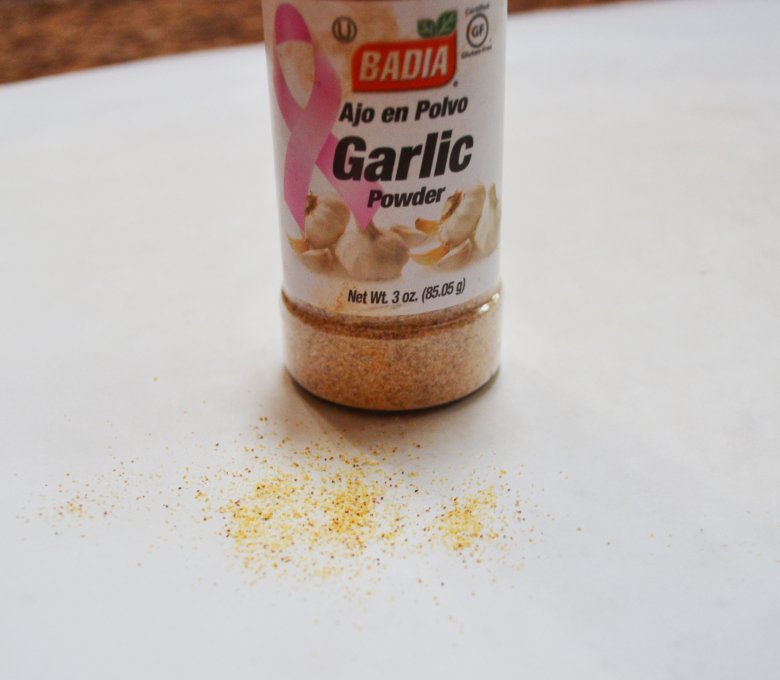 The true "vegetable taste" to the biscuits is simply garlic. There's garlic on top, but it's also present in the biscuit, so for our dry mix, we'll need a half teaspoon of garlic powder.  
An easier way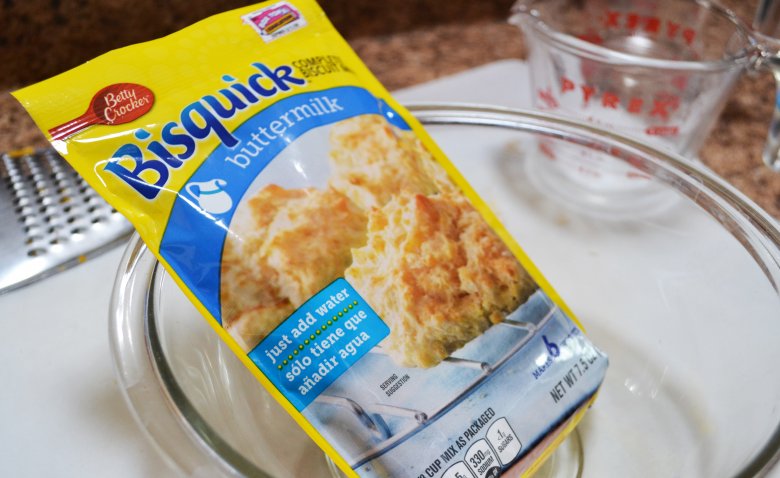 Making biscuits isn't for everyone, and in fact, there's an easier way to do this — use Bisquick. The national brand takes all the measuring and pouring out of the equation for you. I'm not accusing Red Lobster of using Bisquick, I'm just saying that a Cheddar Bay Biscuit tastes just like a Bisquick biscuit with more stuff in it. 
Don't do the easiest way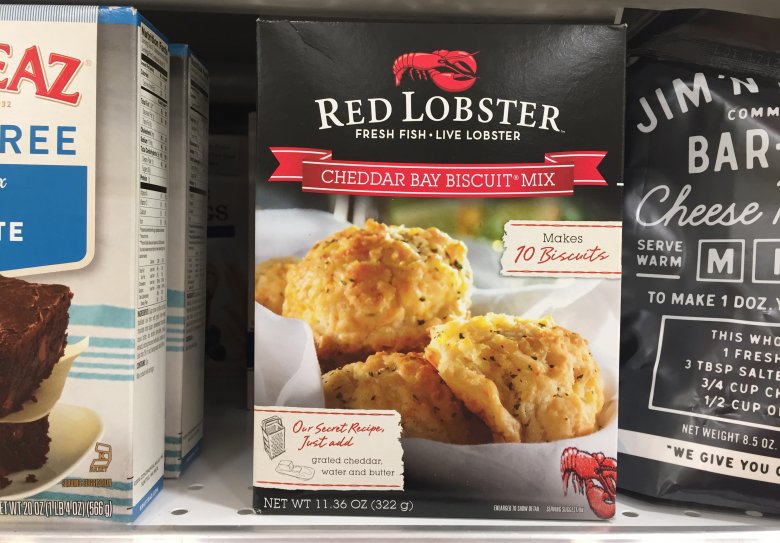 Look, if you really want to, you can just buy a box of Red Lobster Cheddar Bay biscuit mix. But what fun is that? And really, as the box says, just add water, cheese, and butter! Well, no surprise... you just paid $2 and change for a box of Bisquick. And it's the same ingredients. Just get the Bisquick.  
Mix it up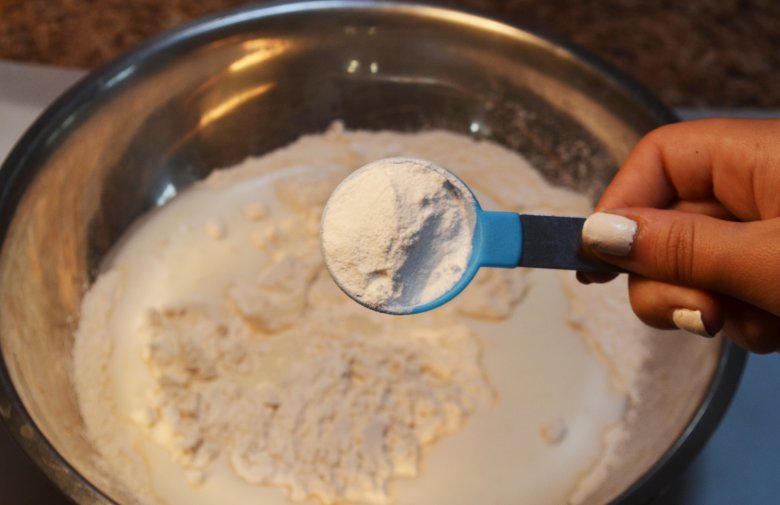 Regardless of which path you're taking, you need to get everything in a bowl, and then mix it.  Dry team first: Flour, baking powder, salt, and garlic powder. Give that a little mix, and then add a half cup of cold butter diced up. You want to fold that all together until you have "flakes" — it'll take two to four minutes, depending on the speed of your folding, but the final result will look like something's wrong with it (it's fine). After you get there, add the milk and mix it up until it's a soft dough that will pull away from the sides of the bowl.  
If you're using Bisquick, just rip open the bag, put it in a bowl, and add a cup of water -— just like the directions on the package say.  
Add the cheddar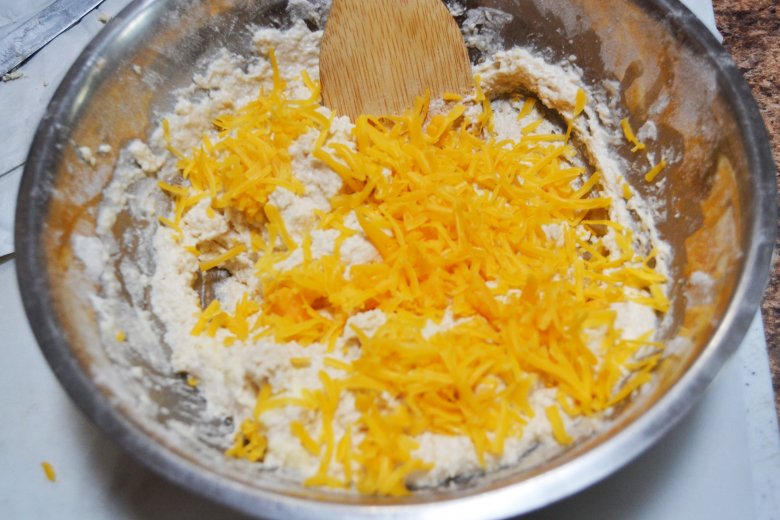 This is where we step away from the normal biscuit making steps — add a half cup of cheddar to the mix and give it a work around again, to incorporate the cheese throughout the dough.  The finished dough might not be as cheesy as you expect, but that's in line with the Cheddar Bay Biscuit.    
Make and bake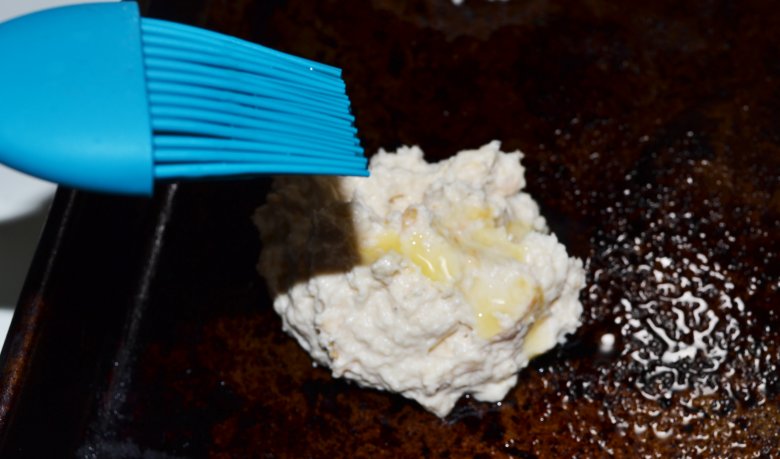 The finished Cheddar Bay biscuit is about three to four ounces —- I say "about" because truly they vary in size and shape, because they are biscuits from a human, not from a machine; and that's a good thing. You can just eyeball it and use a spoon and scoop out a reasonable size for your biscuit. After you get them on the baking sheet, we're going to do two things that'll give the Cheddar Bay biscuits that extra thing it needs to make it exact: Add just a little bit of cheddar cheese to the top of each biscuit. In theory, there should be enough coming through the biscuit to hit the top, but this will assure that there's a cheesy taste in each bite. And finally, instead of an egg wash — which is just egg and water to give something a shiny coat, give the biscuits a melted butter coat. They won't darken up completely in the cooking process, but there's a lot of butter flavor going on here so this will help them along.
Bake 10-12 minutes, until the tops are golden, brown and delicious.  Don't be afraid if they're really not golden golden brown — they'll get pretty close to that after we apply the next step, all we're really looking for is done and some color to them.  
Butter em up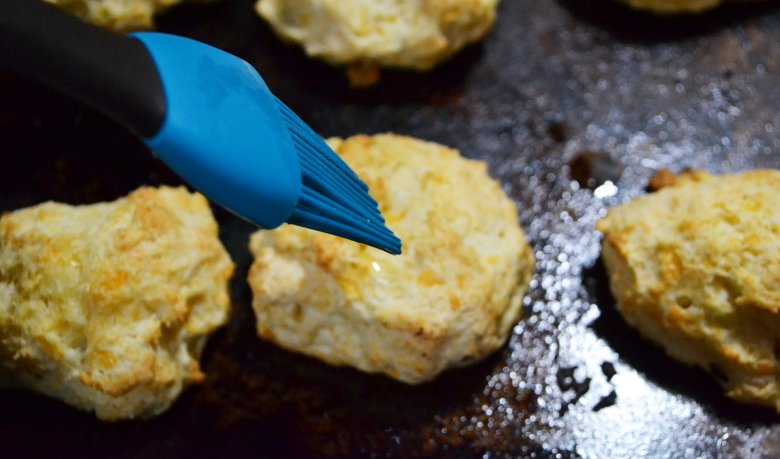 After your biscuits cook, hit them with a dab of garlic butter and then dry parsley — the parsley should stick right to the butter after you apply it. To make the garlic butter, melt a half stick of butter with a teaspoon of garlic powder — it might seem like a lot but the flavor of these is heavy garlic, so it'll get you right there in flavortown.  
How close are we?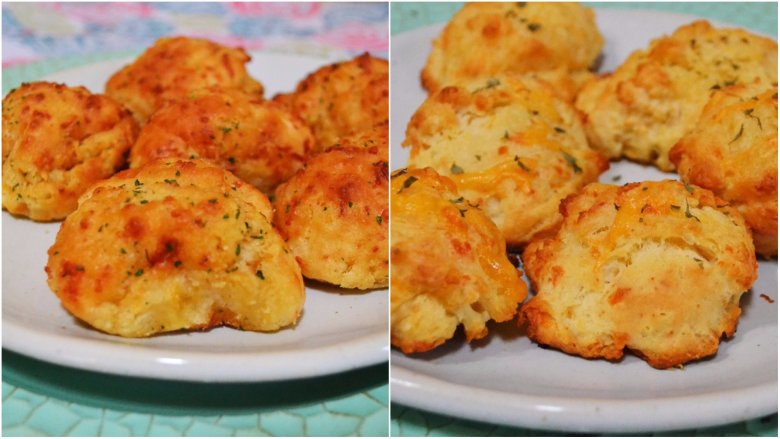 The overwhelming flavor to a Cheddar Bay Biscuit is butter — but Butter Bay doesn't sound as appealing as Cheddar Bay. So with that in mind, this tastes really close to the flavor of a Cheddar Bay biscuit. Obviously not every biscuit tastes the same, so there will be slight variations in texture, chewiness, and crispness. If you're willing to just accept that you made your biscuit taste like theirs, this mix is dead on. The big difference separating this from your everyday biscuit is the garlic powder — from inside the biscuit to the buttery topping, the garlic is present and flavorful.   
If you made these with Bisquick, you probably won't tell the difference. It's remarkably close to a Cheddar Bay biscuit.  
Copycat Red Lobster Cheddar Bay Biscuits Recipe
Cheddar Bay biscuits are Red Lobster's premium bread offering — and they're delicious. Now you can have these addictive biscuits any time your heart desires.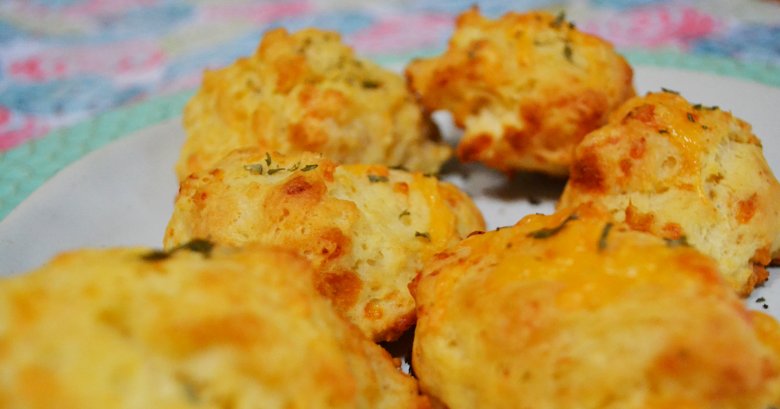 Ingredients
2 cups flour
1 tablespoon baking powder
1 cup butter
½ cup milk
½ teaspoon salt
1 teaspoon garlic powder
½ cup cheddar cheese
Dry parsley for sprinkling
Directions
Preheat oven to 450 degrees Fahrenheit.
Combine dry ingredients (except parsley and ½ teaspoon garlic powder) and ½ cup of butter.
Stir ingredients until flaky, and small balls form.
Slowly add milk and continue to stir.
Add cheddar cheese and mix until fully incorporated.
Scoop into 12 small balls of dough.
Melt butter for butter wash over low heat or in a microwave and add in ½ teaspoon garlic powder.
Brush butter wash onto the top of each biscuit. Set remaining butter wash aside — do not discard.
Bake for 10-12 minutes, or an inserted toothpick comes out clean.
Coat finished biscuits with more butter wash.
Eat and enjoy!
Nutrition
| | |
| --- | --- |
| Calories per Serving | 242 |
| Total Fat | 17.7 g |
| Saturated Fat | 11.0 g |
| Trans Fat | 0.7 g |
| Cholesterol | 47.3 mg |
| | |
| --- | --- |
| Total Carbohydrates | 17.0 g |
| Dietary Fiber | 0.6 g |
| Total Sugars | 0.6 g |
| Sodium | 133.5 mg |
| Protein | 4.0 g |