Your Halloween Pizza Hut Order Now Comes With A Scary Movie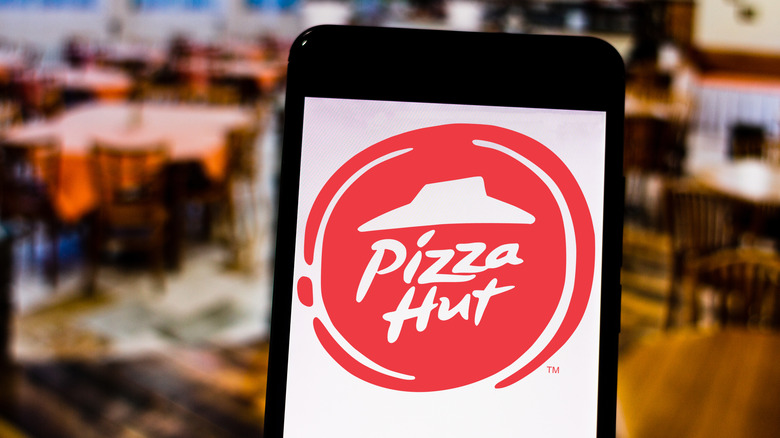 rafapress/Shutterstock
It should come as no surprise that popcorn is the snack of choice for movie watchers – it's practically synonymous with the activity, after all. However, when watching a film of the horror variety, all it takes is one unexpected jump scare to make you accidentally knock your massive bowl of buttery and salty goodness all over the floor. This spooky season, why not skip out on the potential mess and ditch that barrel of microwave popcorn for something a little less hazardous like, say, a piping hot pizza? Not only will it make for a quick clean-up if you happen to be easily frightened (just pretend that sauce stain is fake blood for a costume), but a bite into a delicious, cheesy slice is the perfect thing to comfort you as you watch even the scariest of scary movies.
If this snack trade-off is sounding appealing, look no further than Pizza Hut when ordering a pie for your horror movie night this Halloween. PR Newswire reports that customers can score a large one-topping Original Stuffed Crust Pizza. Available at participating restaurants throughout the U.S. the pizza costs just $12.99. But that's just the beginning of this scary good deal. The Kansas-based chain has also teamed up with the horror streaming service Shudder to offer scary movie-loving pizza fanatics a 30-day free trial for their vast collection of "hair-raising original shows and classic films." Here's how to get yours.
Pizza Hut's Halloween collaboration with Shudder is only available to a limited number of people
Considering the fact that The Food XP says a large one-topping stuffed crust pizza from Pizza Hut can go for as much as $18.48 each, it's safe to say that the chain's current promo for their extra cheesy pie is a steal that is only made better with the addition of a free, 30-day trial to the horror streaming service Shudder. "We knew we had to do something for our customers and what's a better treat than a deal on one of our most iconic pizzas and the excuse to binge spooky movies to your heart's delight on Shudder?" said Pizza Hut's chief marketing officer Lindsay Morgan (via PR Newswire).
Now through October 30, Pizza Hut customers that are keen on the scarier side of cinema can go to Shudder.com and entire the code STUFFEDCRUST for access to the streaming service for 30 days free of charge. Not only will participants be able to watch a wide range of classic horror flicks like "Children of the Corn" and "Carrie" on Shudder while munching on their pizza, but they'll also be treated to an early viewing of the second episode of the subscription service's original series "Behind the Monsters" during Pizza Hut's "Originals Takeover" on Wednesday, October 27. The deal is only available to the first 200,000 fans that sign up, so you might want to act fast to ensure you'll have a film-stuffed Halloween to remember!