Pumpkin Spice Macarons Recipe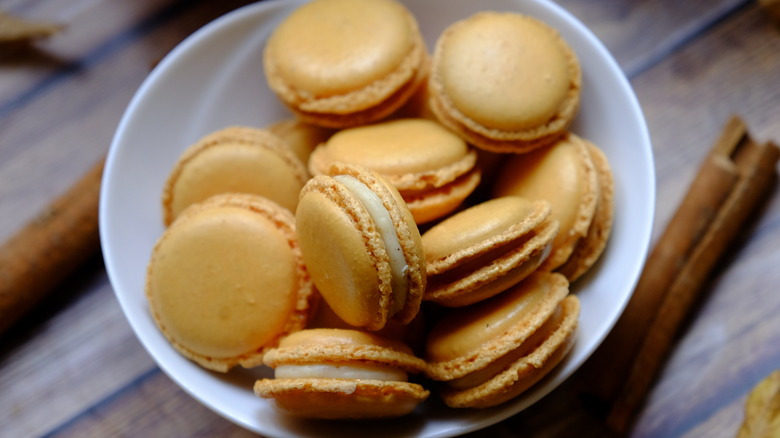 Eric Ngo/Mashed
As a food trend, macarons may have already reached their peak. Nevertheless, this classic French cookie remains perennially popular, with pastry aficionados flocking to their nearest bakery or patisserie to snag some of the delightful little treats. The only downside to macarons is that they can be a little pricy, but if you make them at home, what you save in money you'll make up for in effort. Recipe developer and pâtissier Eric Ngo has crafted the perfect pumpkin spice macarons recipe, and these are just begging to be the star of your Halloween party.
"The filling is essentially a white chocolate ganache flavored with pumpkin spice," Ngo explains of the delicious cookie. He also likens them to the French equivalent of a "meringue macaron," thanks to the egg white-based outer layers. Macarons can come in a variety of delicious flavors, though Ngo's pumpkin spice rendition achieves the perfect balance of delicious flavor and fall festiveness. Whether you simply love macarons, pumpkin spice, or want to impress at your Halloween party, this recipe won't let you down.
Gather the ingredients to make pumpkin spice macarons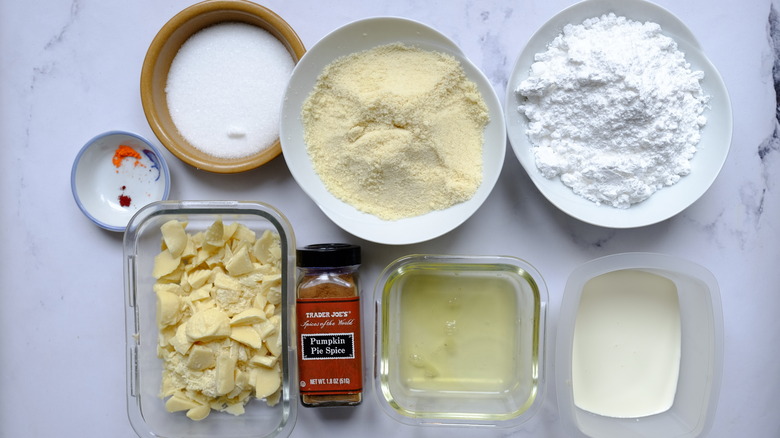 Eric Ngo/Mashed
As might be expected of an advanced-level recipe, not every ingredient needed in this recipe is something you already have on hand, unless you yourself do a lot of baking. You'll need white chocolate, heavy whipping cream, egg whites, granulated sugar, confectioner's sugar, and pumpkin spice.
You will also need almond flour, which is a key ingredient in virtually any macaron recipe. Almond flour is also known as almond meal, or almond powder," Ngo explains. "This is just white almonds blended into a flour like substance." To achieve that perfectly festive orange color, you'll need some food coloring as well. "I recommend using powdered coloring vs liquid one to decrease the chances of macarons shells cracking," Ngo tells us.
The pumpkin spice filling will need time to chill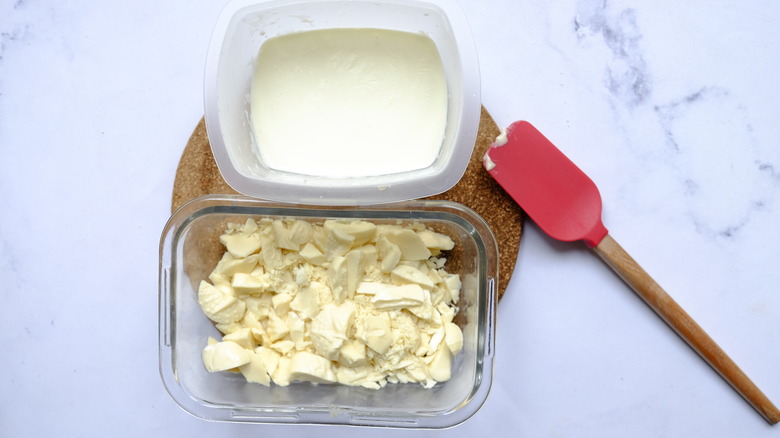 Eric Ngo/Mashed
If you are using a solid bar of baking chocolate, begin by chopping it into chunks. Melt the chocolate in the microwave, which should take a total of two minutes. Heat the cream until it is hot but not boiling — you can also do this in the microwave, and one to two 30-second increments ought to do the trick.
Mix the cream into the melted chocolate and stir until smooth, then add the pumpkin spice. Spoon the filling into a piping bag and chill the bag in the freezer for about an hour or so until it is firm, but not frozen solid.
Make the macaron batter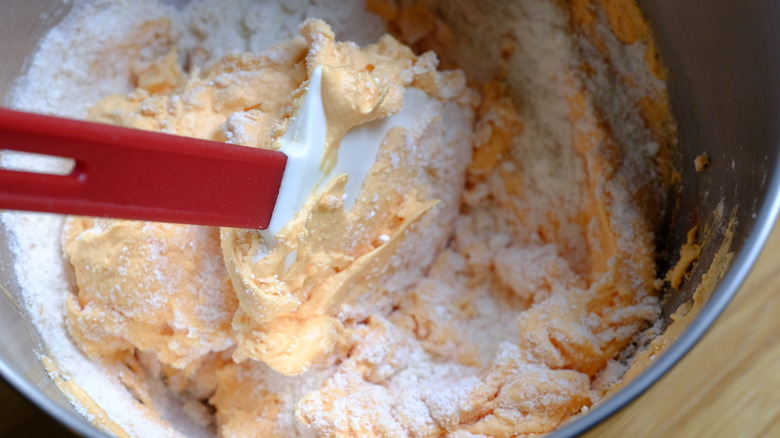 Eric Ngo/Mashed
Beat the egg whites until they have doubled in size — this is what is known as the "soft peak" stage and should take 4 to 5 minutes to reach, assuming you are using an electric beater. Add the granulated sugar to the eggs in three increments of approximately 1 tablespoon and 1 teaspoon apiece (this will add up to 4 tablespoons, or ¼ cup). After each addition, beat the eggs for 30 seconds. Now add the food coloring, and keep beating until it is evenly distributed. As a final step, gently fold in the confectioner's sugar and the almond flour into the egg using a rubber spatula.
Ngo says you should take care not to over-mix the batter at this stage. "To make sure not to over mix, look for the 'ribbon' texture as the batter is dripping down the rubber spatula," he explains. "It should not rip right away (under mixed), nor should it fall off really fast and blend into the rest of the batter like water (over mixed). An under mixed batter will result with cracked macarons shells, and an over mixed batter will result in very flat macarons shells."
Bake the macarons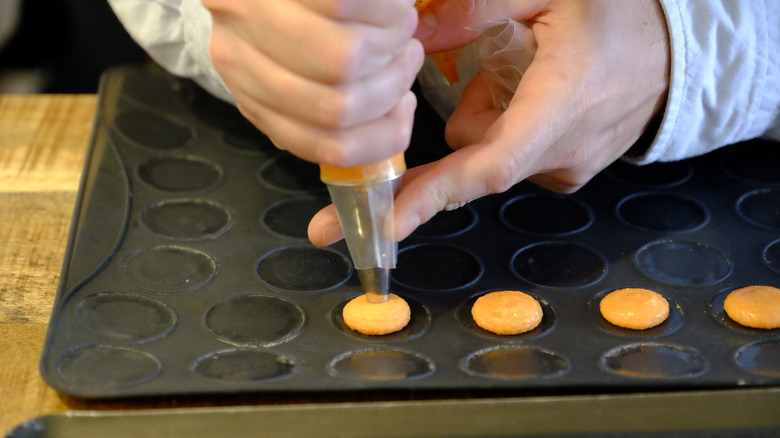 Eric Ngo/Mashed
At this point, preheat the oven to 325 F. Use a piping bag to make circles of macaron batter on a parchment or silicon-lined baking sheet. Ngo's recipe yields 25 macarons in all, so you'll need to pipe a total of 50 shells. If you can't fit all 50 onto a single baking sheet, simply bake them in batches.
Bake the macarons for 12 to 15 minutes. Depending on the size of your macarons, as well as the heat of your oven, your baking time may vary. Ngo does have a tip for how to tell when they're done: "To make sure [the] macarons are fully baked, carefully shake the hot macaron shells on the baking tray to see if they jiggle. If they do, they are still raw on the inside."
Add the pumpkin spice filling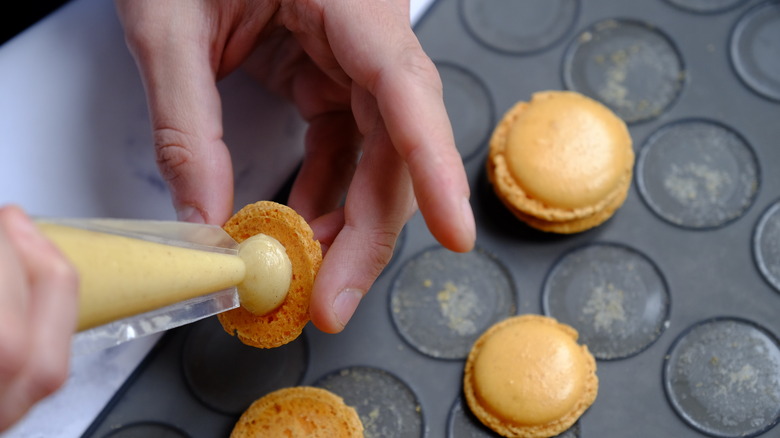 Eric Ngo/Mashed
Once the macarons are out of the oven, let them cool on the baking sheet for 10 minutes before removing them. As the cookie shells cool, take the piping bag with the filing out of the freezer so it can soften up to the point where you can squeeze it through the tip. Once the cookies and the filling are ready, use two macaron shells to make a sandwich with some pumpkin spice filling, and repeat the process as necessary, until all of the shells and filling are gone.
Now comes the hard part — waiting. "After filling the macarons, keep them in the refrigerator for 2 days before eating," Ngo says. Why must you wait? Because, as he explains, "Eating them right away will result in crunchy macarons," he explains, adding that the humidity in the refrigerator will help make them "chewy on the inside and crunchy on the outside." While waiting can be hard, this does make these pumpkin spice macarons an ideal make-ahead option, so once you're ready to head off to your party, they'll be waiting for you in the fridge. We hope you enjoy this delicious, festive, and impressive recipe!
Pumpkin Spice Macarons Recipe
Recipe developer Eric Ngo has crafted the perfect pumpkin spice macarons recipe, and these are just begging to be the star of your Halloween party.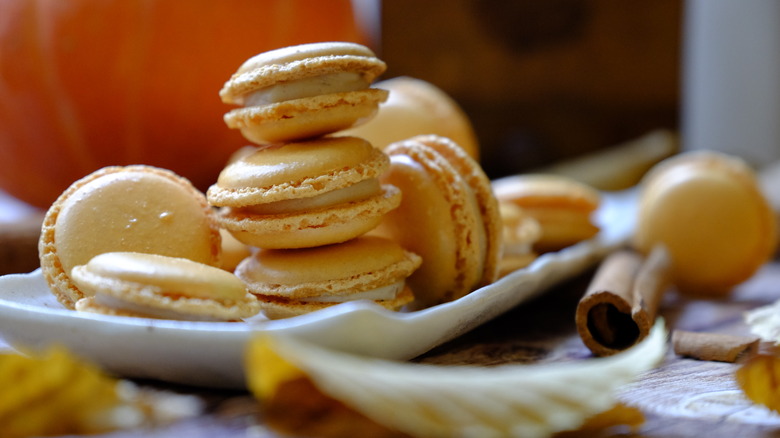 Ingredients
1 cup white chocolate, chopped
½ cup heavy whipping cream, heated
¼ teaspoon pumpkin spice
2 large egg whites
¼ cup granulated sugar
a dash of orange food coloring
1 cup confectioner's sugar
¾ cup almond flour
Directions
Chop white chocolate and heat it in the microwave for 2 minutes to melt.
Heat the heavy cream until it is hot (but not boiling), then mix it into the melted chocolate until smooth.
Mix pumpkin spice into the chocolate.
Fill a piping bag with the pumpkin spice filling and chill in the freezer for 1 hour, or until firm.
Beat egg whites in a mixer until they double in size.
Add granulated sugar to egg whites in 3 parts, beating for 30 seconds after each addition.
Add food coloring to the meringue and mix until color is uniform.
Fold confectioner's sugar and almond flour into meringue with a rubber spatula until fully incorporated, being careful not to over mix.
Preheat oven to 325 F.
Pipe the macarons onto a baking sheet lined with parchment paper or a silicon mat.
Bake the macaron shells for 12 to 15 minutes.
Let the macarons cool for 10 minutes before removing them from the baking sheet.
Sandwich 2 shells together with pumpkin filling, repeating until all macarons are filled.
Refrigerate for 2 days before serving.
Nutrition
| | |
| --- | --- |
| Calories per Serving | 101 |
| Total Fat | 5.6 g |
| Saturated Fat | 2.5 g |
| Trans Fat | 0.0 g |
| Cholesterol | 7.9 mg |
| | |
| --- | --- |
| Total Carbohydrates | 11.6 g |
| Dietary Fiber | 0.4 g |
| Total Sugars | 11.0 g |
| Sodium | 12.5 mg |
| Protein | 1.5 g |