Baked Pumpkin Donuts Recipe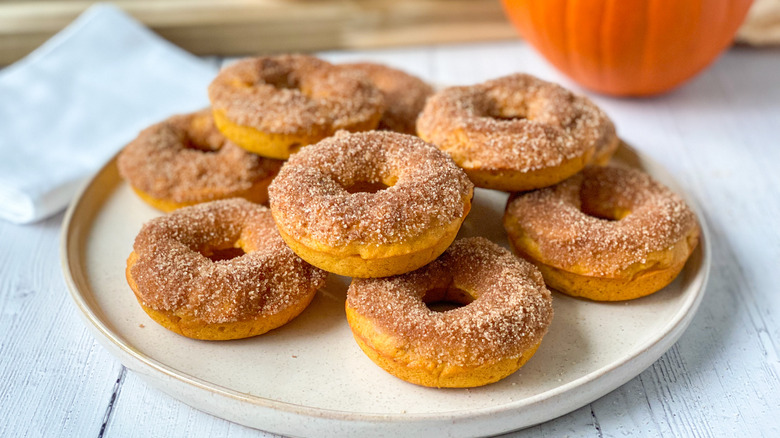 Hayley MacLean/Mashed
There are lots of great things about fall. From the leaves changing colors to football games, there's just something about the season that makes us feel warm and fuzzy. And who could forget one of the most wonderful things about the season — pumpkin-flavored everything! Pumpkin is a fall staple, from soups to lattes and everything in between. This baked pumpkin donuts recipe is no exception, and it tastes like a fall explosion in your mouth. Who needs to run out to your local donut shop when you can whip up something just as good in your own kitchen?
Recipe developer Hayley MacLean of Happy Healthy Hayley is the brains behind this recipe, which will definitely put you in the fall spirit. "What I love most about this recipe is the wonderful warming spices used in the pumpkin spice blend," MacLean shares. "Cinnamon, ginger, cloves, and nutmeg really do exemplify the flavors of this time of year, and create such a cozy feeling while you enjoy this sweet treat. I know I am not the only one who looks forward to using this spice mix every year!" Keep reading to find out how to make these fantastic baked pumpkin donuts.
Gather the ingredients to make baked pumpkin donuts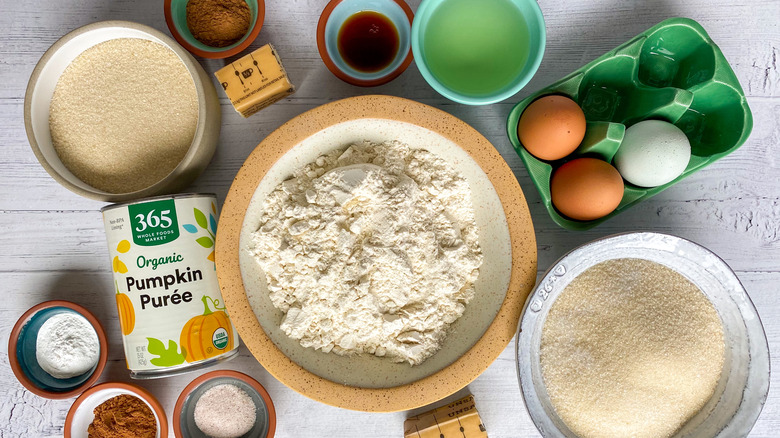 Hayley MacLean/Mashed
Before you do anything else, you will need to make a trip to the grocery store to grab everything that you need to make these festive donuts. Remember to check at home before you go to the store to see if you have any necessary ingredients in your pantry already. Start in the baking aisle and get all-purpose flour and baking powder. You will also need some pumpkin pie spice, salt, and pumpkin puree. While you're still in the baking section, throw some granulated sugar into your cart. Next on the list is vegetable oil, unsalted butter, vanilla extract, and a few large eggs. Finally, you'll need some cinnamon to round out the donuts' sugary topping.
Preheat the oven and mix the dry ingredients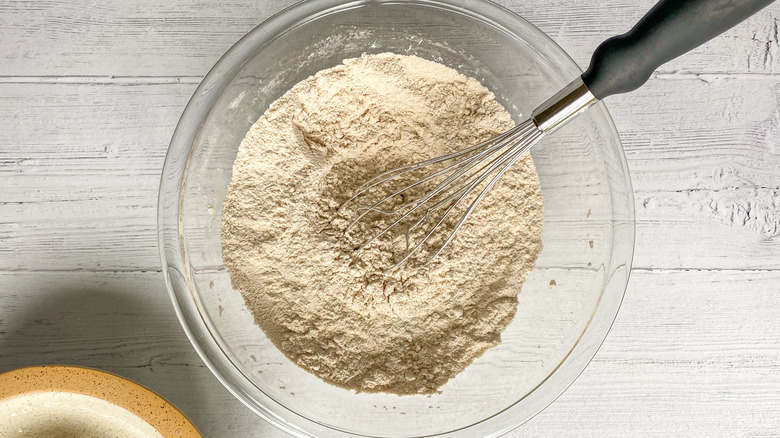 Hayley MacLean/Mashed
The first thing that you need to do is turn the dial of your oven to 350 F. It's an important first step for any baking recipe, so the range has time to get nice and hot before you're ready to pop the baked goods into it. If you don't preheat in advance, you will be left waiting and wasting time. Once you've turned on your range, grab a medium bowl. Toss in the flour, pumpkin pie spice, baking powder, and salt. Then, whisk everything together so all of the ingredients are thoroughly combined.
Mix the wet ingredients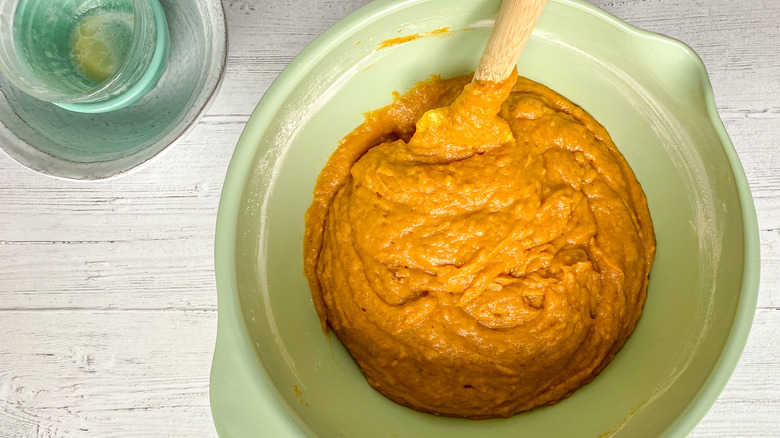 Hayley MacLean/Mashed
Now that you've got the oven turned on and you've whisked the dry ingredients, it's time to move on to the wet ingredients. Take out another medium-sized bowl and toss in the pumpkin puree, 1 ½ cup of sugar, and oil. You can also throw in 4 tablespoons of butter at this time — just remember that you should have melted it ahead of time. The last two things that you will need to add are vanilla and eggs. Mix everything together well. 
Now, add the dry ingredients into the wet ingredients and beat until they're combined. "It is important to mix the wet and dry ingredients separately before combining to make the batter because it allows for the ingredients like raising agents and spices to be evenly distributed, which is key to an even batter," MacLean notes. "Also, it cuts down on the mixing time needed to combine the ingredients, so the batter does not become over mixed and create a tough and chewy donut!" 
Put the batter into a donut pan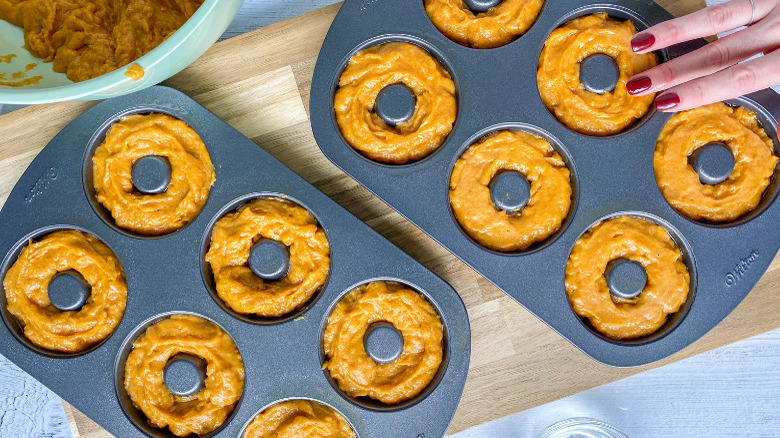 Hayley MacLean/Mashed
By now, you should have a smooth donut batter with an orange, pumpkin-like tint. Now, take out your donut pan and make sure it's all greased up — you can either use cooking spray or a little bit of butter. Then, using a spoon, scoop the batter into each donut mold until the pan is full. Finally, smooth the tops of the donut with a moistened finger to ensure that each donut bakes evenly.
Bake the donuts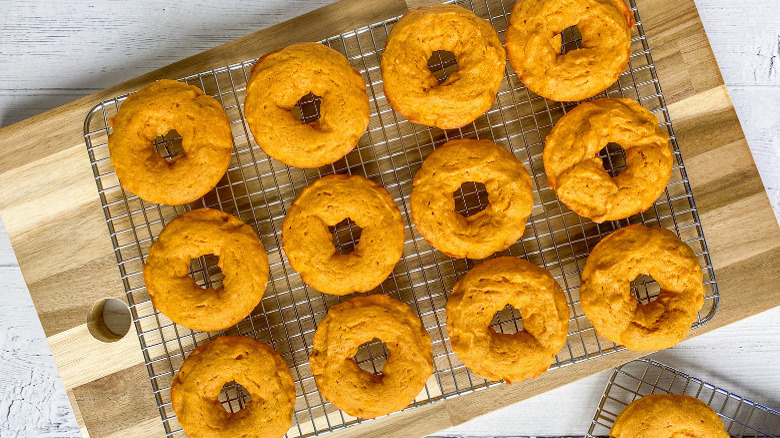 Hayley MacLean/Mashed
Now it's time to bake the donuts! Double check to ensure that your oven has fully preheated, pop the baking dish in, and then set your timer for 15 to 18 minutes. After 15 minutes, use a toothpick to check if the donuts are done baking. If it comes out clean, your donuts are ready to go. If it doesn't come out clean, they need to stay in a little longer. 
Once they're done baking, carefully grab the donuts out of the oven and then place them on a cooling rack. Depending on the size of the donut pan, you may have to make another batch, so just be sure to follow the same instructions.
Add the cinnamon sugar topping and enjoy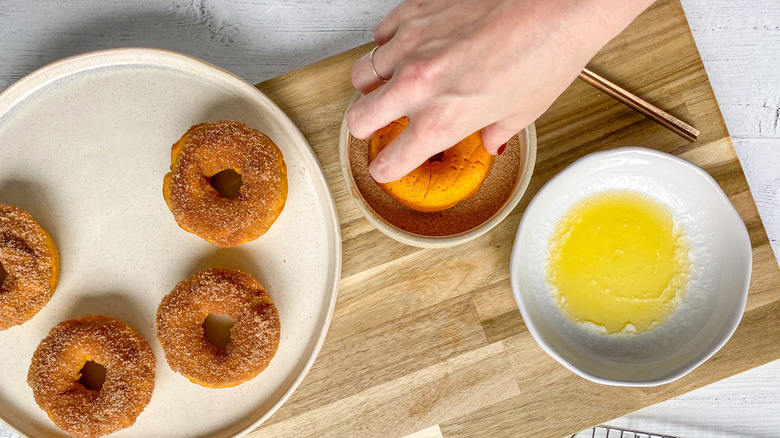 Hayley MacLean/Mashed
While the donuts cool, you can make the topping. Just get a shallow bowl and mix the remaining ¾ cup of sugar and the cinnamon. Then, take out another shallow bowl and add the remaining 3 tablespoons of melted butter. Dip the top of each donut into the butter first and then the cinnamon and sugar topping. Repeat this process with all the remaining donuts.
MacLean recommends serving these warm or at room temperature. "These are perfect with a cup of coffee or tea first thing in the morning — dipping them in the coffee is even better," MacLean raves. "They are the perfect treat to capture the flavors of fall anytime." 
Luckily, you can easily store leftovers and enjoy these donuts for several days after baking. "Leftovers can be kept in an airtight container on the counter for a day or two," MacLean explains, noting that you could also store them in the fridge for up to 5 days. If you're ready to get into the fall spirit, these baked pumpkin donuts are the perfect treat to help you do so!
Baked Pumpkin Donuts Recipe
These baked pumpkin donuts incorporate all of the best flavors of the season and are guaranteed to get you into the fall spirit.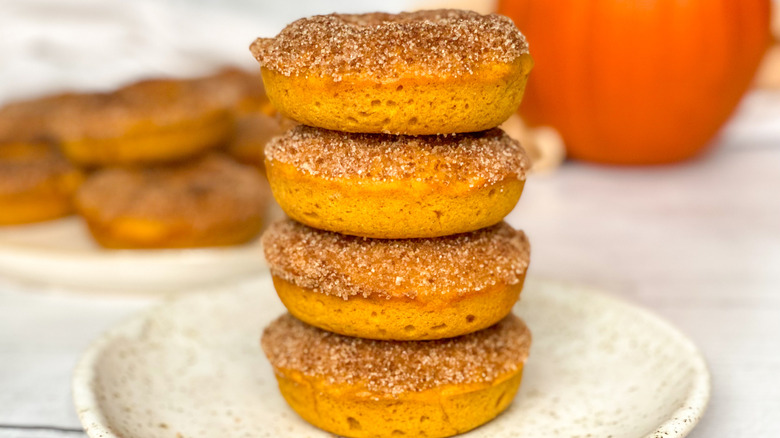 Ingredients
2 cups all-purpose flour
2 teaspoons pumpkin pie spice
2 teaspoons baking powder
1 teaspoon salt
1 (15 ounces) can pumpkin puree
2 ¼ cups granulated sugar, divided
⅓ cup vegetable oil
7 tablespoons unsalted butter, melted and divided
1 teaspoon vanilla extract
3 large eggs
2 teaspoons cinnamon
Directions
Preheat the oven to 350 F.
In a medium bowl, whisk together the flour, pumpkin pie spice, baking powder, and salt.
In a separate bowl, mix together the pumpkin puree, 1½ cup sugar, oil, 4 tablespoons melted butter, vanilla, and eggs.
Add the dry ingredients to the wet ingredients and beat until just combined.
Spoon the batter into a greased donut pan so that each mold is almost full. Smooth the tops with a moistened finger, if desired.
Bake the donuts for 15 to 18 minutes, or until a toothpick inserted comes out clean. After baking, place the donuts on a cooling rack. Two batches of donuts may need to be made, depending on pan size.
While the donuts are cooling, make the topping: stir ¾ cup sugar and the cinnamon together in a shallow bowl. In another bowl, melt the remaining 3 tablespoons of butter.
Dip the donuts in the melted butter and then into the cinnamon sugar to coat. Serve warm or at room temperature.
Nutrition
| | |
| --- | --- |
| Calories per Serving | 246 |
| Total Fat | 9.6 g |
| Saturated Fat | 3.4 g |
| Trans Fat | 0.2 g |
| Cholesterol | 42.9 mg |
| | |
| --- | --- |
| Total Carbohydrates | 38.1 g |
| Dietary Fiber | 1.2 g |
| Total Sugars | 25.9 g |
| Sodium | 183.8 mg |
| Protein | 2.8 g |