Beer-Loving Brides Will Love This $750 Busch Beer Gown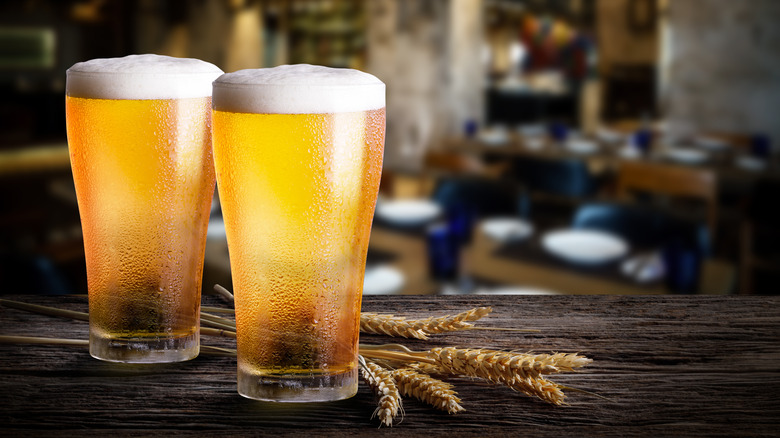 DONOT6_STUDIO/Shutterstock
There are plenty of ways to show off your love for a particular product. When it comes to beer, you can make sure to stock your fridge with your favorite brand and bring it along whenever you go to a celebratory event. And if the event in question is your wedding day, Busch Beer — a popular line of beers brewed in the USA and part of the larger company Anheuser-Busch, according to the website — has come up with an idea you probably hadn't considered.
Thanks to Busch's various advertising campaigns and slogan, "clear and bright as mountain air," the brand quickly became associated with the outdoors, its website explains. Fittingly, the merchandise from the company's store includes plenty of camouflage gear, and its camo-printed beer cans seem to have their fair share of fans on Twitter. Evidently inspired by the success of their green and brown offerings, Busch has paired up with David's Bridal to create a wedding dress unlike any you've seen before — if you can find it, that is.
What does the dress look like?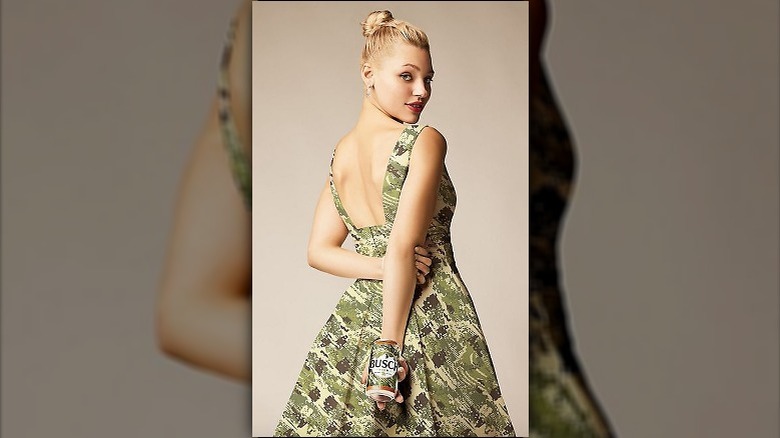 Busch Beer x David's Bridal
"Designed from our own camo can print, the only thing people will be able to see is your love!​" Busch shared about the floor-length wedding dress on Twitter. The satin ball gown features a plunging neckline, full skirt, and camouflage pattern that's designed to blend in with the cans of Busch beer you will surely be serving at your wedding. The product description on David's Bridal shows a price of $749, a steal compared to some of the other offerings on the website. In addition to the dress, camo-printed bowties are available for $14.95.
If you're a fan of Busch's beer and have a fondness for nature, then you may want to seriously consider this wedding dress style. David's Bridal markets the dress as being perfect for the outdoorswoman bride, so if that sounds like you, then the only decision left to make is whether you want it in gray or green. Practical brides will also love the fact that the dress has built-in pockets, which could be perfect for walking a can of Busch beer down the aisle. (Why not? It's good for you.) The limited-edition gown is available for pre-order now until November 26.