Katie Lee Biegel's Korean Corn Dog Pic Has Instagram Drooling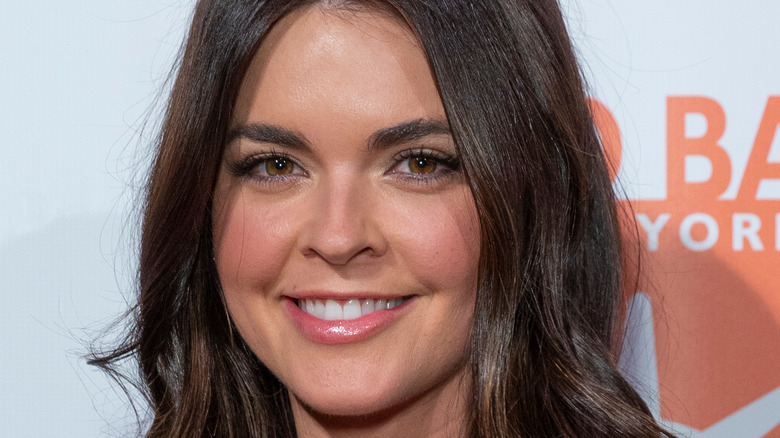 lev radin/Shutterstock
Katie Lee Biegel is a popular culinary personality best known for her role as co-host on "The Kitchen" on Food Network. She began cooking at four years old and has been going ever since. And though she's known now by Katie Lee Biegel, the additional last name is fairly recent. Lee Biegel had previously been married to Billy Joel who helped her career get the jump it needed, but since their split, her career has only continued to skyrocket, and her menu repertoire has too.
While Katie Lee Biegel typically eats nutrient-rich oatmeal bowls, big salads, and salmon and chicken dishes on a daily basis, she still likes to enjoy a mouth-watering meal out on the town. So it is no surprise that Lee Biegel has wowed Instagram fans and made their jaws drop by featuring a picture of a classic fair treat taken up a few notches at a New York spot in Koreatown.
The crispiest corn dogs
On a night out in New York City, Katie Lee Biegel had perhaps some of the most delicious-looking corn dogs to ever be featured on Instagram. Her Korean corn dogs were from Jongro Rice Hotdog. She notes in her caption that, "The batter is made with rice flour and it has this wonderful, super crispy texture." She went with the options that were "drizzled in cheese, one coated in ramen noodle chips (boom boom sauce), and one coated in sweet potato fries" with honey mustard. And apparently, these bad boys are not coated enough, so they are also sprinkled with sugar.
And speaking of sugar, Katie Lee Biegel still had room for dessert. She went for shaved ice cream from Grace Street Cafe. TV personality Daphne Oz was among one of the first to comment with a simple but undeniable "YUMMMM WANT." Nate Berkus followed with an "Omg delicious." Fans in the comments also noted: "Oh my god I just love Korean food and these look super delicious," while another said, "I love how much you love food!" The jury is in, it's time for a visit to K-town!