First Responders Need To Know About This Hooters Wings Deal
Back in 2019, the U.S. Senate passed a resolution designating October 28 as National First Responder's Day, per National Day Calendar. The day revolves around appreciating the first responders in your life, and that means potentially treating them to a drink or taking them out for a meal. Hooters took the day to heart and plans to celebrate this holiday right with a special deal aimed at the folks who first make it onto the scene of disasters.
According to Chewboom, first responders who come into the restaurant in their uniform or present proper first responder ID can grab 10 free boneless wings when they buy any other 10 wings on October 28. The deal only takes place during the holiday across locations nationwide, and first responders can only take advantage of the promotion when they sit down for a meal at brick-and-mortar locations. If you know a first responder or hold this position yourself, you can look forward to grabbing a serious bounty of wings as a thank you for the countless hours of service to those in need.
A history of giving back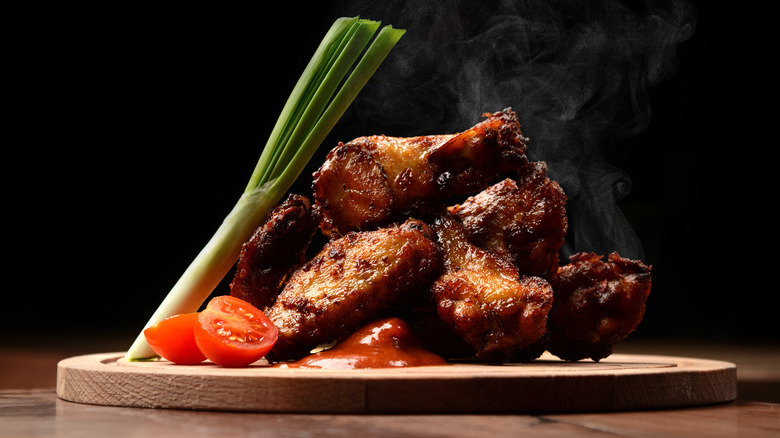 Dmitry Lobanov/Shutterstock
Hooters started celebrating National First Responder's Day from the get-go. According to Hooters, the restaurant began celebrating first responders in 2019, the same year the U.S. Senate acknowledged the holiday, by letting those honored choose a free meal consisting of 10-Piece Traditional Wings, 10-Piece Smoked Wings, 10-Piece Boneless Wings, a Buffalo Chicken Salad, a Buffalo Chicken Sandwich, or a Hooters Burger. Chewboom reports that the wing chain has scaled things back this year, and first responders only have a choice of boneless wings, though they can be customized with the brand's 13 sauces.
If you know one of these essential workers or count yourself as one, make sure to celebrate the holiday right with this Hooters special that guarantees to put a smile on anyone's face. Just make sure to get in while you can — once the holiday comes to an end, you might have to wait another year before you can celebrate a first responder with a wing deal like this again.