Chrissy Teigen Just Opened Up About Her Bullying Scandal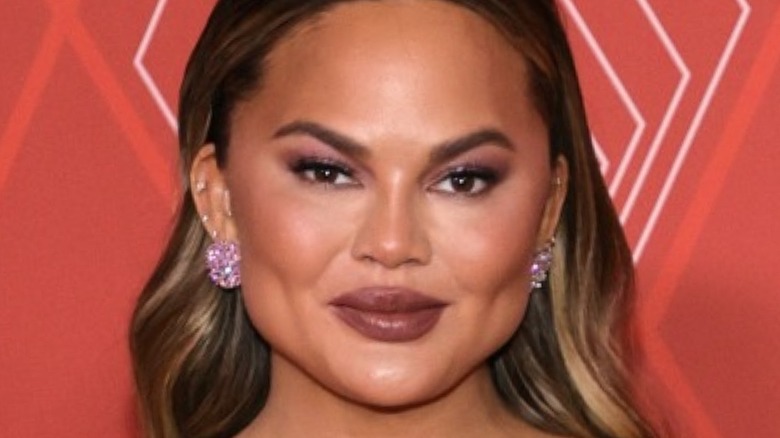 Jamie Mccarthy/Getty
We may receive a commission on purchases made from links.
For years, celebrity icon Chrissy Teigen was at the top of her game in anything and everything related to the entertainment industry. The Hollywood starlet got her start in modeling over a decade ago, and was spontaneously discovered while she was working at a surf shop called the Huntington Beach Shop (via Money Inc). Today, the Utah native has appeared on the cover of "Sports Illustrated" and moved into television roles, co-hosting shows like "Lip Sync Battle" and "Bring the Funny" (via Factinate). Teigen is also a tried and true foodie and bestselling author behind three "Cravings" cookbooks – her most recent, called "Cravings: All Together: Recipes to Love" just debuted on October 26 and has been described as her "most personal cookbook yet" (per Amazon).
For a long time, it seemed like Teigen could do no wrong, until she was caught up in a cyberbullying scandal that cast a dark shadow over her career. Earlier this year, cruel messages and bullying Tweets written by Teigen resurfaced, some dating back to 2010 (via Delish). One victim of the cyberbullying was model Courtney Stodden, who at the time was 16-years-old and had just married 51-year-old actor Doug Hutchinson (via Parents). Teigen sent Stodden hateful messages, including one that read, "I can't wait for you to die," according to Parents. When Teigen's verbally abusive behavior came to light, the former queen of Twitter chose to take a break from social media. Though, in an interview with Hoda Kotb that premiered on "Today" on October 26 (as seen on YouTube), Teigen makes her first television appearance since the scandal broke to address and apologize for her former actions.
Teigen reveals that the experience made her "a better person"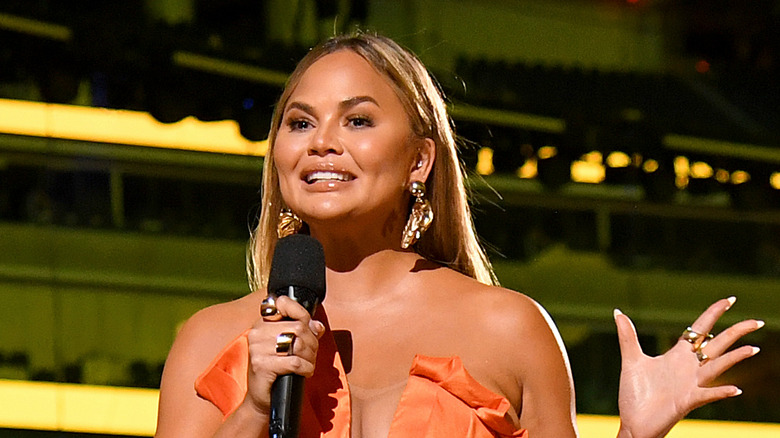 Kevin Mazur/Getty
In her interview with "Today" host Hoda Kotb on October 26 (seen on YouTube), Teigen breaks her silence on the cyberbullying behavior that cast a shadow over her reputation and even caused some brands to revoke deals with her earlier this year. "I think you learn so much in the moments where you do lose so much, you lose it all, your world is kind of turned upside down," the star shared, reflecting upon her former actions. "For me it was a big moment of, 'Wow, I need to find out how I can be better, how I can grow from this, learn from this.'" The 35-year-old celebrity (and wife of singer John Legend) admitted that one of the most challenging parts of the whole experience was realizing that her messages truly had a huge impact on the people she hurt.
Soon after Teigen's cyberbullying came to light, many companies dropped their partnerships with the former model — Target canceled Teigen's upcoming cooking line and her appearance on the show "Never Have I Ever" also fell through (via Delish). Despite the fallout from the scandal, however, she claims that she's thankful for this transformative experience. "There's that old cliché of 'I'm glad it happened,' but it truly made a stronger person. A better person."
The mom of two revealed that during this time her kids have inspired her to become a better role model, and that she has also made the decision to become sober. "I'm actually 100 days sober today and I'm, like, so excited," she continued. "I feel so good. I feel clearheaded."