Sunny Anderson Shared A Heartwarming Story Of An Ex-Troll Turned Ally
Slaven Vlasic/Getty Images
Celebrity feuds go back years and even decades. According to Good Housekeeping, some of the biggest celebrity feuds include Joan Crawford and Bette Davis, whose feud was so lengthy and legendary it inspired the FX series "Feud: Joan and Bette" (via Harper's Bazaar); Paris Hilton and Nicole Richie, who went from BFFs to enemies for an undisclosed reason; and then, of course, there is the infamous Kanye and Taylor Swift feud sparked by his outburst at the VMAs.
Celeb chefs are no exception. Anthony Bourdain and Paula Deen, Bobby Flay and Chef Morimoto, and Martha Stewart and Rachael Ray are just some of the famous chefs who have had their disagreements. At least celeb feuds are out in the open, though. It's different when internet trolls, hiding behind a username and keyboard, disparage people, celebs or otherwise.
Valerie Bertinelli (via Page Six) and Gordon Ramsay (via NY Daily News) are just some of the celeb chefs who have dealt with their fair share of social media trolls. And while sometimes trolls are terrible, other times trolling ends with a happy twist of fate. That's exactly what happened to Sunny Anderson. 
Sunny Anderson's troll turned into an ally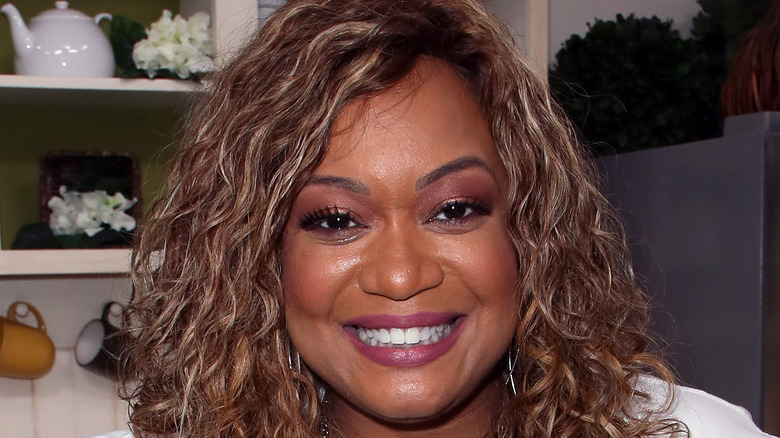 David Livingston/Getty Images
Recently, Sunny Anderson took to Instagram to share a less haunting Halloween tale. Fans of Anderson may know that she often likes to treat fans with gifts, but on the flipside, those who spurn her or troll her are often blocked or restricted. At one point, she did a giveaway, thinking those she blocked could not be included. However, one user who was blocked got around it by following Anderson again — using their cat's account. And that person won!
It seems the former troll had learned the error of their ways, though, and even messaged Anderson to say they would be willing to forfeit the prize as a result of their former comments. The person said they'd learned their lesson and educated themselves after acknowledging that their previous critical and racially insensitive comments were wrong. 
Anderson respected the shift in perspective and the honorable behavior so much that she and her former troll are now allies. It goes to show that an open mind and an open heart will win over trolling comments every time!