No-Bake Chocolate Oat Bars Recipe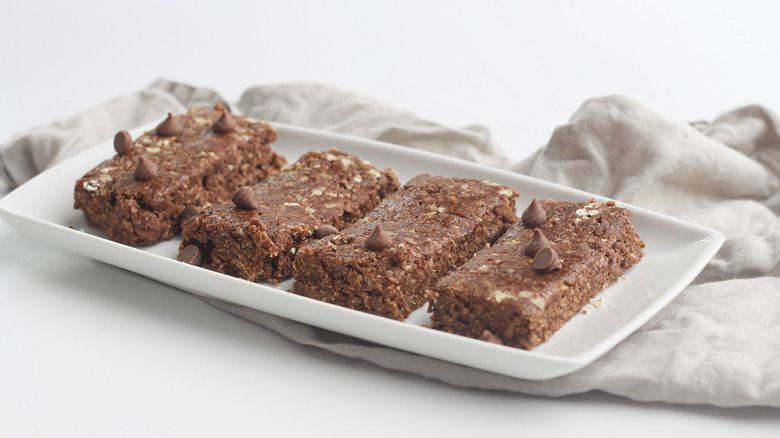 Susan Olayinka/Mashed
When you're always on-the-go and like to have something at the ready to grab quickly for snack, it's a good idea to keep a batch of oat bars on hand. "I'm really one for oat bars, as I find them super filling, so they're great for a quick breakfast or snack," says Susan Olayinka, recipe developer and food blogger at The Flexible Fridge. "[Plus, they're] really simple to make." In fact, it takes just 10 minutes to whip up a batch of 12 bars (plus roughly three hours to chill and harden in the fridge), so the little time required pays off big when you need ready-to-eat snacks throughout the week. If you have a house full of snackers, it takes the same amount of time to double or triple the recipe, leaving you with an easy and healthy snack that's going to satisfy practically any picky eater. And the next time you make this recipe, you can get creative with the ingredients and try different add-ins or nut butters. 
Gather your ingredients for no-bake chocolate oat bars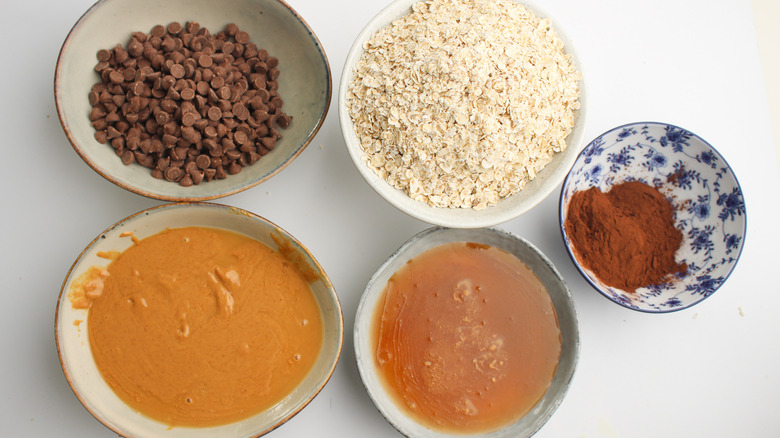 Susan Olayinka/Mashed
The ingredients for these oat bars are very simple and straightforward, and you might already have everything you need in your kitchen. Simply grab 3 cups of oats (go for rolled or old fashioned oats), 3 tablespoons of cocoa powder, 1 cup of smooth peanut butter, 1 cup of honey, and 1 cup of milk chocolate chips. That's all you need! 
One thing to keep in mind is that you want your peanut butter to be easy to mix, so if you refrigerate your peanut butter, leave it out for a little while before using it to allow it to warm up to room temperature. This will make it easier to combine with the other ingredients. Also, Olayinka suggests sticking to all-natural peanut butter (you can even make your own) rather than some of the processed name brands. "Skippy [and the like] tend to be a bit sweeter, so the natural peanut butter will [taste] better," she says. 
Add the ingredients to a mixing bowl, mix, and mold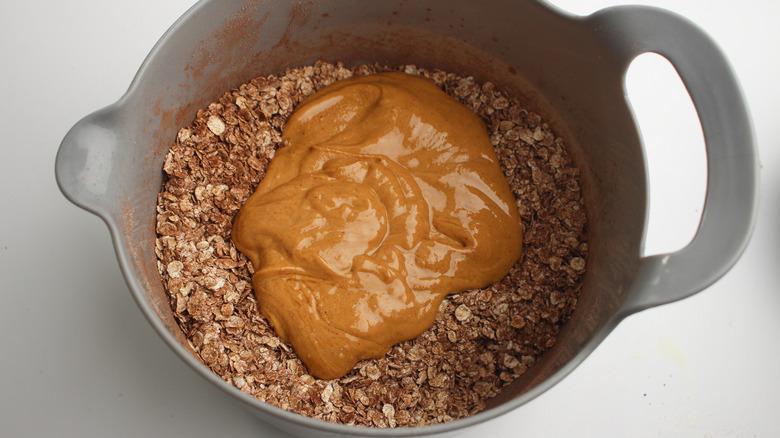 Susan Olayinka/Mashed
The process of making your oat bars couldn't be easier. Simply put all five of your ingredients into a mixing bowl. Start with the oats, then follow with the cocoa powder, peanut butter, honey, and chocolate chips. Mix as you go — so blend well after adding the cocoa powder to the oats. When combined, add the peanut butter, and mix well again before adding the honey. Leave the chocolate chips for last, after you've created a nice, even mix with the oats, cocoa powder, peanut butter, and honey.
Once your ingredients are prepped, use two 6x3-inch silicone mold trays, and press the mixture into the trays, distributing it evenly between the two trays. Of course, if you don't have silicone mold trays, you can still make the bars. "Silicone just makes the whole process easier," says Olayinka. "[If you don't have silicone trays], you can use a tin, but line it with parchment paper." The silicone or parchment paper will make the bars easier to cut and remove from the pans once they've hardened.
Refrigerate, slice, and enjoy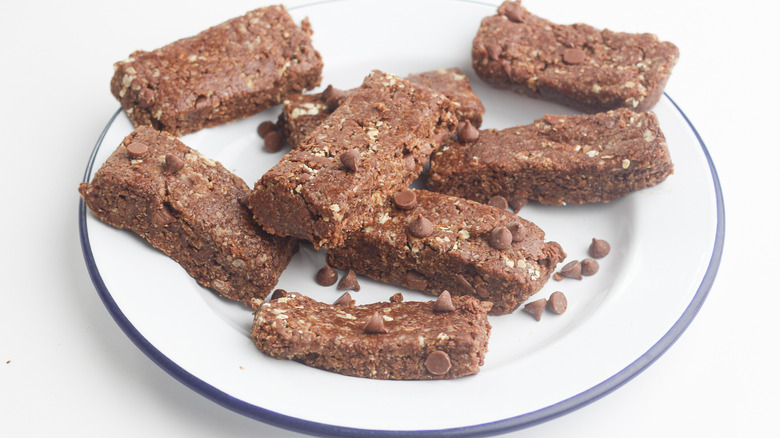 Susan Olayinka/Mashed
After pressing your mixture into the trays or pans, place them in the fridge to cool and harden for at least three hours. Then, remove the silicone trays from the fridge, and slice the oats bars into 12 equally-sized servings. Olayinka says each bar should be roughly three inches long by 1 ½ inches wide. The bars are now ready to eat or store! One thing you may want to do if you're storing them in the fridge for later is to wrap each bar in parchment paper to keep it from sticking to the other bars and to make each bar easier to grab on-the-go.
If you're missing an ingredient or two, you may be able to make easy substitutions with items you have on-hand. "Cashew butter, pistachio butter, or natural almond butter would work [in place of peanut butter]," Olayinka says. "And maple syrup or agave nectar would be wonderful if you don't have honey." These oat bars are sure to be a busy family's favorite treat!
No-Bake Chocolate Oat Bars Recipe
When you're always on-the-go and like to have something to grab for a quick snack, it's a good idea to keep a batch of no-bake chocolate oat bars on hand.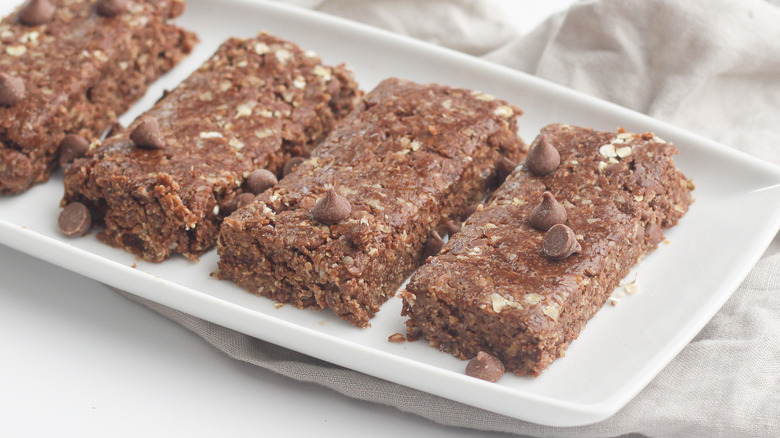 Ingredients
3 cups oats
3 tablespoons cocoa powder
1 cup smooth peanut butter
1 cup honey
1 cup milk chocolate chips
Directions
Pour the oats into a mixing bowl, followed by the cocoa powder, peanut butter, honey, and chocolate chips.
Mix the ingredients together well.
Place the mixture into 2 silicone mold trays.
Let the trays chill in the fridge for 3 hours.
After 3 hours, take out of the fridge, and slice into 12 bars.
Nutrition
| | |
| --- | --- |
| Calories per Serving | 463 |
| Total Fat | 18.3 g |
| Saturated Fat | 5.5 g |
| Trans Fat | 0.1 g |
| Cholesterol | 2.8 mg |
| | |
| --- | --- |
| Total Carbohydrates | 67.5 g |
| Dietary Fiber | 6.3 g |
| Total Sugars | 37.2 g |
| Sodium | 18.5 mg |
| Protein | 12.6 g |