Chili's Is Bringing 4 New Burgers To Its Big Mouth Menu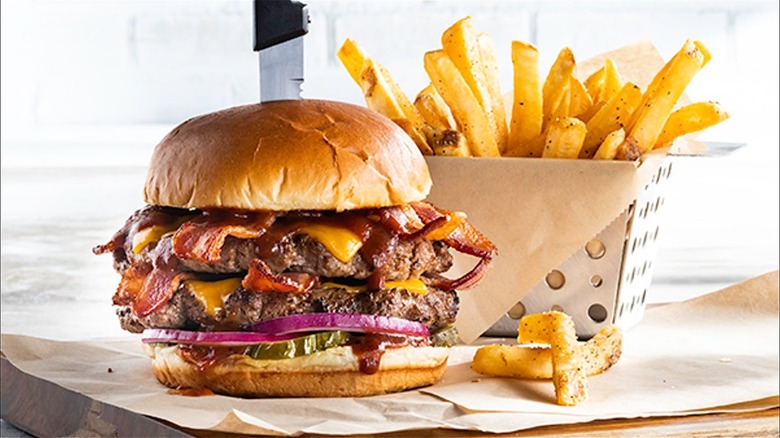 Chili's
Chili's is perhaps one of the quintessential restaurants that you think of when you hear the words "Tex-Mex." Some may remember the famous — or perhaps infamous — "Baby Back" jingle sung with a doo-wop quartet when you even mention the name. Others may associate the restaurant with a popular Vine-turned-meme: "Welcome to Chili's" (via The Washington Post). But, for most, it's the unique Southwestern flair that separates Chili's from all the cut-and-dry American-style restaurants and burger joints that flood the market. 
Since opening in 1975 in Dallas (per D Magazine), the restaurant chain offers customers a wide variety of both American food such as burgers, ribs, and steaks, as well as Tex-Mex dishes like chili, fajitas, and quesadillas. The chain even offers their margaritas to-go in many locations (via Mass Live), just in case you were in the mood for a Presidente Margarita at home. 
With a little something to please all sorts of guests, from vegetarian specialties to loaded party platters as part of their catering services, Chili's has always been about bringing that Southwest American flavor to the table — and bringing plenty of it. Nothing could encapsulate that idea more than the chain's newest additions to their Big Mouth Burger line-up. With four enormous new options (and one surprise star), the Big Mouth lineup certainly lives up to its name.  
Chili's new Big Mouth Burgers are loaded with taste
Although Big Mouth Burgers have been a part of Chili's menu for a while, the originals will pale in comparison to the sheer size of the four latest menu items. Two of the newest options are stacked with two thick, all-beef patties to form one pound of beef. That's not even considering the toppings and condiments. According to a press release, the first of the four massive burgers is the Bacon Rancher, with two beef patties loaded with bacon, house-made ranch dressing, American cheese, pickles, and onions. The second new option is the Big Bacon BBQ, boasting two beef patties, housemade BBQ sauce, bacon, onions, and cheese. The third entrant, the BBQ Brisket Burger, replaces the two beef patties with a large hunk of brisket slathered in BBQ sauce. And the fourth new option, the Chili's Secret Sauce Burger, is a cheeseburger drenched in Chili's "craveably addictive" Secret Sauce. 
In case all that beef is not to your liking and you're more of a poultry fan, you're in luck too since Chili's has also announced that they're making the Big Mouth Crispy Chicken Sandwich a permanent addition to the menu. First introduced in June 2021, Chili's has boasted their sandwich (with hand-breaded chicken, lettuce, tomato, and Secret Sauce) is the one to rule over all others in the "chicken sandwich war" (via a previous press release on Brinker's International). The popularity of the sandwich convinced them to make it a permanent staple of the Big Mouth family, one that we can only hope keeps growing.