Instagram Is Raining Hearts Over Ina Garten's Birthday Post For Jeffrey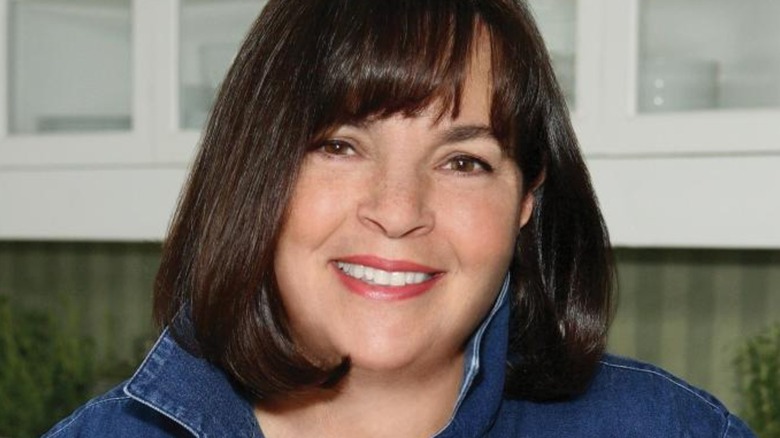 Food Network
Anyone who knows even a little bit about Ina Garten, or has watched a few episodes of her hit culinary show "Barefoot Contessa," will know about her husband Jeffrey Garten. The duo have an absolutely legendary love story, having been married for more than 50 years (via Insider). While Garten doesn't often share too much about her personal life, she's never afraid to show her husband a little love on social media, whether she's sharing a memory about their adventures over the years, or simply taking the opportunity to wish him a happy birthday, as she did recently.
In her latest Instagram post, Garten posted a series of photos that document Jeffrey through the years, including a few that show the couple together in their younger years. Some snapshots are culinary-themed, such as the first picture in which Jeffrey appears to be enjoying some melon and prosciutto alongside a glass of red wine, and others are simply images of the happy couple throughout their five-decade marriage. There's even one snap in which the duo's roles look somewhat reversed, as Jeffrey dons a chef's hat and a Barefoot Contessa-branded apron in the kitchen.
Ina paired the series of snaps with a simple yet sweet caption wishing a happy birthday to her husband, who she refers to as "the love of my life," adding that, despite having loved him for over half a century, she's "just getting started."
Ina Garten's fans lovingly reacted to the post
Though the Instagram post was just Ina Garten's way of paying tribute to her husband on his special day, countless fans shared their thoughts as well, offering sweet messages, and with some even disclosing how the post impacted them.
"Is someone chopping onions?" one fan wrote, alluding to tearing up over the sentimental post. "These pictures are GOLD, just like you two!!! Happy Birthday to dear Jeffrey!!!" another follower chimed in. Many fans simply couldn't get over the couple's decades-long relationship, with one writing that the Gartens were "couple goals forever."
A few celebrities even took time to leave a message, like actress Julianna Margulies, newscaster and author Katie Couric, and filmmaker Nancy Meyers who all chimed in on Jeffrey's big day. Countless fans also wished him a happy birthday in the comments section.
Not only is Jeffrey Garten an occasional guest on Ina's Instagram account, he's also the driving force behind one of her cookbooks. Fans who are curious to learn a bit more about the couple's relationship, or even just to see which dishes are particularly beloved by Jeffrey, can pick up "Cooking for Jeffrey" on the Barefoot Contessa website — it's a sweet guide that is half instructional and half aspirational (at least, if you're interested in finding your very own Jeffrey to spend 50-plus years with).