The Gross Reason This Popeyes Got Closed Down After A Viral TikTok Video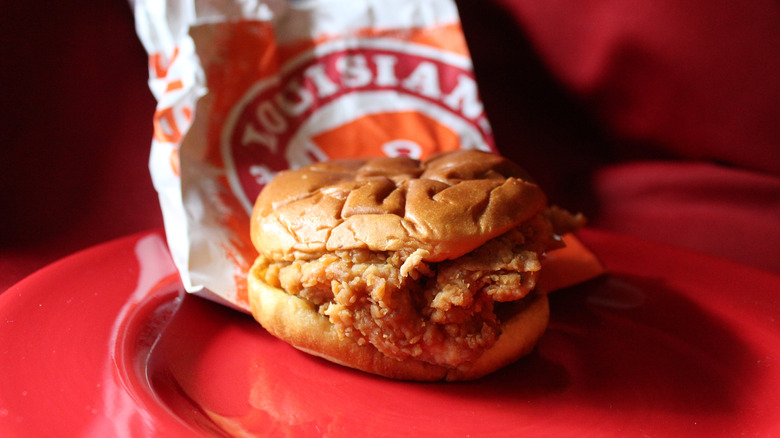 KDC-1/Shutterstock
A Washington, D.C., Popeyes has been closed due to health code violations, FOX 5 News recently reported. Citing "imminent health hazards to the public," DC Health shuttered the location on Thursday.
The closure will remain in effect "until further notice." It comes just over two weeks after a TikTok video — which was posted on October 11th and has since gone viral — showed rats in the kitchen of the Eastern Market restaurant. Posted by a Popeyes delivery man, blaqazzrick01, the video currently has about 34,000 views on TikTok and over 600,000 views on Twitter (thanks to a repost from the Washington news account @Washprobs).
In the clip, which seems to have been shot after hours, blaqazzrick01 takes viewers into the Popeyes' kitchen, promising to reveal "some wild s***." "This is Popeyes," he announces before flipping on the lights. Like a scene out of "Ratatouille," the kitchen itself seems to be alive with rats. Some go scurrying in opposite directions across the kitchen floor, while others are seen shimmying up a cable toward the ceiling. In the space of about 30 seconds, rats appear onscreen a dozen or so times (blaqazzrick01, in a voiceover, reports having seen 15 of them).
This isn't the first D.C. Popeyes to have a run-in with the health department
After the video exposes scurrying rodents, a pressing question remains. "You still love that chicken from Popeyes?" blaqazzrick01 asks his viewers, riffing on the chain's popular jingle (via TikTok).
News of the D.C. Popeyes' rat problem has been picked up in the past few days by major outlets like Newsweek, FOX 5 News, and Business Insider. At this point, the situation seems to have been resolved, with DC Health having closed the Popeyes restaurant on October 29th — the same day the blaqazzrick01's video was re-posted by Washingtonian Problems. In the comments section of the viral post, a Twitter user tagged DC councilmember Charles Allen, demanding a response. Allen assured the user that DC Health had "inspected and closed [the Popeyes restaurant]."
According to WTOP, the run-in with D.C.'s Department of Health isn't Popeye's first: no fewer than six other D.C. Popeyes restaurants have been hit with health violation complaints in the past year.