The Sad Death Of Ado Campeol, The 'Father Of Tiramisu'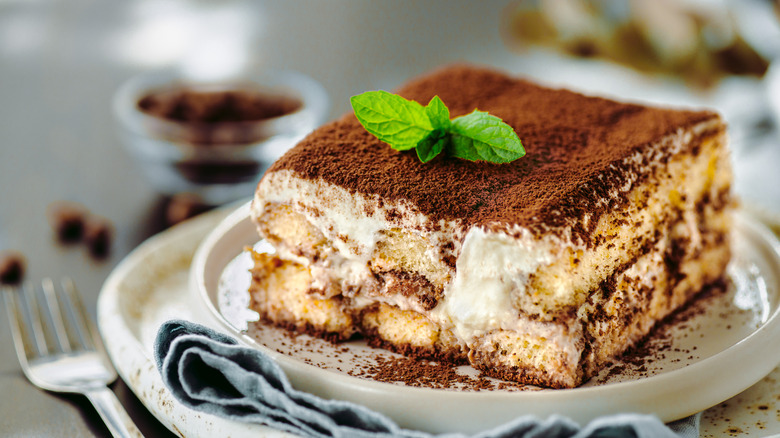 Fascinadora/Shutterstock
Most dessert lovers have heard of tiramisu — the ubiquitous Italian treat made with coffee-soaked ladyfingers and mascarpone — but there's a chance they don't know about the late Italian restaurateur Ado Campeol. The 93-year-old "father of tiramisu," whose death was reported this weekend by BBC, was the owner of a northern Italian restaurant called Le Beccherie, without which we might not have the famous sweet we now enjoy at eateries throughout the world.
Unlike some Italian classics like pasta puttanesca and lasagna, tiramisu (which translates to "pick me up") has a relatively recent and widely accepted origin story. It's said that the dessert's co-inventor, Le Beccherie chef Roberto Linguanotto, once dropped mascarpone into some eggs and sugar while making vanilla ice cream. When he discovered how tasty the accidental concoction was, he alerted Campeol's wife, Alba. Together, they tinkered with the recipe by adding the ladyfinger cookies, coffee, and cocoa powder, and the dish made it onto Le Beccherie's menu in 1972. The family never patented its tiramisu recipe, but it is now one of the most famous concoctions in the origin city of Treviso and beyond.
Campeol was a respected restaurateur
The Guardian, however, offers another perspective of tiramisu's origin story — this time, from Ado Campeol's son, Carlo, who now runs Le Beccherie. Carlo said that when his mother, Alba, was breastfeeding him as a child, she "turned to mascarpone mixed with sugar and biscuits soaked in coffee to keep her energy up, which is traditional in Treviso. Then, with her chef, she turned those elements into a pudding." It's unclear whether Alba approached Chef Linguanotto with the idea or if the accidental mascarpone incident also occurred. Regardless, tiramisu seems to have its roots in the Veneto region restaurant.
While Ado Campeol wasn't part of the team that invented tiramisu, his connection to its history runs deep. He took over operations at Le Beccherie at the end of World War II, according to BBC, and Luca Zaia, governor of the Veneto region, paid homage to the famous figure on Facebook. "Treviso loses another star in its food and wine history. ... I extend my deepest condolences to all the family members in the memory of a figure like Ado, who contributed to making Treviso great," the translated post reads. The tribute goes on to commend the quality and service at Le Beccherie, which is still open (and serving tiramisu) today.