Giada's Tiramisu Recipe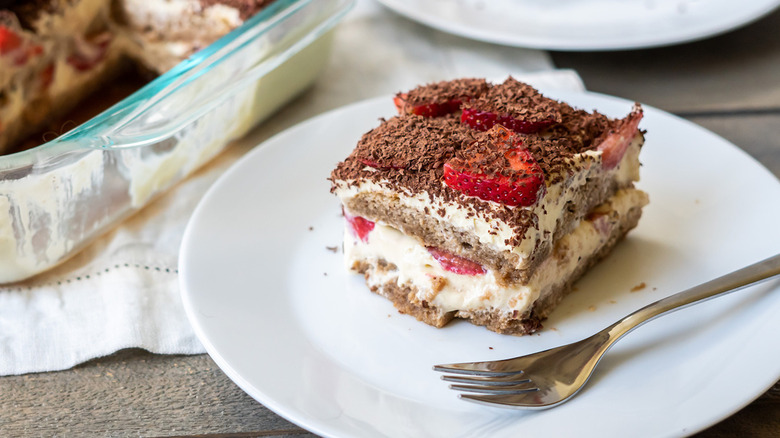 Jamie Monkkonen/Mashed
Giada De Laurentiis is an Italian cooking goddess — it's undeniable. Folks swoon over her perfect pink manicure and can't get enough of her Italian pronunciation of everything from spaghetti to prosciutto. And all of this paves the way for her bona fide talent. Anyone who has tried her tiramisu — an Italian dessert that translates to "pick-me-up" thanks to its caffeine double-whammy of coffee and chocolate — can attest to her prowess.
We love Giada's tiramisu recipe so much, that we created our own version of her luscious, creamy tiramisu. To craft it, Jamie Monkkonen of Vibrantly G-Free actually drew some inspiration from another classic dessert.
"I wanted to incorporate fresh berries in Giada's recipe and realized that with strawberries and chocolate, it nearly mimicked Neapolitan ice cream," Monkkonen explains. "I added vanilla extract to the mascarpone cream to create the perfect blend of my adult and childhood favorite desserts."
With just a few simple ingredients, in addition to the best seasonal strawberries you can find, you too can turn that classic favorite into a more colorful tiramisu. "In this version, the chocolate shavings layer nicely over the top layer of fruit," says Monkkonen. "Every bite tastes like a chocolate-covered strawberry."
What we changed in Giada's tiramisu recipe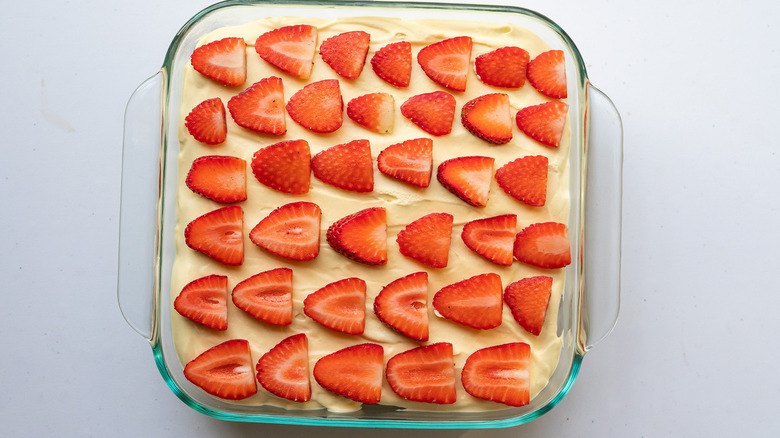 Jamie Monkkonen/Mashed
Giada's recipe is fairly classic: a combination of ladyfingers soaked in rum and a sweetened mascarpone cream. Shaved chocolate is a lovely finishing touch.
For this version, Monkkonen spotlights the flavors of Neapolitan ice cream, adding vanilla to the mascarpone mixture and, of course, including a layer of fresh strawberries.
She also includes one final tweak: making the tiramisu in a slightly smaller dish. "Giada's recipe calls for a 9x13-inch dish," explains Monkkonen. "Several reviews of the recipe noted this dish was too large (not enough ladyfingers). I used an 8x8-inch pan, and it was a perfect fit."
Gather the ingredients for Giada's tiramisu with a twist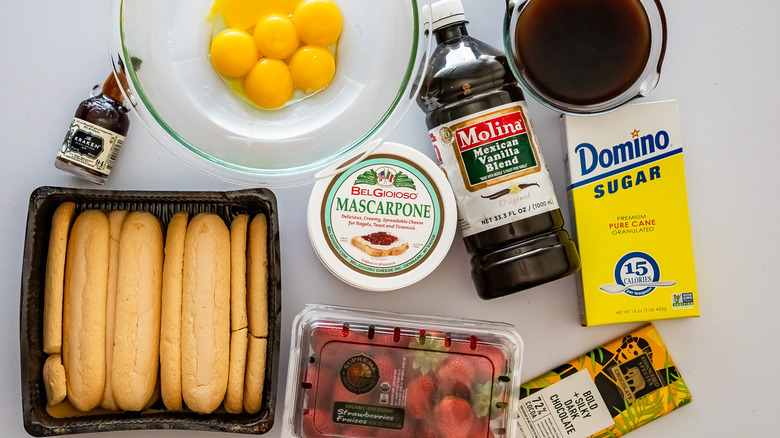 Jamie Monkkonen/Mashed
To make this tiramisu, you'll need 6 egg yolks and a whole pound of mascarpone cheese. Sweetened with vanilla and a mere 3 tablespoons of sugar, the mixture becomes just sweet enough to stand up to the other rich flavors. Since the eggs aren't cooked for this cream, be sure to choose the best quality you can find: organic if possible, and pasture-raised is a major plus. If you're worried about pathogens or contamination, you can always coddle your eggs before using.
You'll also need ladyfingers, which will be soaked in a mixture of dark rum and strong, brewed espresso that has been cooled in advance. If rum isn't your thing, Monkkonen notes that marsala wine, coffee liqueur, or amaretto all make great substitutes. Or, if you'd rather make a booze-free version of the dessert, you can simply omit the rum entirely.
You 'll also need sliced strawberries for the strawberry layer. Be sure to choose the ripest ones you can find. If you can't find top-quality strawberries, raspberries make a great stand-in.
Finally, you'll need bittersweet chocolate shavings to top the tiramisu. Monkkonen prefers Endangered Species Bold + Silky Dark Chocolate (72% cocoa). "It has a slightly sweet flavor and melt-in-your-mouth texture," she says.
Make the mascarpone cream mixture for Giada's tiramisu with a twist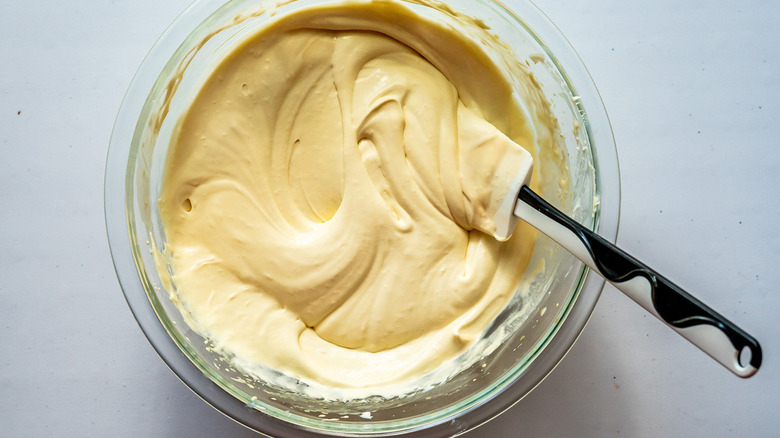 Jamie Monkkonen/Mashed
For the first step of this tiramisu with a twist, you'll be whipping up the silky mascarpone cream. To do this, combine the egg yolks and sugar in a large bowl, and whisk until thick and pale. This will take about five minutes if you're using an electric beater. If you're doing it by hand, it may take quite a bit longer (and a lot more muscle).
When the mixture is nice and thick, it's time to incorporate the mascarpone. Mix until smooth and creamy. (This is far easier if the mascarpone is already at room temperature).
Finish the cream with the vanilla and a touch of espresso, and mix until fully incorporated.
Soak the ladyfingers for Giada's tiramisu with a twist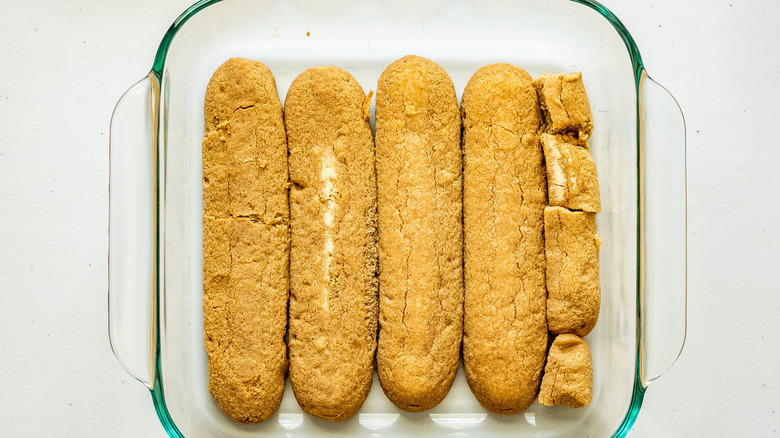 Jamie Monkkonen/Mashed
Next up, it's time to soak the ladyfingers, which will melt into a sort of cake layer within the tiramisu. First, combine the remaining espresso and the rum in a shallow dish that's large enough to fit a whole ladyfinger comfortably. Dip each ladyfinger into the mixture just long enough for it to soak up the liquid on both sides, but not so long that it falls apart — about five seconds should do it. 
As you go, lay the ladyfingers in a layer along the bottom of an 8x8-inch baking dish to form the base of the tiramisu. Take care to fully cover the bottom, breaking the ladyfingers into pieces if needed to make sure that they have a nice, snug fit.
Layer the mascarpone and strawberries with the ladyfingers for Giada's tiramisu with a twist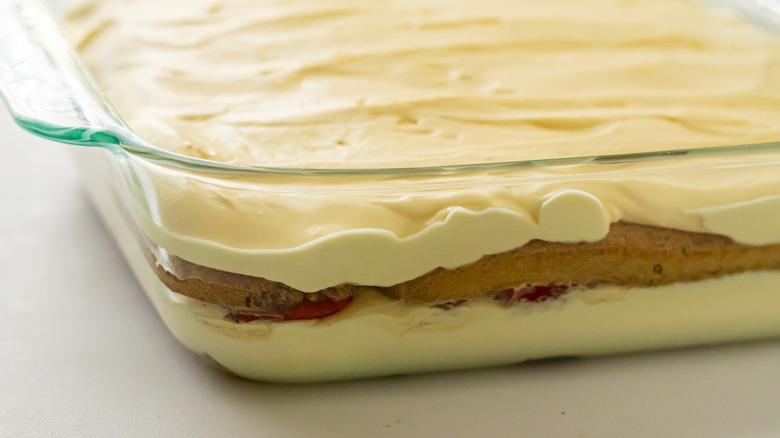 Jamie Monkkonen/Mashed
On top of the layer of ladyfingers, add half of the mascarpone mixture, spreading evenly to completely cover the cookies. Next, arrange half of the sliced strawberries in a single layer on top of the mascarpone. Repeat with another layer of soaked ladyfingers, and top with the remaining mascarpone mixture. Spread the top evenly, making sure that no ladyfingers show through the cream. You want them to fully absorb the moisture both in the rum-coffee mixture and in the mascarpone cream, so they soften into something akin to a very, very moist dessert treat.
Chill Giada's tiramisu with a twist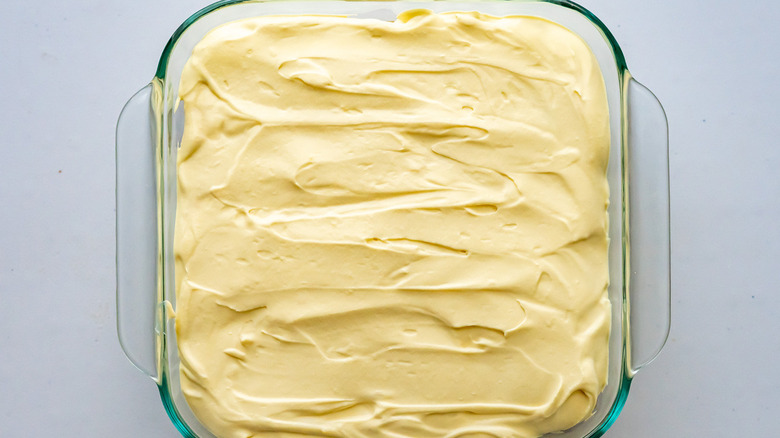 Jamie Monkkonen/Mashed
At this point, it's time to let the tiramisu rest. Cover it with plastic wrap, and chill at least two hours or up to overnight.
For Monkkonen, this step is essential, not just for the flavor of the tiramisu, but also for the final presentation.
"Chilling the tiramisu before serving allows time for the flavors to meld and the layers to set," she explains. "Serving without chilling may disrupt the layers, resulting in a texture more like a pudding bowl with ladyfinger bites."
As an added bonus, the chilling step means that a tiramisu is the perfect dessert to serve for a dinner party, as most of the work is done in advance.
Garnish and serve Giada's tiramisu with a twist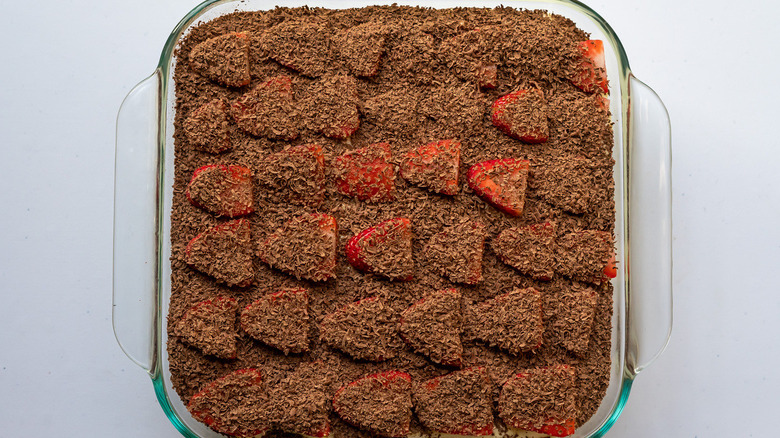 Jamie Monkkonen/Mashed
You've waited patiently, and now, it's almost time to serve! All you need to do is add the finishing touches. 
First off, a single layer of sliced strawberries, arranged over the top of the mascarpone. Take your time with this — the strawberries will be visible when you present the dessert, so it's worth the bit of added effort to make them pretty.
And finally, the last Neapolitan flavor takes the stage: the chocolate. To grate the chocolate, Monkkonen relies on the medium holes of a box cheese grater, although she notes you could also use a microplane or even chop it very finely on a cutting board.
"Starting with a full bar of chocolate makes the process easier, because you can grip the bar better," she says. "I used ⅔ of the bar to create ½ cup of chocolate shavings."
Sprinkle the chocolate generously over the tiramisu, and dig in!
Giada's Tiramisu Recipe
We love Giada's tiramisu recipe so much, that we created our own version of her luscious, creamy tiramisu.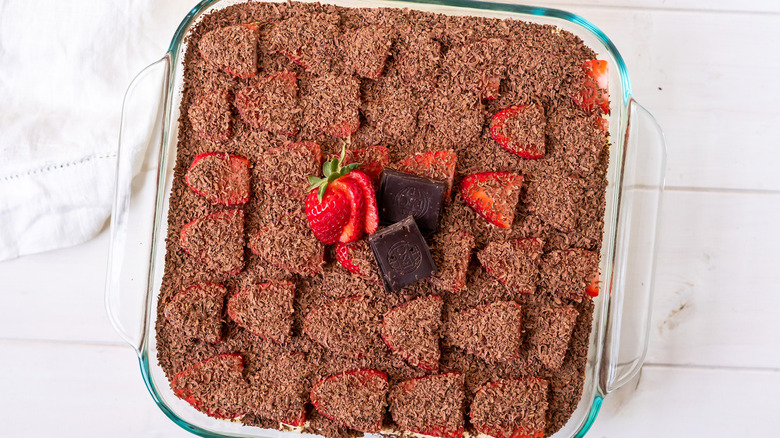 Ingredients
6 egg yolks
3 tablespoons sugar
1 pound mascarpone cheese
½ teaspoon vanilla extract
1 ½ cups strong espresso, cooled, divided
2 teaspoons dark rum
24 packaged lady fingers (200 grams)
2 cups sliced strawberries
½ cup bittersweet chocolate shavings, for garnish
Directions
Add the egg yolks and sugar to a large bowl. Whip until thick and pale (about 5 minutes) using an electric mixer with whisk attachment.
Add the mascarpone cheese, and mix until smooth and creamy. Add the vanilla extract and 1 tablespoon of espresso. Mix until thoroughly combined.
Add remaining espresso and rum to a shallow dish large enough to fit a lady finger. Dip each ladyfinger in the mixture for about 5 seconds, rolling and flipping to coat all sides. Soaking any longer will cause the ladyfinger to fall apart. Lay each soaked ladyfinger in a single layer along the bottom of an 8x8-inch baking dish. You may need to break the ladyfingers to fit snugly across the bottom.
Spread half the mascarpone mixture evenly across the layer of ladyfingers. Then, arrange half the strawberries in a single layer over the mascarpone. Top with another layer of soaked ladyfingers, then a final layer of the mascarpone mixture.
Cover the tiramisu with plastic wrap to retain moisture and refrigerate for at least two hours.
Before serving, add a final layer of sliced strawberries across the top. Sprinkle evenly with chocolate shavings.
Serve and enjoy!
Nutrition
| | |
| --- | --- |
| Calories per Serving | 408 |
| Total Fat | 27.8 g |
| Saturated Fat | 14.6 g |
| Trans Fat | 0.0 g |
| Cholesterol | 227.2 mg |
| | |
| --- | --- |
| Total Carbohydrates | 33.2 g |
| Dietary Fiber | 1.7 g |
| Total Sugars | 14.5 g |
| Sodium | 256.5 mg |
| Protein | 8.4 g |