Chick-Fil-A Fans Are Arguing About This 'Shrunken' Chicken Biscuit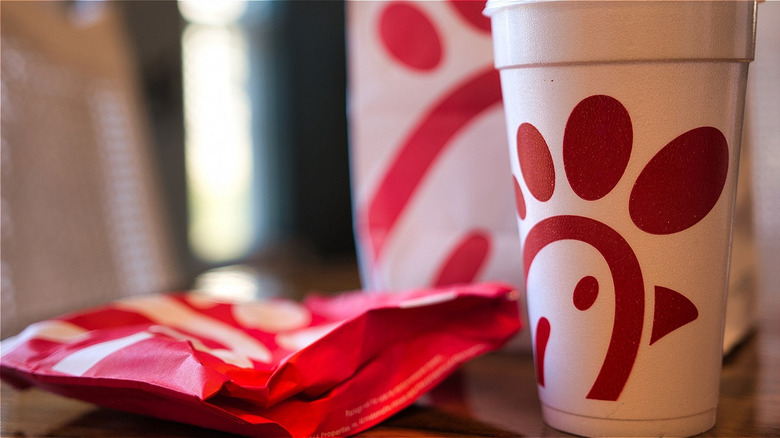 jmac23/Shutterstock
Times have been tough lately for many restaurants and fast food chains. Lockdowns and labor shortages have led to reduced hours and closures for many locations nationwide, and, as popular as they may be, the chicken chain Chick-fil-A has not been immune to these changes. Recently, some customers have even accused the company of employing a sneaky new tactic to save money during these tough times: Shrinking the size of some of their products, while still charging the same price. One disappointed customer posted a picture of a breakfast chicken sandwich that was allegedly smaller than normal to the r/ChickFilA subreddit, calling it an example of "shrinkage shenanigans" and asking, "At what point do you think you can keep reducing the size of your food and increasing your prices before people stop coming?"
However, not everyone was convinced this one photo was strong enough proof that Chick-fil-A has been shrinking their products. Some fans defended the chain, saying that the pictured sandwich appeared smaller because it was a breakfast sandwich, which has always been a smaller size than the brand's lunch sandwiches. "Hi friend, breakfast fillets are smaller to fit the biscuits. They also have a different marinade so they are packaged completely separate from the regular fillets. The regular sandwich fillets have not changed in size," replied u/CanderousOreo. "Breakfast filets are smaller than lunch filets my dude," added a Chick-fil-A worker.
Some customers argued Chick-Fil-A's breakfast sandwiches are smaller than they used to be
Per Chick-fil-A, their morning sandwiches are served in a "breakfast portion" of boneless chicken breast atop a fresh-baked buttermilk biscuit, while their entree-sized sandwich comes with a full seasoned, boneless chicken breast sandwiched between their famous toasted, buttered bun. However, the original poster defended their claim, explaining: "THIS biscuit has gotten much smaller than normal Chick-fil-a breakfast biscuits over the past year...It is an absolute micro biscuit." Others were quick to come to OP's defense, agreeing that the breakfast sandwich looked smaller when compared to a normal-sized sandwich. "It's all true- they shrunk the breakfast sandwich, glad I'm not the only one who noticed," agreed u/tyt3ch, while another sharp-eyed customer elaborated: "Yes the filets are smaller than the normal filets. They weren't always this small though. The cfa biscuits used to be about as wide as the 4 count mini box. At least locally, you can now fit two [Chick-fil-A] biscuits in the 4 count mini box."
Still other die-hard Chick-fil-A customers shot back at the complaints, saying that if people aren't happy with the portion of the chicken sandwiches, the shouldn't eat there. So while an agreement may never be reached in this heated debate over the size of Chick-fil-A's breakfast sandwiches, one thing was certainly made clear in the comment section: Chick-fil-A has some passionate fans.