Instagram Is Loving This Dia De Los Muertos Photo Of Aarón Sánchez And Son Yuma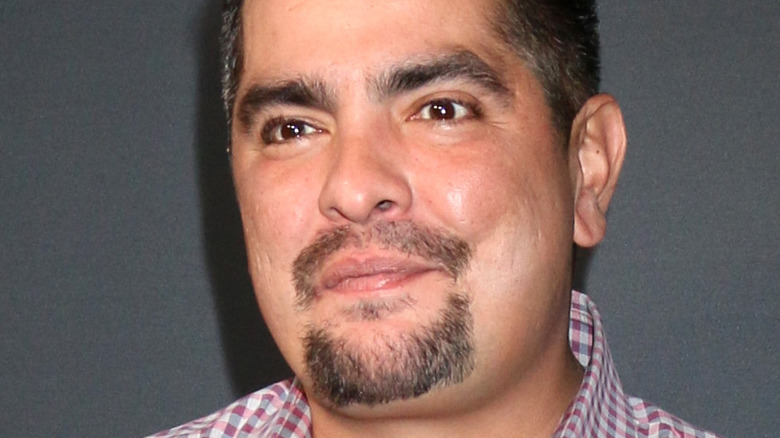 Kathy Hutchins/Shutterstock
Dia de los Muertos, otherwise known as Day of the Dead, is a traditional Mexican holiday that falls around the same time as Halloween. It serves as a way for families to remember and call upon the souls of their departed relatives. According to History Channel, the day is not one of mourning but of celebration. People place various forms of tribute, including food, at the graves of people they've lost. In some cases, they honor the deceased at home by leaving offerings on altars called ofrendas.
Food establishments and food celebrities alike have observed the holiday in their own ways. El Pollo Loco had a mural painted at its Inglewood location and offered Dia de los Muertos-themed gift cards as well as a special dinner deal. Chefs might honor Dia de los Muertos with special recipes, Richard Sandoval's Flor de Muertos Margarita. Chef Aarón Sánchez and his son Yuma celebrated as well, and one of their moments together was captured in a photo.
Day of the dad and son
Aarón Sánchez took to Instagram to honor his family by spending some quality time with his son. The photo features Aarón with his arms wrapped around Yuma in a pumpkin patch as young Yuma sits on a pumpkin roughly the same size as his child. He captioned the photo, "Papi pequeño y El Jefe kicking it Muertos style. #orale," which roughly translates to "Little daddy and the boss kicking it [Day of the] Dead style" (via Google Translate). 
Fans responded with immense excitement and an outpouring of love in the comments, which included "Love you guysss" and "You can see the love in both of your eyes." Another fan even urged Sánchez to spend Dia de los Muertos in the land where it originated, saying, "Aaron you and your family should come to Mexico to experience día de los muertos. It's beautiful cultural experience!" But as this photo shows, Sánchez is no stranger to creating beautiful experiences all on his own.