Chef Richard Sandoval's Flor De Muertos Margarita - Exclusive Recipe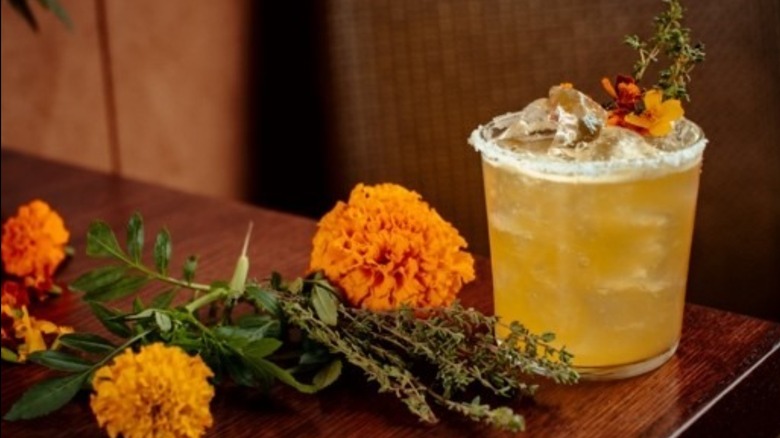 Richard Sandoval Hospitality
Halloween is a holiday that brings out the kid in all of us — whether, in fact, you're a pint-sized trick-or-treater, or are taking a break from your "adulting" to chow down on chocolate miniatures while wearing a costume. The day that follows, however, Día de los Muertos, is a profound celebration originating in Mexico that celebrates both life and the souls that have since passed (per National Geographic). And while dressing up like a skeleton might be appropriate for either holiday, the menu will be decidedly more grown-up for your November 1 festivities.
According to Mexico City native and restaurateur Chef Richard Sandoval, it's the spirit of Día de los Muertos that calls for spirits, and it's what inspired him to create a Flor de Muertos Margarita recipe using a brilliant golden marigold flower. "The holiday is a festival of color and life-affirming joy," Sandoval told Mashed. "While the theme may be death, the point is to demonstrate love and respect to the past and intention to the future. As such, toasting your ancestors or departed loved ones with a quality margarita, like our Marigold Margarita, is a great way to pay respect to them."
Sandoval, who has created more than 45 Mexican and Latin American restaurant concepts all over the world, advises using only 100% agave tequila for your margarita, and added that the marigold isn't just a garnish, but a key part of the recipe. "Marigold is sometimes thought of as a flavor similar to saffron: it can be mildly citrusy, subtly spicy, and herbaceous, all at the same time — so the complexity of it builds well to create a wonderfully unique flavor profile in your glass."
Visit Chef Richard Sandoval's website to learn more about his restaurants, or follow him on Instagram.
Chef Richard Sandoval's Flor De Muertos Margarita - Exclusive Recipe
Marigold flowers highlight this festive margarita that makes for a perfect celebratory drink to partake in for Día de los Muertos.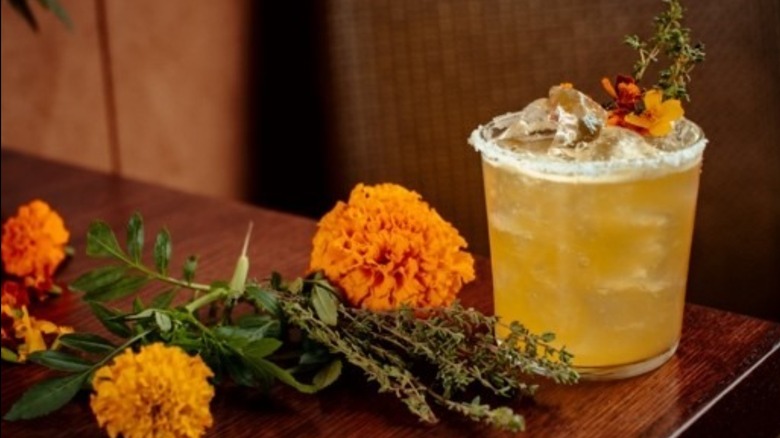 Ingredients
1.5 ounces Patrón Silver Tequila
2 ounces house-made sour
.5 ounces agave nectar
1 ounces passionfruit purée
5 marigold flowers
thyme to taste
salt for rim
Directions
Add all ingredients to a shaker shake vigorously.
Double strain over fresh ice.
Garnish with salt rim, thyme, and marigold flowers.