3-Ingredient Pesto Calzone Recipe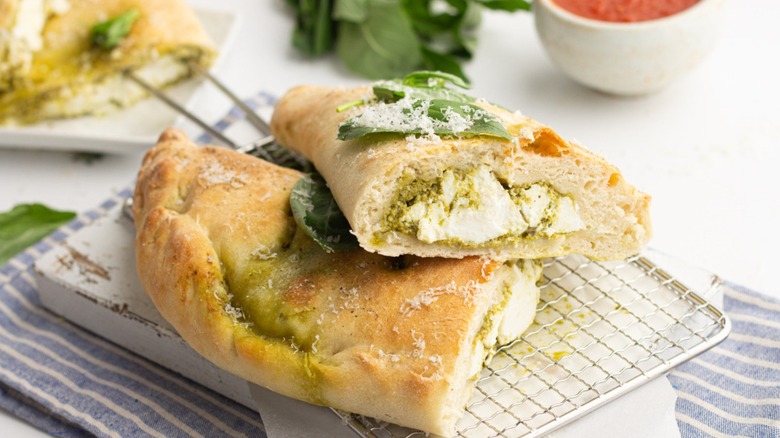 Susan Olayinka/Mashed
The calzone is clearly the underdog of the Italian takeout restaurant world. Whereas the hubcap-sized pizza pie is like a sexy, blonde bombshell, happily flaunting its considerable talents for all to see, the more understated calzone — which is, essentially, a pizza crust that's been folded like a turnover to turn its toppings into a filling of sorts — keeps its undeniably alluring self fully under wraps, at least until someone who knows better slices it open, at last permitting its gooey, warm, Italian-spiced goodness to reveal itself. But recipe developer Susan Olayinka of The Flexible Fridge knows better than to be swayed by all that is obvious, and that is why she is here to advocate for the humble calzone in the form of this three-ingredient pesto calzone recipe.
Although you could make a calzone using traditional pizza ingredients (basically, you just top half the crust with them and then fold the crust over and seal it), Olayinka has chosen to work with the "luxurious addition of ricotta and pesto," thereby further distinguishing her calzone from the ordinary and more obvious pizza pie. And since Olayinka's recipe requires only three ingredients, that leaves just one ingredient, in addition to the ricotta and pesto: refrigerated pizza dough from your grocery store. Let's get to it, shall we?
Gather your ingredients for this three-ingredient pesto calzone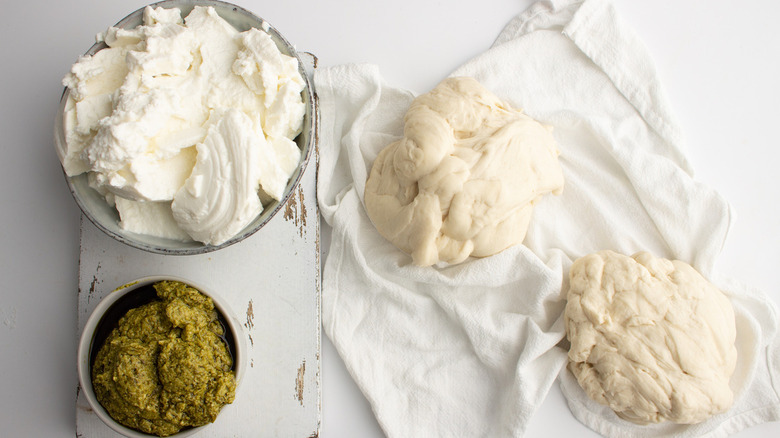 Susan Olayinka/Mashed
As noted above, Olyainka's calzone recipe requires just three ingredients. Literally, all you need to make this three-ingredient pesto calzone recipe is 28 ounces of prepared pizza dough (the kind that comes pre-mixed and ready to roll out), some fresh basil pesto sauce (three-quarters of a cup), and a tub of ricotta cheese (of which you will need 17.5 ounces). This will make two calzones stuffed with pesto and ricotta, each of which can be cut in half to make two reasonably sized servings. Since you're only working with three ingredients here, each will count, so definitely consider using whole milk ricotta for a richer flavor and a high-quality freshly made pesto sauce (you could make it yourself, but you certainly don't have to).
If you're not sure how to find a good prepared pesto from your supermarket, Olyainka recommends choosing one that makes use of good quality olive oil, real Parmesan cheese, and pine nuts, so make sure to look for those things as you shop for ingredients.
Prepare the dough for your three-ingredient calzone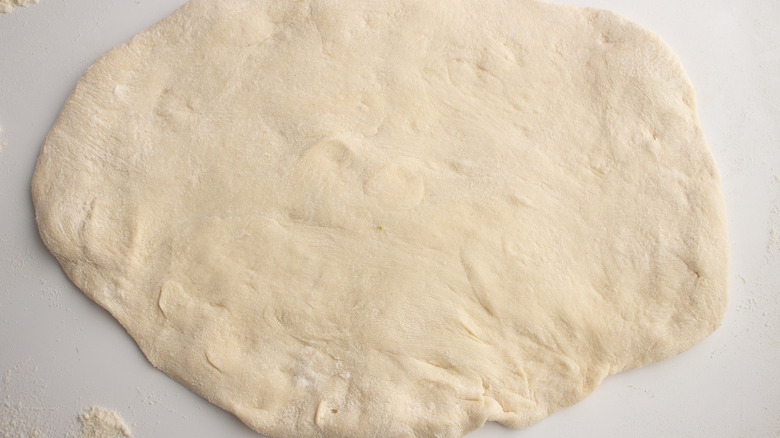 Susan Olayinka/Mashed
About two hours before you begin, consider taking the pizza dough out of the refrigerator to soften it up. This ought to make it easier to work with. When you're about to begin, set your oven to preheat to 400 F. While you wait for your oven to preheat, take out the pizza dough, divide it in half, and using a rolling pin, roll each half into a large oval shape of around a half an inch thick, being sure to lightly flour your work surface and your rolling pin first.
Put your toppings on the pizza dough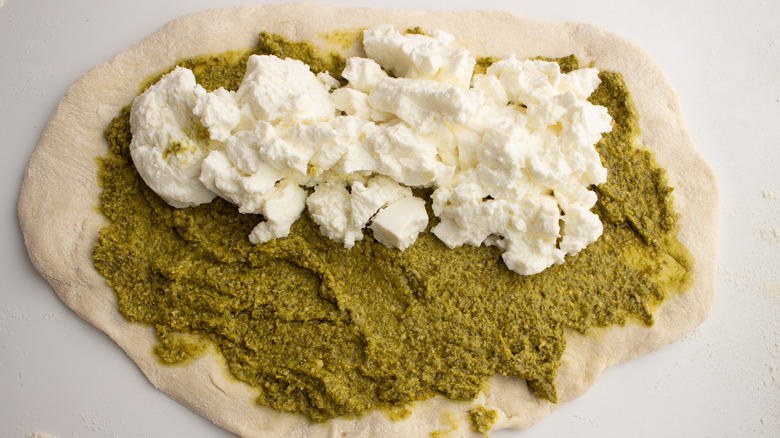 Susan Olayinka/Mashed
Now that your pizza dough has been rolled out, it's time to assemble the filling. Spread half of the pesto sauce over the surface of each dough oval. Be sure to leave about a half-inch margin at the edges, as you will need this margin to close and seal your calzone. Then spoon the ricotta onto half of each half of the pesto-topped pizza dough, and move on to the next step.
Fold and seal your three-ingredient calzone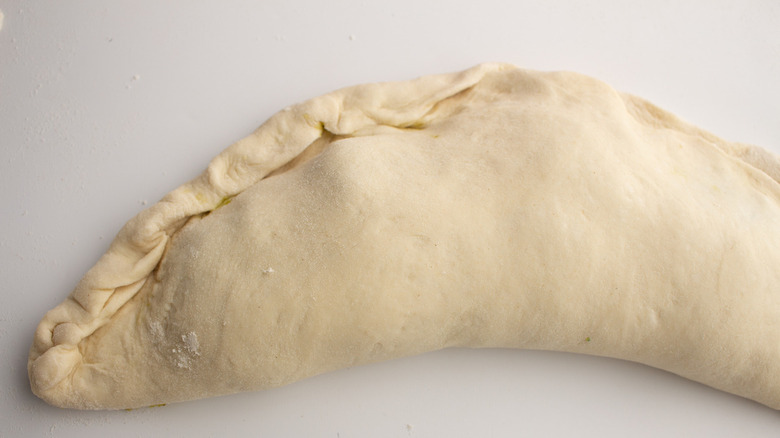 Susan Olayinka/Mashed
All that is left to do now is to fold over your calzones, seal the edges so that the filling won't leak all over your oven, and bake for 20 minutes at 400 F. Start by gently picking up one edge of the calzone crust on the side with only pesto and no ricotta cheese. Fold it over the other half of the calzone dough (the half with the cheese on top of the pesto). Your calzone will be roughly half-moon-shaped now. Using your fingers, twist the dough at the edges together, forming a seal. 
When the oven has preheated to 400 F, use a sharp knife to slice into the body of the calzone in three places, and put the calzones in the oven. Set a timer for 20 minutes. When that time is up, your calzone should be chewy-crisp on the outside and soft and gooey on the inside. Remove the calzones from the oven, and serve while still warm.
3-Ingredient Pesto Calzone Recipe
The calzone is clearly the underdog of the Italian takeout restaurant world. But now, you can make your own easy calzones at home.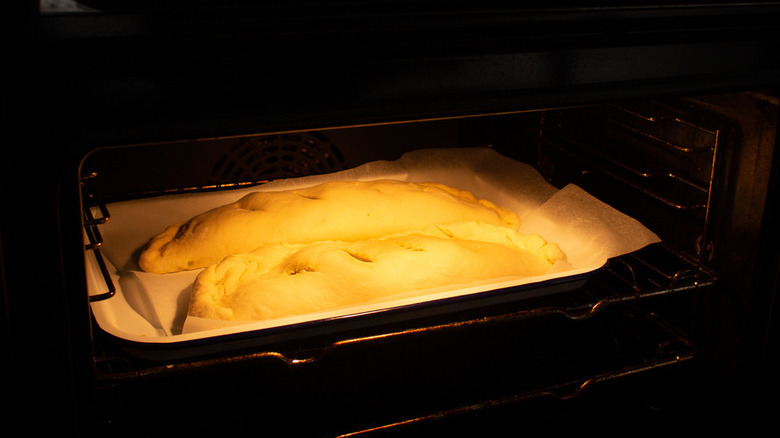 Ingredients
28 ounces ready-to-roll pizza dough
¾ cup pesto
17 ½ ounces ricotta cheese
Directions
Take pizza dough out of the refrigerator 2 hours before beginning the recipe.
Preheat oven to 400 F.
Spread the pesto sauce on the whole of the dough, excluding a ½ inch margin at the edges.
Spoon the ricotta onto half of the dough and close the calzone.
Seal the edges and use a shape knife to slice three slits on the body of the calzone.
Bake for 20 minutes at 400 F.
Remove from the oven and serve warm.
Nutrition
| | |
| --- | --- |
| Calories per Serving | 1,846 |
| Total Fat | 78.2 g |
| Saturated Fat | 28.3 g |
| Trans Fat | 0.0 |
| Cholesterol | 134.5 mg |
| | |
| --- | --- |
| Total Carbohydrates | 214.0 g |
| Dietary Fiber | 12.4 g |
| Total Sugars | 4.0 g |
| Sodium | 3,661.3 mg |
| Protein | 68.0 g |