Your Kids Will Flip For These Aldi 2021 Advent Calendars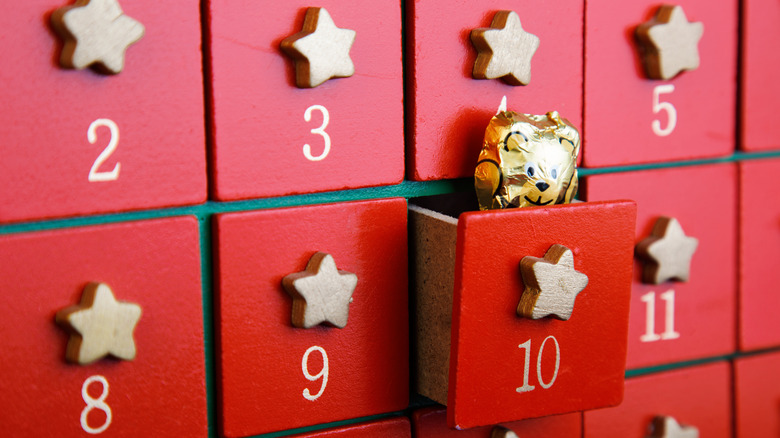 Mahony/Shutterstock
The popularity of adult advent calendars proves that you never truly grow out of the thrill of opening a small box or package every day during the month of December until Christmas comes, waiting to see what sweet treat, beauty product, or small bottle of wine you'll get for the day. It's like giving yourself a little moment of pleasure and surprise every day for 24 or 25 days straight — what's not to love about that? And that excitement level practically triples when children are involved.
From advent calendars containing classic chocolates to those containing toys, there are plenty of options on the market when it comes to advent calendars for kids, and price ranges vary widely, too. Whichever option you decide to buy, 'tis the season to keep your eyes peeled as advent calendars begin popping up on store shelves — including the shelves at Aldi. As the chain warns, quantities of these calendars are very limited and they won't be restocked, so you'll want to grab your preferred advent calendar when you see it to avoid any disappointment.
Make sure to walk down all the aisles, too, to spot some of these advent calendars as they may be in various spots in the store — no matter what your child enjoys, there's likely a calendar at Aldi for them.
Choceur Advent Calendar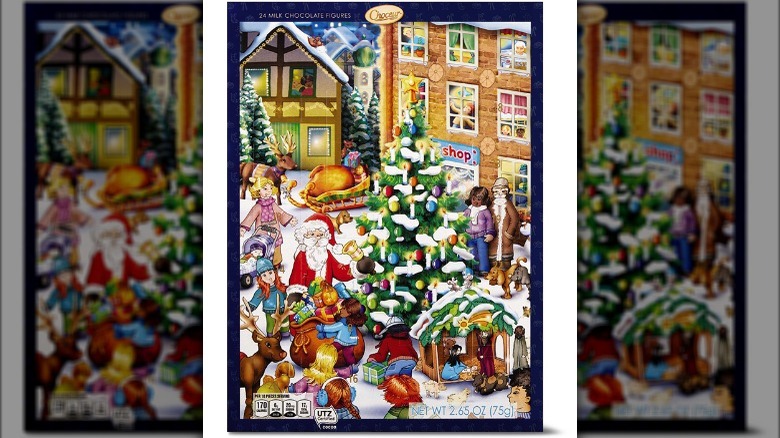 Aldi
Choceur's simple option is perfect for both the advent calendar purists who want to see a daily chocolate dispensed (rather than the over-the-top showstoppers) as well as budget-conscious shoppers. It costs just $1.49! Each day features a small milk chocolate figurine, and there are three different calendar designs, so your child can pick the one that catches their eye. The calendar has no release date yet so keep an eye out for it at Aldi.
Mattel Little People Advent Calendar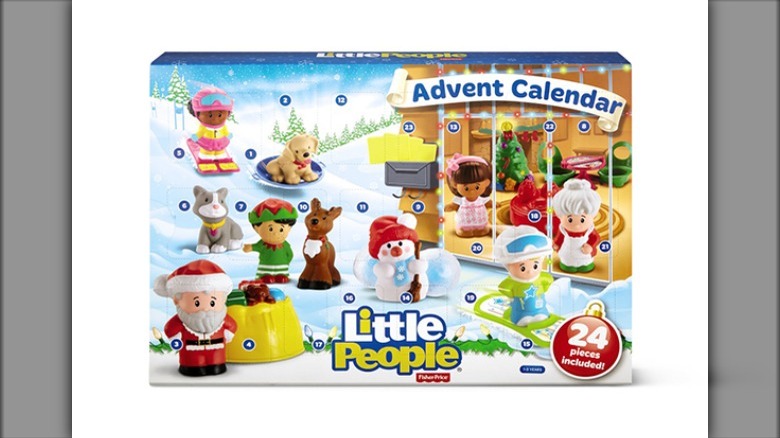 Aldi
If your child happens to have any Mattel Little People play sets, this advent calendar will give them a festive cast of characters to populate their farm or playhouse (via Fisher-Price). Alternatively, it'll give them the chance to create their own holiday shows using their imagination and a few extra figurines — there's 24 pieces included. This calendar has no release date yet, but you can scoop it up for $24.99 when you spot it.
Mattel Barbie Dreamtopia Advent Calendar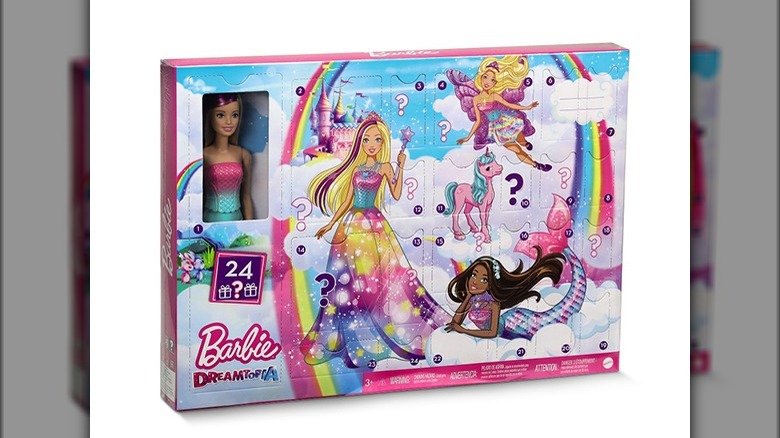 Aldi
If your child prefers toys with less of a seasonal flair and more of a dreamy fantasy setting, this Barbie Dreamtopia Advent Calendar might be just the ticket. As the packaging reveals, Day 1 is a Barbie doll, and the rest of the days feature fun accessories, from skirts and high heels to teacups and even a few four-legged friends (via Mattel). This calendar retails for $24.99, though there's no set release date yet.
Warner Bros. Elf Advent Calendar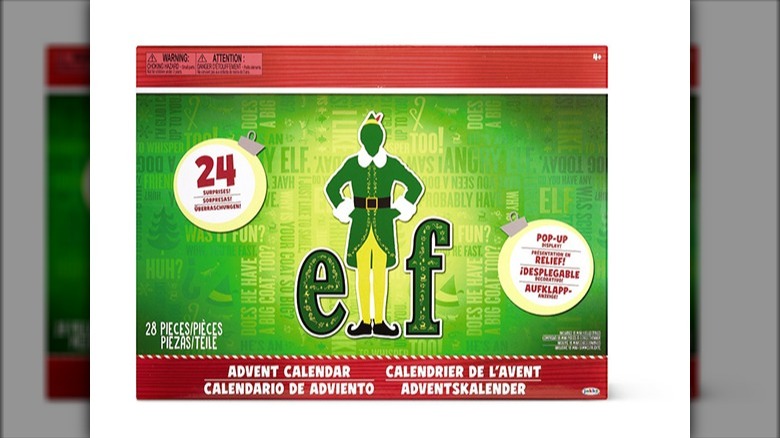 Aldi
If the Christmas classic film "Elf" is required viewing in your home every holiday season, this advent calendar could be the perfect pick for your child. The calendar features a pop-up display that sets the stage for recreations of the movie scenes, and each day they'll find a different figurine to join the production. There isn't a determined release date for this calendar just yet but it will retail for $29.99
My Beauty Spot 12 Days of Bath Fizzers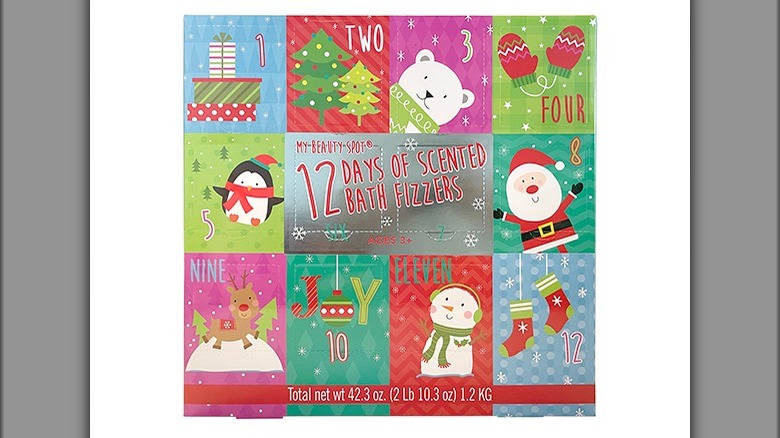 Aldi
Perfect for slightly older children (or ones that just love the idea of a home spa night), this advent calendar contains a variety of scented bath fizzers. Note, it's a 12-day calendar rather than a 24-day version, so your child could either open one window every other day, or simply begin opening it daily on December 12 to start enjoying all the fizzy bathtime fun. The calendar retails for $12.99, though there's no set release day yet.
Merry Moments My Friend Gnome Kit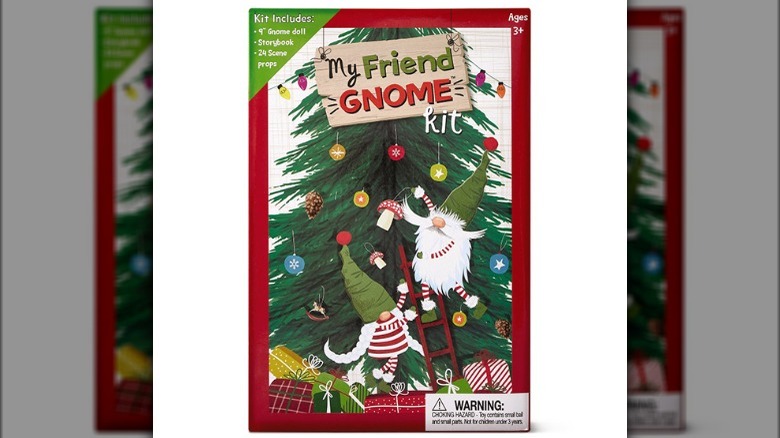 Aldi
Aldi seems to be anticipating that this advent calendar will be quite popular, as they've already expressed there will be a limit of one per customer. This festive calendar features a 9-inch tall gnome, a storybook, as well as 24 different props to open up to every day for lots of festive fun. It's available as of November 3 and retails for $24.99.
Nickelodeon Paw Patrol Advent Calendar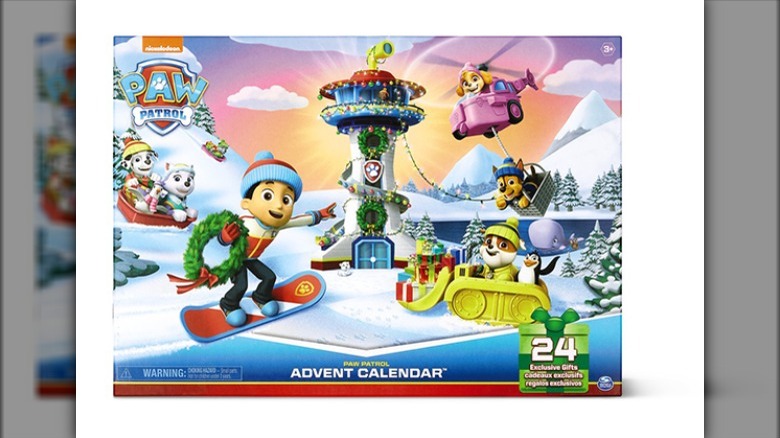 Aldi
Perfect for any "Paw Patrol" enthusiasts in your home, this advent calendar includes various festive figurines, from a frost-covered storefront to snow-tipped trees and, of course, a few four-legged friends (via Indigo). With a little imagination, your child can stage their own "Paw Patrol" seasonal episodes, right in your own home. You can find this advent calendar on shelves starting November 3, retailing for $19.99.
Mattel Polly Pocket Advent Calendar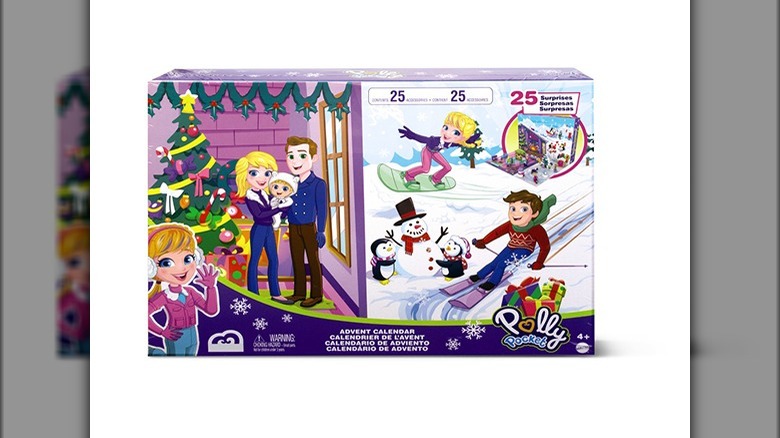 Aldi
Available beginning November 3 for $16.99, this Polly Pocket-themed advent calendar is perfect for kids that want to create their own winter wonderland. The calendar's fold-out play set contains a ski chalet and winter portion, and each day features a new figurine. After they collect them all, your child can create scenes of skiers zooming through the snow as well as a family tree-trimming and gathering by the fire.
Mattel Cars Advent Calendar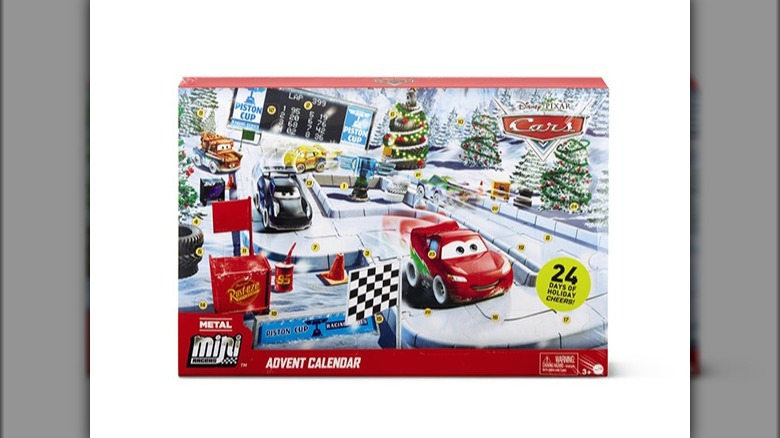 Aldi
If your child wants their racetrack playtime to have some festive flair this holiday season, this "Cars" advent calendar is guaranteed to please. Each day they'll open up a new figurine, car, or a portion of the race track, allowing them to build the full scene throughout the month of December. It retails for $16.99, and should be popping up on Aldi shelves starting November 3.
Lego Star Wars Advent Calendar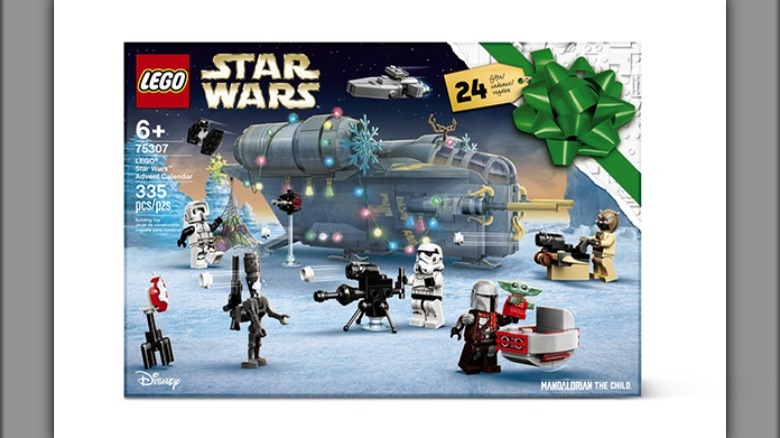 Aldi
For children that prefer to celebrate their holiday season in a galaxy far, far away, the Lego Star Wars calendar is a steal at $39.99. Though there are 24 days of surprises, as the package boasts, the entire calendar actually contains 335 total pieces to encourage some great Lego-building fun. This calendar hits shelves on November 3.
Lego Marvel Advent Calendar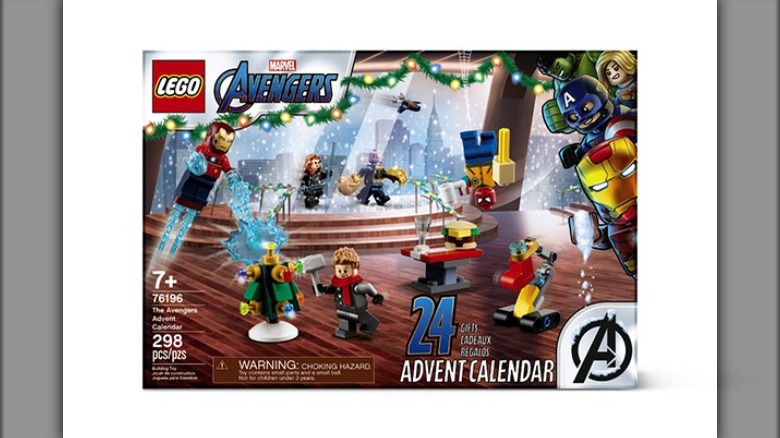 Aldi
If your child simply can't get enough of the Marvel universe, you'll want to head to stores on November 3 to scoop up this Lego advent calendar, themed with "The Avengers" characters. It retails for $39.99, and for that price your child will get 298 Lego pieces to build their very own superhero scene — with a festive twist, of course — such as an infinity stone Christmas tree.