Chris Santos Would Compete In This Sport Professionally If He Wasn't A Chef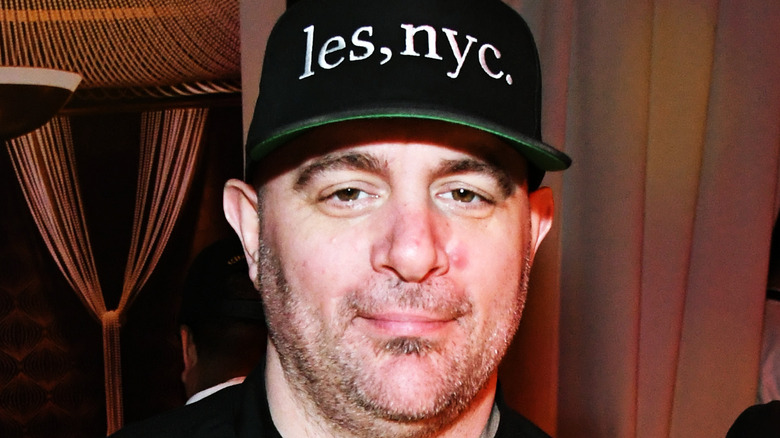 Ethan Miller/Getty Images
Chris Santos has made his name as a judge on Food Network's cooking competition show "Chopped" as well as in the restaurant business. Santos shared with Star Chefs that he got his start in the culinary industry washing dishes when he was just 13-years-old. His industrious nature and perseverance catapulted a 23-year-old Santos to executive chef at Time Café in New York. As a result, he tells upcoming chefs dreaming of cooking in a big restaurant kitchen to prioritize experience over culinary school. "Restaurant experience is more important. If you work in a restaurant for 8 to 10 years, you learn everything you would in culinary school," Santos explained. "It can be important for sous chefs and higher positions to get some formal culinary education, but it's not necessary for line cooks."
Today, Santos can boast serving as a judge on one of Food Network's most popular shows for nearly 30 seasons, per Decibel Magazine. He owns and operates restaurants around the world. And, with friend and music exec Brian Slagel, he co-owns a record label, Blacklight Media, which focuses on hard rock and heavy metal music. Santos is a pretty eclectic guy and it's hard not to wonder what career path he might have taken had he not broken into the cooking world. 
Chris Santos almost found himself in the ring instead of the kitchen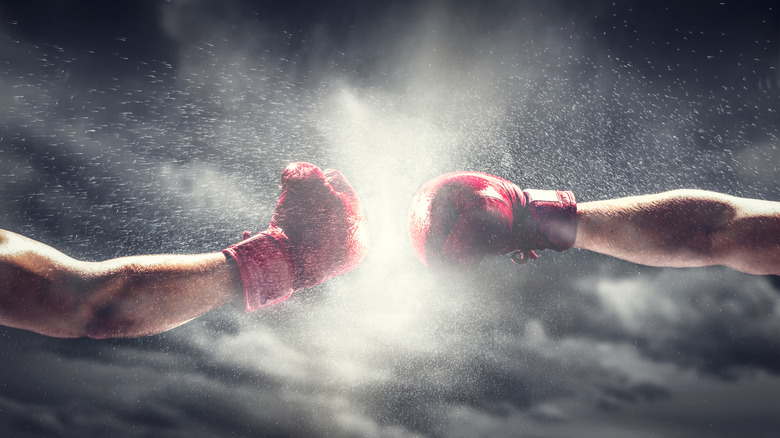 PHOTOCREO Michal Bednarek/Shutterstock
Incidentally, the Food Network had the same question for Santos and his answer may surprise you. Santos revealed that he would have been a boxer if he wasn't a chef. "Boxing, as a fighter first, then a trainer, which could still happen one day, I suppose," he said, confessing that he is "obsessed with the sport." And he meant it. In an interview with MensHealth.com, Santos said, "I took boxing incredibly seriously for a period of about 20 years from 1994 to 2009. Quite frankly, if [I'd] discovered this sport a few years earlier, I think I might've gone that way." Clearly the culinary world wouldn't be the same.
Still, his love of boxing is real. Per an interview with the Observer, Santos said, "I'm hoping at some point to have a boxing gym. That's my second life." Santos even has a painting of legendary boxer Muhammad Ali hanging in the entryway of his home along with quite the collection of vintage boxing magazines and signed boxing gloves. His fondness for the sport even landed Santos with an affiliation with Quiet Punch boxing equipment (via his website, This is Chris Santos). And while he may never enter the ring for a competitive bout — never say never, though — Santos did share with MensHealth.com that he used boxing to help get himself back in shape, proving that our passions really can lead to success.