Perdue's New Thanksdippings Sauces Are Inspired By These Holiday Foods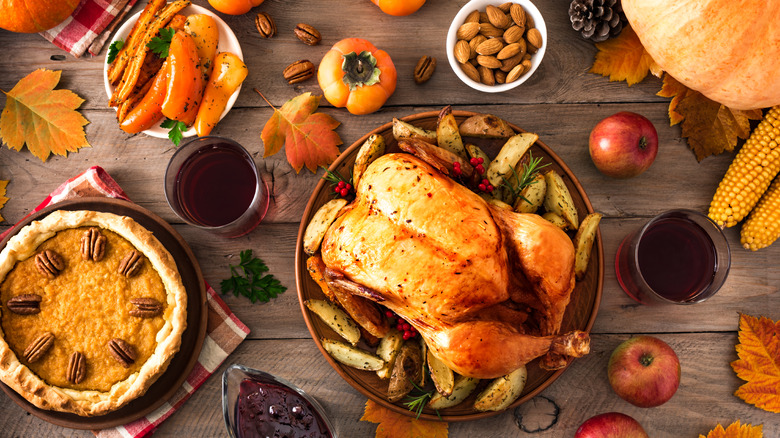 Oksana Mezina/Shutterstock
Now that Halloween has come and gone, everyone is gearing up for the next big holiday of the season: Thanksgiving. To put it simply, Thanksgiving has all the elements of the perfect holiday — With the football, parades, and midday naps, what more could you want? The fourth Thursday of every November is all about family, friends, inclusiveness, feeling grateful, and not to mention the mountains and mountains of fantastic food. From mashed potatoes and pumpkin pie to homemade stuffing and sweet potato casserole, this special day truly offers something for everyone. And let's not forget about the crown jewel of every Thanksgiving meal: the turkey.
While no one can deny that Thanksgiving turkey is downright delicious to eat, it's not the most approachable dish to make for amateur home chefs. Fortunately, Perdue Farms answered our prayers when it debuted its own twist on this traditional main course: THANKSNUGGETS (via Eat This, Not That). These breaded turkey nuggets were the perfect solution for those flying on solo on Thanksgiving, for families dealing with picky eaters, or for individuals looking for an additional savory snack at the dinner table. This year, Perdue is unveiling some new Thanksgiving-themed dippings to pair with the one-of-a-kind nugs. Aside from turkey leftovers, Perdue Farms is truly the gift that keeps on giving.
Guaranteed to get you in the holiday spirit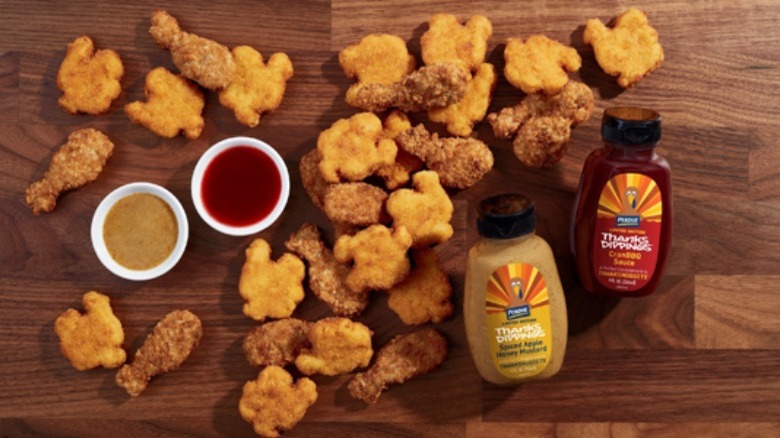 Perdue Farms
This season, the Maryland-based company is unveiling two original THANKSDIPPINGS sauces that you will want to have on hand this November: Spiced Apple Honey Mustard and CranBBQ. According to Perdue Farms, the Spiced Apple Honey Mustard is based off of herb and apple stuffing, while the CranBBQ Sauce was inspired by traditional Thanksgiving cranberry sauce, with a hint of added smokiness.
"We were inspired to create this fun complement to THANKSNUGGETS by listening to consumers' reactions to the launch of these unique nuggets last year," said Jon Swadley, the VP of Marketing, Perdue Premium Prepared Foods, in a press release. "People wanted to know what they should dip the seasonal nuggets in, and some even offered creative suggestions. This year, we've been able to answer that call by including dipping sauces with the THANKSNUGGETS sold on PerdueFarms.com, as well as providing recipe suggestions for those who'd like to prepare their own sauces at home."
With each purchase of the original THANKSNUGGETS on the Perdue website, customers will also receive both sweet and savory sauces. These delicious THANKSDIPPINGS sauces are designed to complement both Perdue's white meat nuggets, which are breaded with sweet potato seasoning, and its dark meat nuggets, which are coated with cranberry and stuffing flavoring. If you were looking for the perfect way to spice up the special holiday this year, you just found it!