David Chang's Momofuku Ramen Recipe With A Twist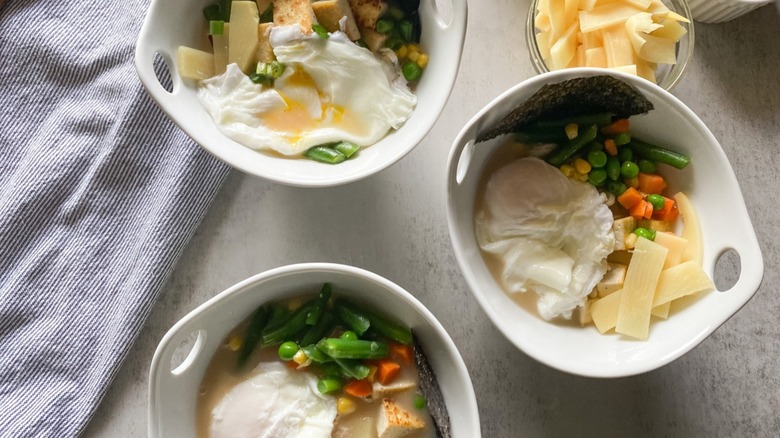 Kristen Carli/Mashed
It doesn't matter if it's winter, spring, summer, or fall ... it's always a good idea for ramen noodles. And while you could always buy a packet for a few cents, if you want something a bit heartier, healthier, and more elevated, you'll have to look for other solutions. You could always go out for ramen at a spot like David Chang's Momofuku. But if you want to stay in and attempt making ramen yourself, that's totally doable too — and you may just be surprised at how simple the process is.
Recipe developer Kristen Carli is the brains behind this tasty ramen with a twist. "I love this recipe because it is such a good comforting, vegetarian bowl of ramen," she raves. The great part about this dish is that it's filling enough on its own, but you can also pair it with plenty of other fun sides.
Keep reading to find out how to make this incredible bowl of noodles.
Gather the ingredients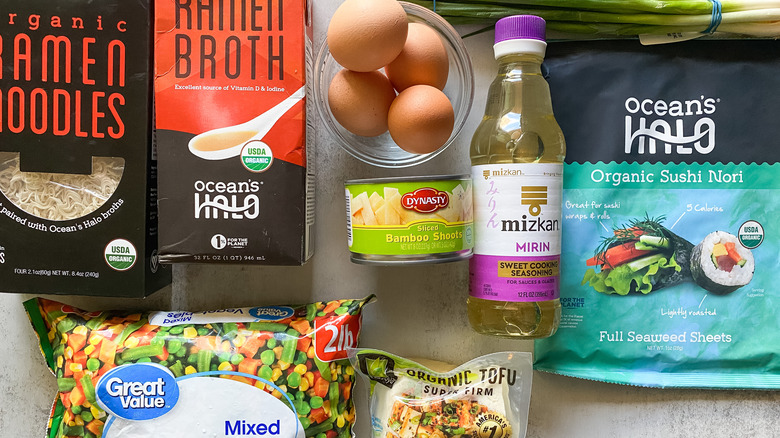 Kristen Carli/Mashed
The first step you need to take is to gather all of the ingredients required to make this wonderful ramen. For starters, you will need a few ounces of vegetarian ramen broth and some ramen noodles. Next, grab a few eggs, olive oil, and a block of tofu. Be sure to double-check at home for items that you may have already.
Next, hit up the frozen aisle and get some mixed veggies. You will also need sliced green onions and a can of sliced bamboo shoots — you'll drain those. Next, grab a sheet of nori and some mirin to drizzle on the top of your noods.
What did we change?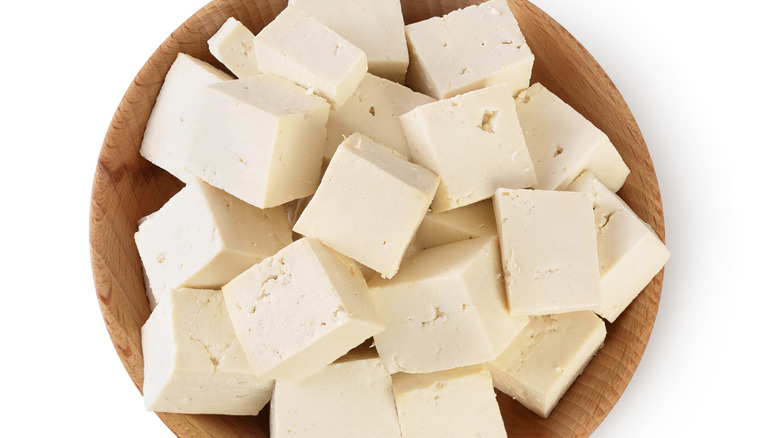 Nataly Studio/Shutterstock
David Chang's ramen is indisputably legendary. For Carli's twist, she opted to make it vegetarian so that non-meat eaters could also enjoy this wonderful bowl of goodness while not skipping out on the taste. "The twist is making this a vegetarian dish by using crispy tofu instead of pork and using store-bought vegetarian ramen broth instead of pork broth," Carli says.
With this change, the flavor is still incredible, but it's edible for our veggie friends or those trying to cut down on their meat consumption.
Heat the broth and boil water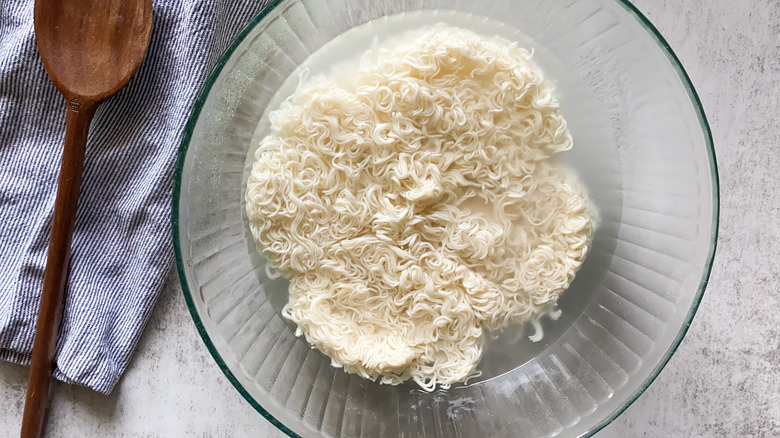 Kristen Carli/Mashed
Now, on to the cooking! Take out a saucepan and place it on your burner. Pour the broth in, then turn the heat up to medium-low to get it nice and hot. "Heat the broth until simmering," Carli notes. 
In the meantime, take out another pan and add four cups of water. Crank the heat up, and bring the water to a boil. Place your ramen noodles in a large heat-safe bowl, and once the water starts to boil, pour it in the bowl with the noodles. Allow the noodles to stand for four minutes until they get tender.
Poach the eggs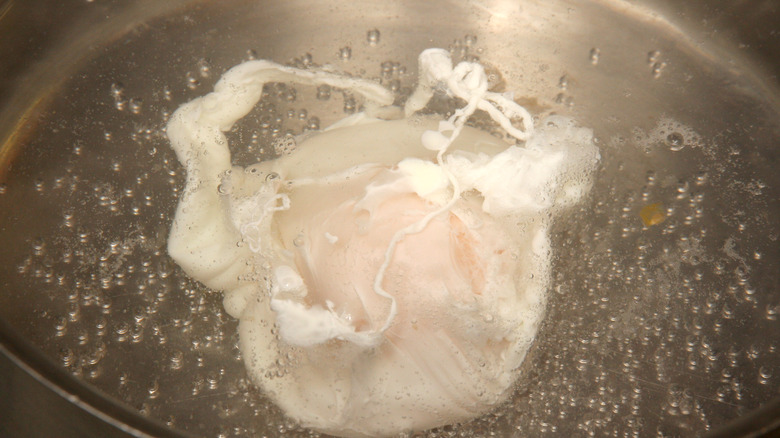 Ben Molyneux/Shutterstock
Now, grab another small saucepan and boil water to poach the eggs. If you have poached an egg before, then you know the drill. If not, or if you need a little refresher course, Carli provides the perfect instructions:
"To poach eggs, heat a small saucepan of water until simmering. Crack in eggs (one at a time) carefully," Carli says. "Using a spoon, create a gentle whirlpool until spinning the water in a circle. Allow the egg to cook for about three minutes." After cooking, set the eggs aside because you will need them shortly.
Cook the tofu and blanch the veggies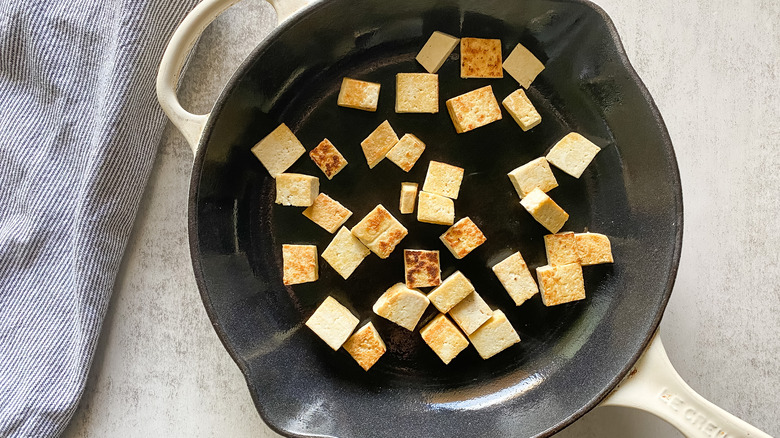 Kristen Carli/Mashed
You are going to get a lot of use out of your stove today. Grab a large skillet, place it on the burner, and kick the heat up to medium. Then, add a drizzle of olive oil. Next, throw in the cubed tofu and allow it to brown on each side. It should only take about five minutes for it to cook thoroughly. Once it's achieved that nice brown color, remove the skillet from the heat and set it aside.
Now, blanch the frozen veggies in water, then drain and set aside.
Assemble the bowls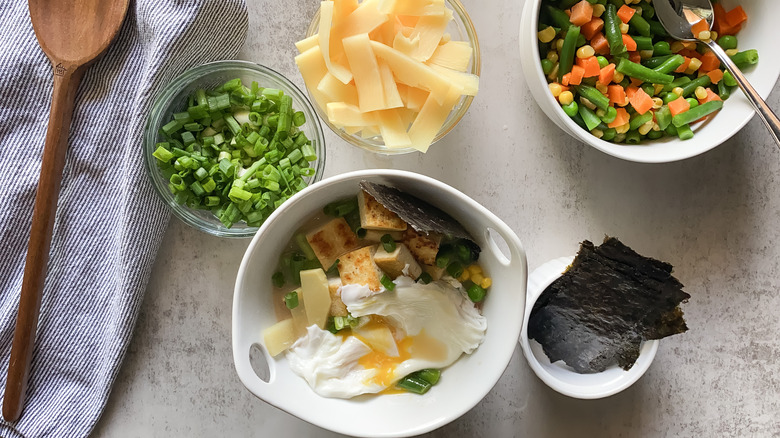 Kristen Carli/Mashed
Take out the bowls you plan to serve the ramen in. You could use actual ramen noodle bowls on just plain bowls you have at home. Now, it's time to assemble these babies. First, toss in the noodles and the tofu. Next, pour the warm broth over the tofu and the noodles. The next thing you need to add is a spoonful of veggies followed by a sprinkle of green onions. Then, throw in a nori sheet and a drizzle of mirin. Finally, add your bamboo shoots and a poached egg. 
Repeat the process with the remaining bowls.
Serve and enjoy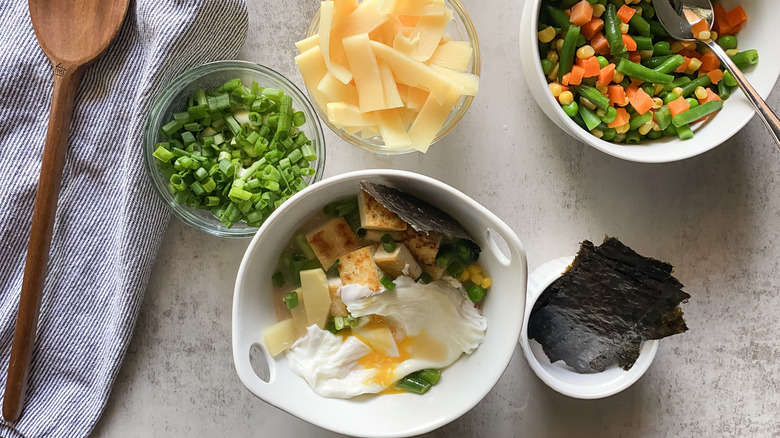 Kristen Carli/Mashed
Now comes the best part: getting to enjoy these wonderful noodle bowls. These are best when served hot, so be sure to enjoy them right away! "This is a complete meal, so you do not need anything to eat as sides, but I love this dish with a side of steamed and salted edamame," Carli shares. We also think it would be great with some potstickers on the side.
"To keep leftovers, store each ingredient separately," Carli shares. "Leftovers will keep for about two days." We hope you enjoy these delicious ramen noodles with a fun, vegetarian twist.
David Chang's Momofuku Ramen Recipe With A Twist
It doesn't matter if it's winter, spring, summer, or fall ... it's always a good idea for ramen noodles. Learn how to make ramen at home!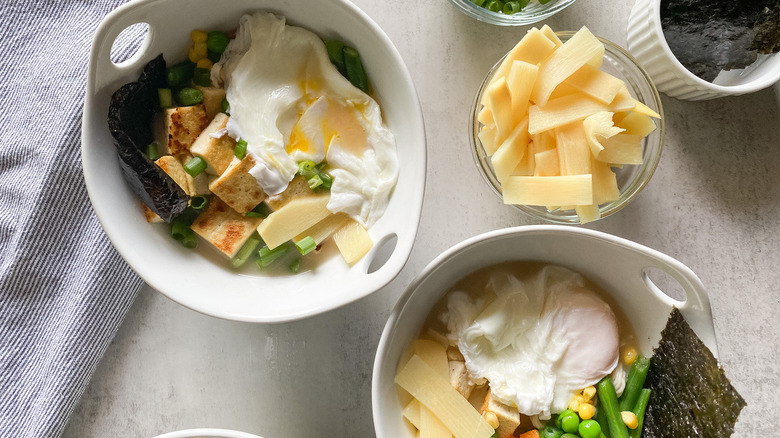 Ingredients
32 ounces vegetarian ramen broth
1 (8.4-ounce) package ramen noodles
4 eggs
1 tablespoon olive oil
1 block tofu, cubed
1 cup frozen mixed vegetables
½ cup sliced green onions
1 (8-ounce) can bamboo shoots, drained
1 nori sheet, divided into 8 pieces
Mirin, for drizzling on top
Directions
Pour broth into a saucepan and heat over medium-low heat.
Boil 4 cups of water. Place noodles in a large heat-safe bowl. Once water is boiling, pour over ramen noodles. Allow to stand for 4 minutes until noodles are tender.
In a small saucepan, boil water to poach eggs. Poach eggs and set aside.
Heat a large skillet over medium heat and add a drizzle of olive oil. Add cubed tofu and allow to brown on each side, cooking for about 5 minutes. Remove from heat. Set aside.
Blanch frozen vegetables in water. Drain and set aside.
Assemble each bowl of ramen by placing a serving of noodles and tofu in each bowl. Pour warm ramen broth over tofu and noodles. Top with a spoonful of veggies, a sprinkle of green onions, a nori sheet, a drizzle of mirin, a few bamboo shoots, and a poached egg. Repeat with remaining bowls.
Nutrition
| | |
| --- | --- |
| Calories per Serving | 444 |
| Total Fat | 21.8 g |
| Saturated Fat | 7.4 g |
| Trans Fat | 0.1 g |
| Cholesterol | 160.0 mg |
| | |
| --- | --- |
| Total Carbohydrates | 43.7 g |
| Dietary Fiber | 4.6 g |
| Total Sugars | 3.3 g |
| Sodium | 1,228.1 mg |
| Protein | 20.2 g |