What You Can Find On The Menu At The World's Fanciest McDonald's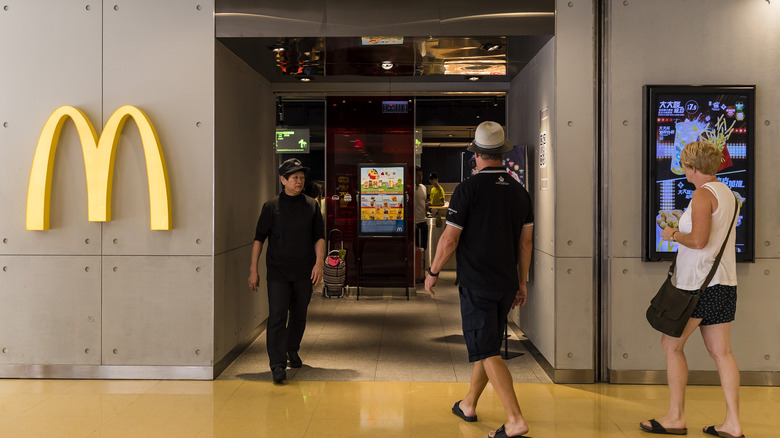 S3studio/Getty Images
When it comes to the idea of fine dining, fast-food is probably the most polar opposite thing you can think of when someone mentions going to a fancy restaurant. This isn't to say grabbing a quick and easy snack from your local Mickey D's or Burger King is a bad thing, it's just you're probably not going to kid yourself that eating a greasy sandwich from a place with a colorful mascot is equivalent to the French Laundry. But that doesn't stop fast-food giants from trying to make their food appeal to even the most discerning of gourmet food critics.
In the United Kingdom, Burger King recently announced the addition of the fancy-sounding Gourmet Kings line of burgers, which are an astounding 8.79 euros or $12! (via Business Insider). Pizza Hut attempted to create upscale pizzas with the "Flavor of Now" menu option in 2014, which didn't stick with folks looking for an average no-frills pepperoni pizza and breadsticks. Yet, perhaps one McDonald's location doesn't need any gimmicks or tricks to try and be fancy — it already is. Located in Hong Kong, McDonald's "Next" seems to be worlds apart from your average McDonald's down the block. In fact, with what it offers on the menu, you would be sure that the title of "World's Fanciest McDonald's" is well-earned.
McDonald's Next discards supersizing for superfood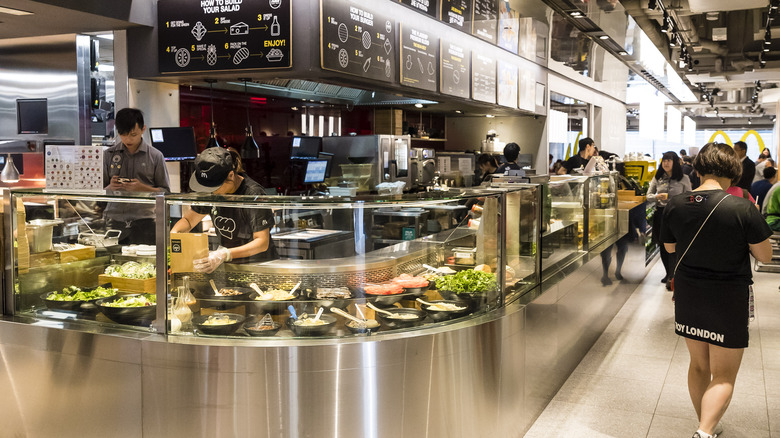 S3studio/Getty Images
When stepping into the McDonald's Next, should you ever find yourself in Hong Kong, you'll first be taken aback by the interior. Per CNN, stainless steel and glass replace plastic and granite countertops, illuminated by track lighting. There's warm wood paneling and sterile gray walls, decorated with chalk white minimalist designs of Big Macs and french fry containers. Beneath the exposed lattice of ductwork and vents, in the glow of red glass, workers flip burgers in the open-air kitchen or prepare salads from the in-store salad bar. You can even charge your phone at a charging station in your booth, while your server — yes, server — offers you complimentary evening table service. In this industrialized, modern McDonald's, you may be worried you won't get that classic taste of Americana you've been craving.
Don't worry, burgers and fries are still on the menu. Via the store's website, the classics of your hometown McDonald's are still there, but with a unique twist. This ultra-modern McDonald's offers you to Create Your Taste via in-store ordering kiosks. This allows the customer to personalize their burger down to even the very meat, from the standard beef patty with grilled onions to vegan luncheon meat with truffle sauce. You can create salads as well, with ingredients such as fresh vegetables, quinoa, couscous, and different dressings. For dessert, chocolate ice cream cones, warm waffles with whipped cream, and different kinds of cake replace the average McFlurry (via The Travel Leaf).