The One Kitchen Tool Amanda Freitag Can't Live Without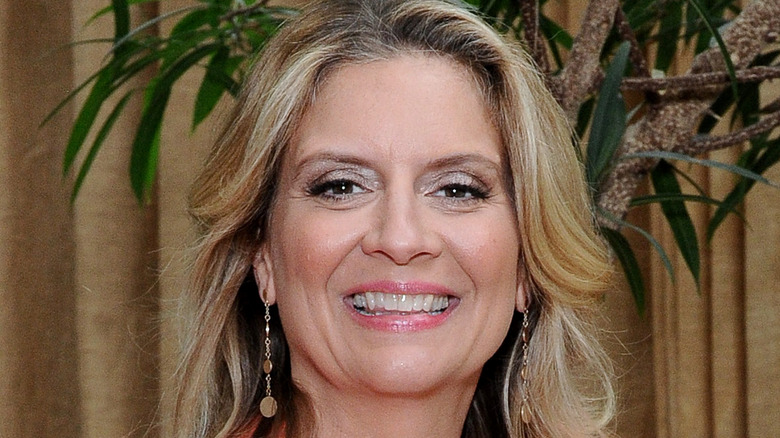 Daniel Zuchnik/Getty Images
Amanda Freitag has been a celebrity chef since first appearing on "The Next Iron Chef" in 2009 (via IMDb). In addition to the elite cooking competition, Freitag is famous for her role as a straight-talking judge on "Chopped" and has appeared on "Beat Bobby Flay," Guy Fieri's "Tournament of Champions," and other popular shows.
Far from an overnight star, however, Freitag attended the Culinary Institute of America and worked in the kitchens of top-tier chefs, including Jean-Georges Vongerichten, Alain Passard, Diane Forley, and Tom Valenti (via the Food Network). Before being "discovered," Freitag was already a master of Mediterranean, Italian, and classic American cooking.
Someone who has logged as much kitchen time as Freitag must have a favorite tool, a piece of equipment they can't imagine doing without, and for Amanda Freitag, that tool is a Vitamix blender. "I have become addicted to my Vitamix blender. I use it for so many things: smoothies, soups, sauces, pestos, flavored oils and cocktails ... I just love it!" Freitag revealed in an interview with the Food Network.
Freitag also expressed love for her Vitamix in a 2017 interview with The Daily Beast, telling the website it is one of the few things to have earned a permanent spot on her counter. "That and my coffeepot," she said. "Everything else gets put away and taken back out when I need it."
Vitamixes are popular among the pros
Amanda Freitag, frequent guest on "The Today Show" and "Good Morning America," isn't the only famous chef to name Vitamix blenders as a favorite tool. Also claiming the blender as a must-have in their kitchens are Bobby Flay (via the Today Show), "Iron Chef" Michael Symon (via Twitter), Giada De Laurentiis (via Giadzy) "Battle of the Brothers" star Bryan Voltaggio (via the Today Show), "Top Chef" Season 14 winner Brooke Williamson (via YouTube). Alex Guarnascelli is also included, who humorously told the Food Network: "Vitamix could puree car parts, if necessary."
According to Epicurious, this genre-leading blender is worth its famously high price tag because it is both powerful and versatile. Vitamix blenders start at about $349 and can run up to $599 (per Vitamix). However, per Epicurious, "comparing the Vitamix to other blenders is like comparing a Harley-Davidson to a Vespa — they're not even in the same ballpark." This is thanks to the two-horsepower ("yes, the same metric cars use," notes the website) motors, which allows Vitamix blenders to thoroughly blend soups, dips, dough, smoothies, nuts, and whole fruits and vegetables. "The list doesn't end at all," declares Epicurious.
Can a Vitamix blender make you cook like Amanda Freitag? Maybe not, but it will handle your smoothies, soups, and more.