The Coffee Bean & Tea Leaf Has Good News For Fans Of Its Cookie Butter Latte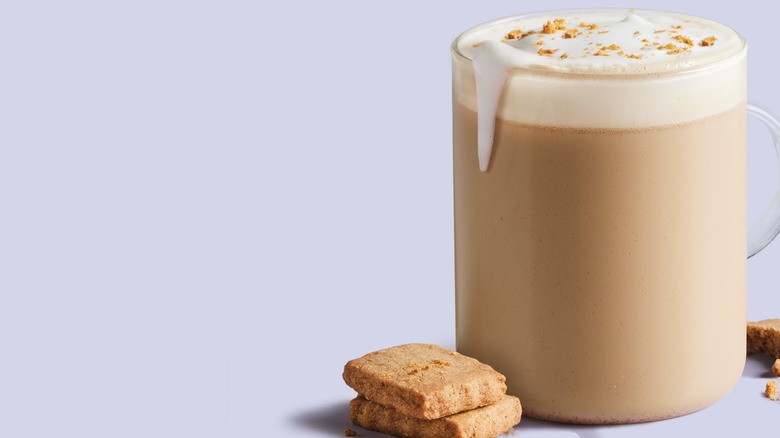 Coffee Bean & Tea Leaf
Starbucks isn't the only coffee chain with holiday exclusives. The Coffee Bean & Tea Leaf has quite the list of festive beverages to get any Grinch excited about the month of December.
At the forefront of its seasonal offerings is its popular Cookie Butter Latte, which actually is becoming a permanent menu item. The drink was first introduced as a part of the chain's exclusive fall menu, along with the Pumpkin Spiced Chai Latte and the Pumpkin Chocolate Loaf. But the drink received such positive feedback that the California-based coffee chain had to make it a regular staple on the menu. 
"Social media also lobbied us consistently throughout the year for Cookie Butter Latte to make a holiday return," Paul Diver, Vice President of Marketing, International Coffee & Tea LLC, said in a press release sent to Mashed. "We listened and have made Cookie Butter a permanent addition to the menu. Happy Holidays and beyond!"
Other holiday goodies on CBTL's menu
The Coffee Bean & Tea Leaf also blessed us with more holiday treats this season. These range from the Peppermint Mocha Latte and Cold Brew Latte to the Gingerbread Doll cookie, which will be available until January 4, 2022. You can enjoy Cookie Butter flavors in items such as the Ice Blended drink or in the Cookie Butter Flavored Coffee.
Not the biggest fan of Cookie Butter? The rest of the items include the Peppermint Mocha Crumble Ice Blended, the Winter Dream Tea Latte, the Holiday Blend Coffee. If you have little ones, or simply prefer a no-caffeine option, the Peppermint Hot Cocoa is a great option, as it delivers the perfect twist of rich chocolate and creamy mint. It's safe to say that you'll have plenty of drinks to sample this holiday season.
So, for your next coffee run, head on down to The Coffee Bean & Tea Leaf. Trust us, those Starbucks red cups can wait.