The Coffee Bean & Tea Leaf Just Announced 3 New Breakfast Items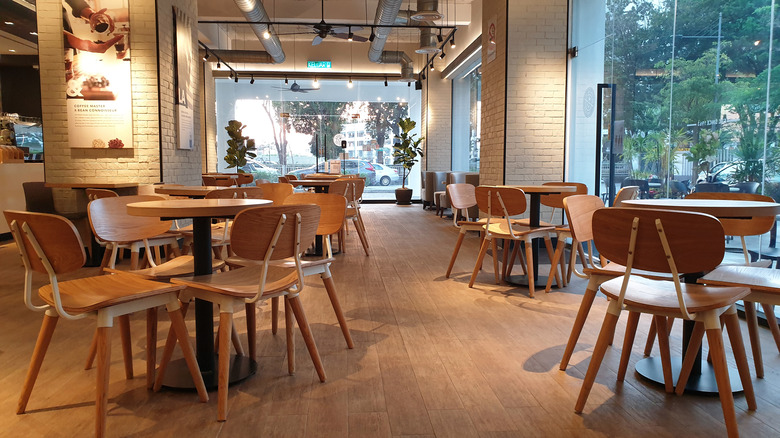 TY Lim/Shutterstock
If you live near one of The Coffee Bean & Tea Leaf's 218 stores in the United States (per Forbes), get excited about a little more pep in your morning routine step. The chain just announced some additions to its breakfast menu that sound pretty delicious.
Available now are the Chorizo Breakfast Burrito, Bacon Egg Potato Bites, and Egg White & Veggie Bites, according to a press release from The Coffee Bean & Tea Leaf. The Chorizo Breakfast Burrito, frankly, reads like a dream if you like to rev up for the day with a little bit of heat. It's got Mexican-spiced chorizo, of course, plus scrambled eggs, potatoes, pepper jack cheese, and fire-roasted tomato salsa all wrapped up in a flour tortilla. Both varieties of the egg bites are like Starbucks' egg bites: the eggs and toppings are all cooked together in one handy little ball. It's like getting the goodness of a breakfast sandwich without the carbs. The Coffee Bean & Tea Leaf's varieties are pretty self-explanatory. The Bacon Egg Potato Bites feature a scrambled egg base with both pepper jack cheese and Swiss cheese plus potato and bacon, while the Egg White & Veggie Bites are scrambled egg whites with marinated red bell peppers, mushrooms, spinach, and a three-cheese blend of pepper jack, Swiss, and gruyere.
The items are part of a big, seasonal menu expansion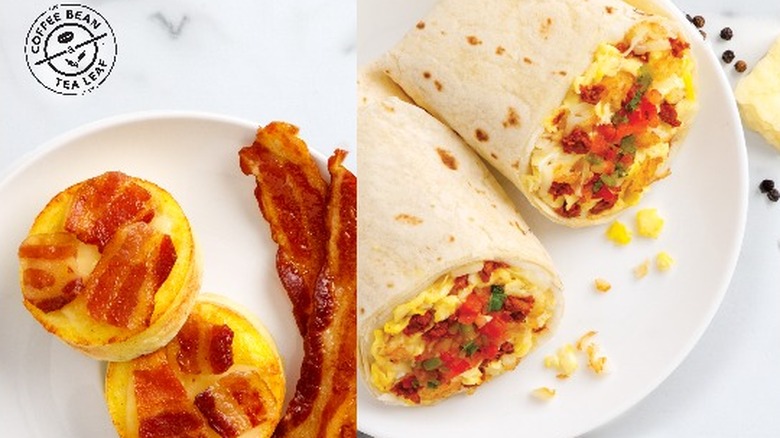 The Coffee Bean & Tea Leaf
The Coffee Bean & Tea Leaf, which overall has more than 1,100 stores that are mostly in Asia, has been going through some changes in locations and menu since Philippines-based restaurant company Jollibee Foods Corp. purchased the chain in 2019 (per the Los Angeles Times). These new breakfast items are part of a big menu expansion timed — and themed — predominantly for fall.
The company is rolling out a Beyond Breakfast Sausage Sandwich in California, which will be its first breakfast sandwich made with a plant-based meat. It's not totally vegan, though, considering it has an egg and cheese, too. Other new releases and seasonal favorites include a Cookie Butter Latte, a Pumpkin Latte, a Pumpkin Cold Brew Coffee, a Pumpkin Spiced Chai Latte, a Pumpkin Chocolate Loaf, and a Pumpkin Donut. 
"Our mission is to continue to drive innovation and to provide our guests with flavors and food items that they crave, enjoy and that spark joy," stated Coffee Bean & Tea Leaf's senior director of product innovation Nurit Raich in a press release.
These items are available now through October 31. Come for the Chorizo Breakfast Burrito or egg bites and stay for the sweet, autumn-perfect baked goods.