Starbucks Employees Can't Wait For The Return Of This Holiday Treat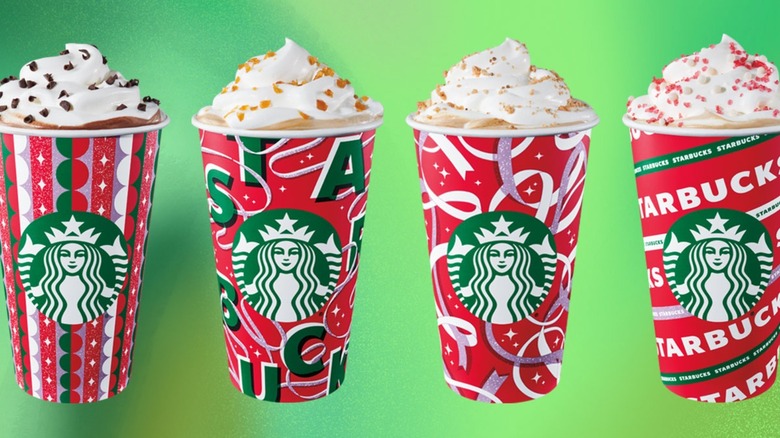 Starbucks
Starbucks just dropped its new seasonal holiday menu (and its newest slate of Starbucks holiday cups), and there's been a lot of hype about the new items they're offering. They have their first non-dairy holiday beverage, the Sugar Cookie latte, and a new Reindeer cake pop to satisfy your sweet tooth. But longtime employees on Reddit are more excited about some of the returning Starbucks holiday treats. In particular, they've been buzzing about the Red Velvet Loaf Cake.
The Starbucks Red Velvet Loaf Cake is a winter seasonal item that some employees are claiming is even better than the Cranberry Bliss Bar, a cranberry-studded blondie with a thick layer of frosting that's become a seasonal classic. You'll also have to act fast once it arrives — multiple employees said that it's only available for a short time. But what even is red velvet, and when can we expect to see this treat back in stores?
When is Starbucks' red velvet loaf coming back?
As for what red velvet cake actually is, the answer is shockingly simple: It's a chocolate cake with red food coloring (via The Takeout). The original red velvet cake recipe may have used buttermilk or vinegar in the recipe, and tradition dictates that it's topped with ermine frosting. However, these days, it's pretty much just a red-hued chocolate cake.
According to Starbucks, their Red Velvet Loaf Cake is a "delicious vanilla cake swirled with classic red velvet cake" with white chocolate icing drizzled on top. More succinctly, a Starbucks employee on the Starbucks subreddit said, "That thing SPANKS and I can't explain why." Another employee on the subreddit claimed that the first few years that the red velvet loaf cake was available, it came with a cream cheese frosting, and their hope that the cream cheese frosting returns instead of last year's white chocolate icing got 64 upvotes from those who feel similarly.
If you want to try the Starbucks Red Velvet Loaf Cake, you'll have to wait because the loaf likely won't be returning until after Christmas. After all, it is part of the chain's winter/Valentine's Day offerings. The wait might sting, but at least it gives us something to look forward to after the holidays are over.