Starbucks Just Announced Its First Ever Non-Dairy Holiday Drink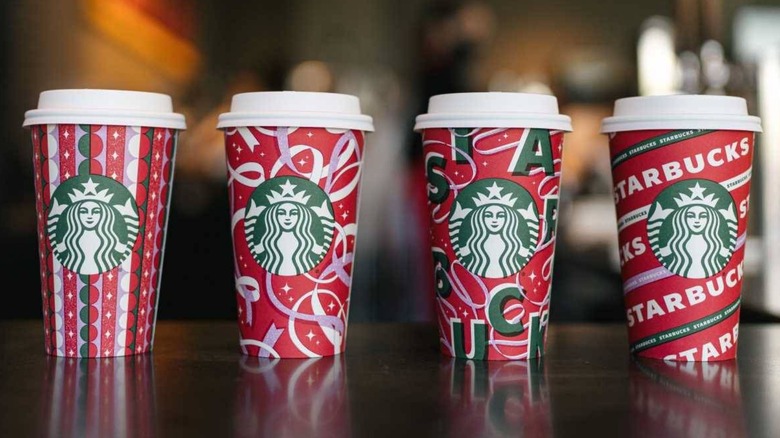 Starbucks
As die hard Starbucks fans can attest, its seasonal offerings are a holiday tradition to look forward to. And while exact timing of the release may fluctuate from year to year, there is no denying the excitement surrounding the infamous red cup's inevitable return, with devotees particularly eager to see whatever fun mystery design the cup holds.
Along with the festive paper cup, Starbucks has some seasonal staples that are fairly safe to bet on as returning items. For quite a few years, as Insider noted back in 2018, the chain's popular Peppermint Mocha has made an appearance on the holiday menu. Countdown to Red Cups, a Starbucks fan site that follows the holiday menu return religiously, also lists the Caramel Brûlée Latte and Peppermint Hot Chocolate as seasonal favorites that are expected to return for 2021, among others. But this year, Starbucks is bringing a new ringer to their roster starting November 4 — and it's dairy free!
'Tis the season to go dairy-free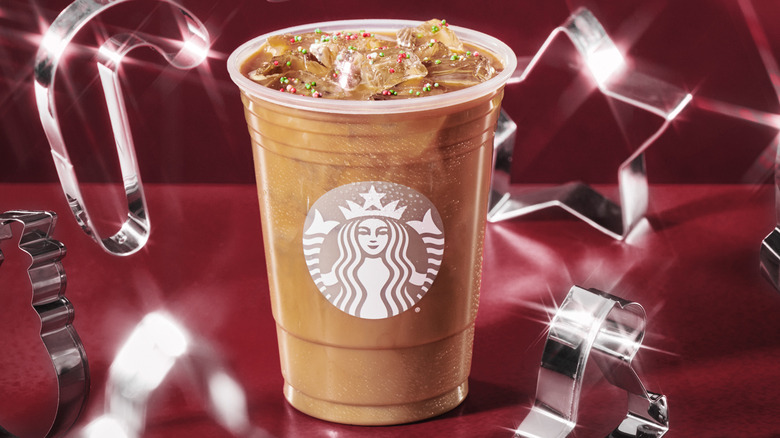 Starbucks
Starbucks offers a myriad of non-dairy options to its clientele, including coconut milk, soy milk, almond milk, and recently oat milk (via Starbucks). And the chain's newest holiday drink celebrates the dairy-free menu in the most glorious way. According to a press release sent to Mashed, this year's menu will feature the Iced Sugar Cookie Almondmilk Latte. Beginning Thursday, November 4, Starbucks will begin rolling out its roster of holiday drinks (and of course this year's new red cup designs), including the new latte, which it describes as the chain's "first ever non-dairy holiday drink."
The exciting new menu option is made with "Sugar Cookie flavored syrup, combined with Starbucks Blonde Espresso, ice, and creamy almondmilk, and topped with festive red and green cookie sprinkles." The drink can be enjoyed iced, as advertised, or hot.
In addition to the new menu dairy-free drink, Starbucks is bringing back some old favorites like its Peppermint Mocha, Caramel Brûlée Latte, Chestnut Praline Latte, Toasted White Chocolate Mocha, and Irish Cream Cold Brew, plus a slew of food items like the Sugar Plum Danish, Cranberry Bliss Bar, and Snowman Cookie. With this news, we're sure tons of fans will be hitting up Starbucks first thing November 4.