Instagram Is Drooling Over Rachael Ray's 'Nacho Average' Crab Dish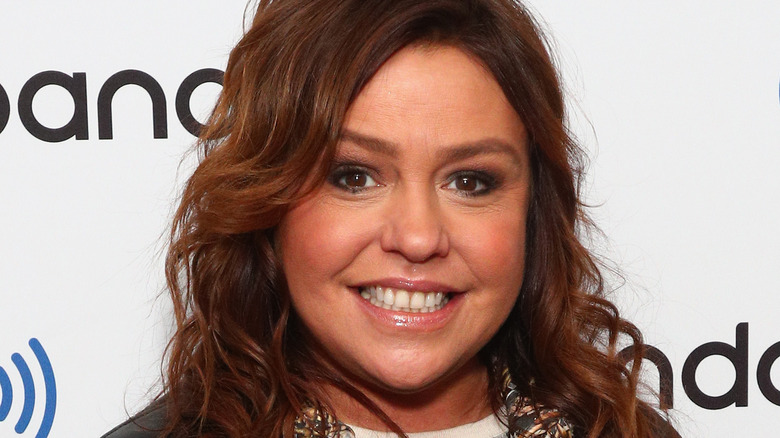 Astrid Stawiarz/Getty Images
Nachos may be one of the most universally loved dishes on the planet, and for good reason. They're tasty, perfect for sharing, and easy to throw together. As long as you've got chips, cheese, and a heat source, you can make all the nachos your heart desires.
While we'd gladly accept a platter of classic ground beef, pickled jalapeno, and three-cheese blend-topped nachos any day of the week, we can't deny it's nice to switch things up once in a while. Thankfully, talk show host and celebrity chef Rachael Ray has some ideas on how to make this scoopable starter even better, such as her 15-minute rotisserie chicken nachos.
And if you're looking for a recipe that's nacho average Tex-Mex inspired meal, Ray has a suggestion: fiesta crab nachos. In a video shared to her Instagram, the talk show host demonstrated how to make her latest spin on the classic app for "double date night," and it already has her followers completely obsessed.
Ray's nachos, which she describes as tasting "like the inside of a crab rangoon," are topped with a mix of crab meat, cream cheese, sour cream, peppers, chives, and in true Rachael Ray fashion, plenty of spice. The result is a dish that looks so delicious we wish we could break through our screens just to get a taste of it!
A surf 'n' turf made simple
Fans were quick to share their excitement over the innovative nachos in the comment section, with many showing approval with heart emojis and comments like "yes please!" Others couldn't wait to attempt the dish themselves. One user made it clear nothing was gonna stop them from trying it: "I am recovered from covid yet have no smell or taste. But baby I am MAKING this. Hopefully this will wake up my tastebuds!!" 
Another user suggested an even more authentic upgrade to the dish: "Ok hear me out... pita chips instead of corn tortilla. They would taste more like a crab Rangoon wrapper." Ray herself offered another recommendation to customize the dish even further. "For brunch, you can top [the nachos] with poached or fried eggs," she wrote on Facebook. 
And as if the crab nachos weren't enough to have us running for the grocery store, Ray doesn't stop there. For the full surf-n-turf experience, she serves her seafood snack alongside a tray of steak tacos, complete with chipotle lime crema and toppings like charred radicchio, radishes, and jalapeno. Based on the recipe, everything from app to dinner comes together in about 45 minutes, so it's an easy meal to make when you seriously want to impress someone (via Free Food Studio). For those who do decide to do that, Ray has a word of caution: "You better be dating that person, because whoever you make these for, they're coming back."