Dutch Bros New Holiday Drink Has An Unexpected Fruity Flavor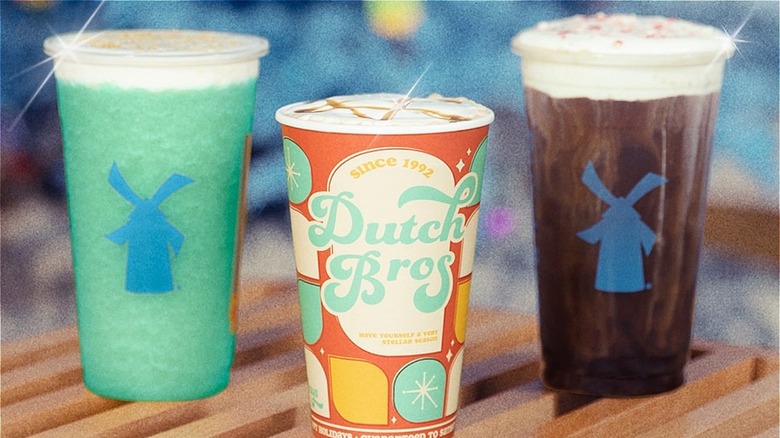 Dutch Bros
Dutch Bros has announced its holiday lineup with a trio of festively-themed drinks. The drive-thru group originally from Grants Pass, Oregon is bringing their signature flavors and Blue Rebel Energy drink to holiday shoppers with a new lineup released on November 2 at all of its 500 plus locations (via Multivu).
The lineup features standard holiday fare such as a Peppermint Bliss Cold Brew and a Hazelnut Truffle Mocha as well as a fruitier Glacier Peak Rebel.
"Customers can also elevate their holiday mocha with our hand-pulled espresso, hazelnut and signature Soft Top or stay energized for holiday fun with the Glacier Peak Rebel featuring our completely customizable Rebel energy drink," Kayla Barton, the company's director of research and development, said in a statement. "This drink trio will let everyone feel like they are in a winter wonderland!" The Franchise Times reported in September that Dutch Bros' IPO raised close to $500 million, making co-founder Travis Boersma a billionaire, so it seems like holiday drink lovers aren't the only ones experiencing bliss this time of year.
Glacier Peak Rebel is a surprisingly fruity new flavor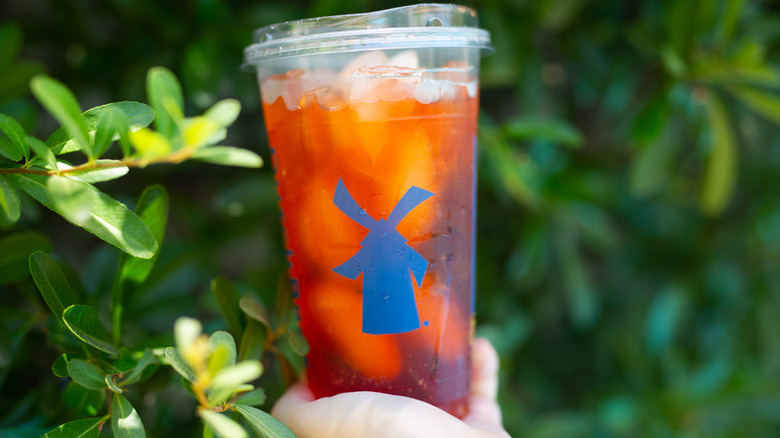 Katherine Carey/Shutterstock
The Glacier Peak Rebel, which features a surprisingly fruity twist, isn't your typical holiday coffee fare. Using Dutch Bros signature Rebel energy drink, this creation skips the coffee altogether and instead adds a mix of blue raspberry and vanilla topped with Soft Top — a Dutch Bros sweet and creamy topping — and raw sugar (via Multivu). Non-coffee drinkers can also enjoy the Hazelnut Truffle Hot Cocoa and the Salted Caramel Hot Cocoa.
As for coffee, the Peppermint Bliss features the traditional flavors of chocolate and peppermint with a signature Dutch Bros twist. Buyers can choose from regular or nitro cold brew and each drink is topped with Soft Top as well as "Candy Cane Sprinks." As research and development director Kayla Barton puts it, "The Peppermint Bliss Cold Brew takes your typical seasonal cold brew to the next level with the addition of white chocolate and candy cane sprinkles." The Hazelnut Truffle Mocha combines "hand-pulled espresso" with hazelnut flavor and chocolate milk, and is topped with Soft Top and caramel drizzle.
All drinks will be available for a limited time through the end of December.