We Tried Salt & Straw's Turkey Flavored Ice Cream, So You Don't Have To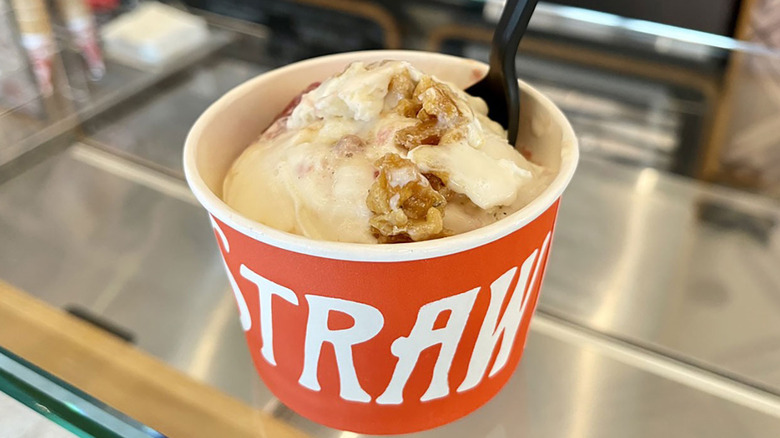 Carly Caramanna/Mashed
It's the most wonderful time of the year! Sorry, let's rephrase that. This is the best time of year for those feeling particularly festive in the kitchen. We are blessed with the smells and tastes of some egg nog on Christmas, delicious latkes for Hanukkah, and some champagne on New Year's. Let us just say that this season our hearts and stomachs are full of love and a whole lotta food. This brings us to the greatest holiday of them all ... Thanksgiving. Our forefathers sacrificed it all so we can break bread with our nearest and dearest on the most utmost important of days.
Thanks to the powers that be at Salt & Straw — the West Coast-based purveyor of gourmet ice cream — there's an entirely new (and downright meta) way to experience the reason for the season. Hold the baster —and your jaw/initial shock — because they are now slinging a new Thanksgiving-themed ice cream flavor collection — and it includes turkey flavored ice cream. Yes, you have read that correctly and the tryptophan is not playing tricks on you. It's not like in years past where they have played around with the flavor — like with their prior salted caramel Thanksgiving turkey flavor — they really made the commitment here and are bringing the beloved turkey dinner to the ice cream scoop. Naturally, we made the pilgrimage to the ice cream mecca for a taste of this new dessert.
The flavor is part of their Friendsgiving series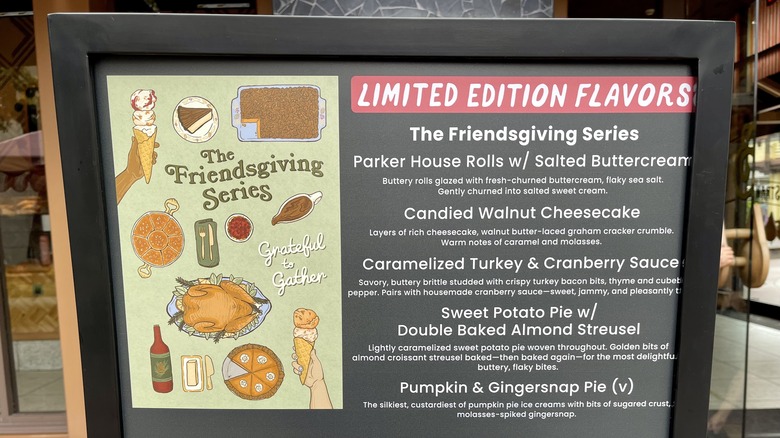 Carly Caramanna/Mashed
So, here's the 411 or scoop on their new line of ice cream. The potentially polarizing new flavors that are a part of the Friendsgiving series unapologetically combine savory and sweet. Cue the starting lineup on your dream team fantasy football league on turkey day. There's Parker House Rolls with Salted Buttercream, Caramelized Turkey & Cranberry Sauce, Candied Walnut Cheesecake, Sweet Potato Pie with Double Baked Almond Streusel, and Pumpkin & Gingersnap Pie.
What's the inspiration behind this tasty journey that could only be compared to the three-course dinner chewing gum from Willy Wonka?
The Friendsgiving series is meant to embody a real-life dinner table. One, where people from all walks of life and all flavors of personalities and foods come together. Salt & Straw explains it like this: "It's piles of food covering the table in a mish-mash of hand-me-down Pyrex dishes ... It's sharing the pie that reminds you of your great Grandma or the stuffing your dad always used to make. Maybe it's the dueling of the casseroles: you're a bit more green bean while your friend is die-hard sweet potato."
Salt & Straw is a Pacific Northwest operation but has expanded to Florida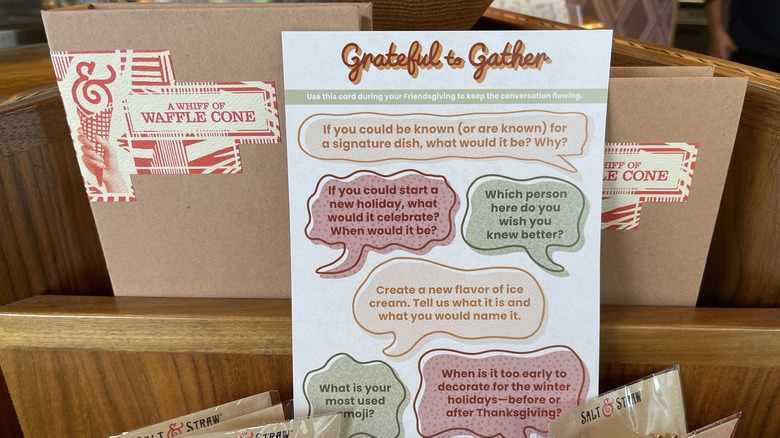 Carly Caramanna/Mashed
We are not sure about you, but our taste buds have been tantalized and it sounds like a new holiday tradition is brewing. So, where do you find these delights? Salt & Straw is a Pacific Northwest-based operation known for their gourmet ice cream and often out-there flavors, including one that utilizes porcini, candy cap, and chanterelle mushrooms. 
Scoop shops can be found throughout Portland, Oregon as well as in Seattle, the Bay Area, San Diego, Anaheim, and Los Angeles. Expansion is on the horizon and they recently opened up shop on the East Coast with two Miami locations and forthcoming ones in Orlando and beyond. Pints are also available online and they ship nationwide.
We sampled ours at the house of the mouse — also known as Disneyland. Salt & Straw opened up shop at Downtown Disney and has been delighting eager theme park visitors since 2018 — because nothing says fueling up for a marathon theme park day better than that early morning scoop.
It is on the pricier side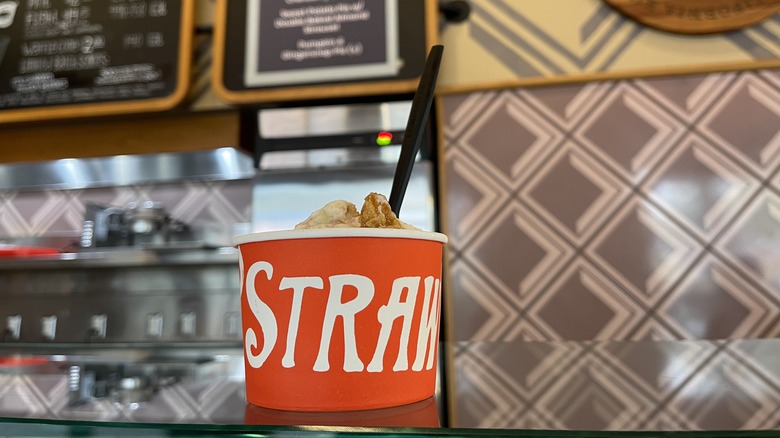 Carly Caramanna/Mashed
If you are looking for the taste of our favorite season encapsulated in one glorious bite, it is going to cost you. In fact, to the tune of $6.95 per scoop before tax. Pints are available in scoop shops as well as online with nationwide shipping available. You must purchase at least five pints, which will set you back $65, but this means you can sample the entire Friendsgiving collection. Don't you want to impress your dinner host?
This may come along with some sticker shock, but the prices are in line with other high-end, gourmet ice cream shops, including Jeni's Splendid Ice Cream. Of course, you could run down to your local McD's and grab a dollar cone but that is entirely missing the point. Salt & Straw is a cousin-run operation that prides itself on using only the finest ingredients and partnering with and sourcing from local farmers, artisans, and chefs.
What is in Caramelized Turkey & Cranberry Sauce ice cream?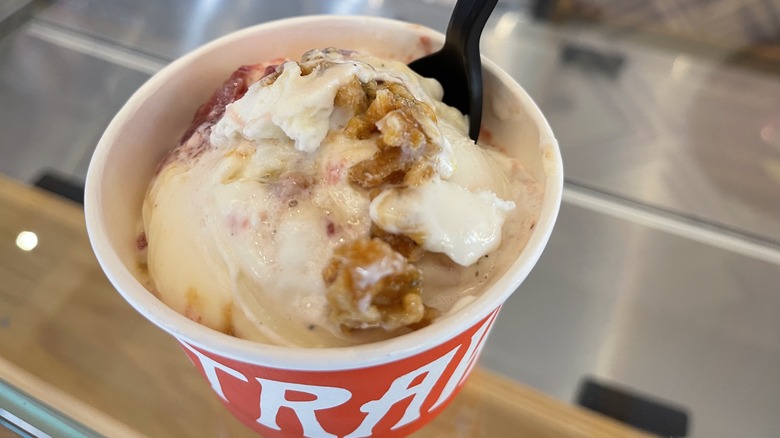 Carly Caramanna/Mashed
The Caramelized Turkey & Cranberry Sauce flavor brings a unique spin on the holiday classic we all know and love. The ice cream is described as having notes of savory, buttery brittle that is accented with thyme, cubeb pepper, and crispy turkey bacon. Per the press release from Salt & Straw, the turkey bacon "imparts a deliciously smoky, salty flavor that joins our house-made cranberry sauce — sweet and jammy, with a pleasant tartness to cut through the sides of savory."
The aforementioned turkey bacon is from Diestel Farms — a family-owned and operated farm with a mission to raise the cleanest and leanest turkeys for commercial consumption. They are committed to ethical standards and practices when it comes to raising their turkeys and are firm believers in regenerative agriculture.
According to Salt & Straw's website, each pint comes with three 2/3 cup servings with each serving clocking in at 340 calories. This flavor does contain milk and tree nuts making it a no-go for our vegan friends. No fear, the pumpkin and gingersnap pie flavor is this line's vegan option.
So how does this turkey dinner ice cream taste?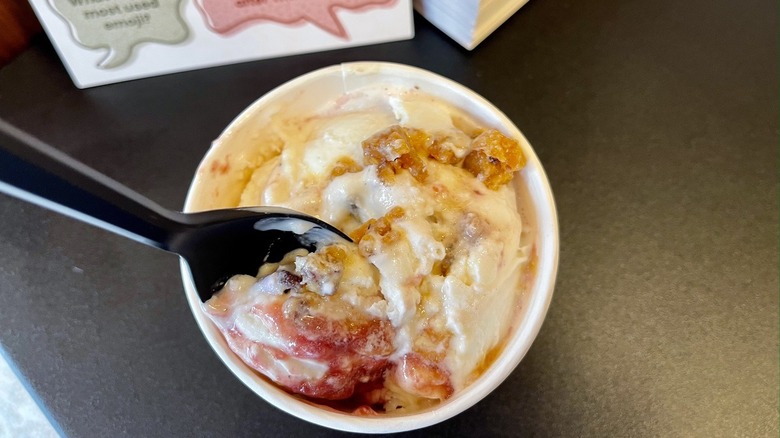 Carly Caramanna/Mashed
We will be honest here. We were not sure at first — both with its appearance and first bite. The bits of crispy turkey bacon on top were a bit off-putting but in the name of science, we went in for it with full gusto ... and we are so glad we did.
Much like our loudmouth Aunt Etna around the Thanksgiving dinner table, this quickly grew on us. The ice cream is laced with globs of cranberry sauce and turkey bites throughout. As soon as it hit our tongue, it was a bit confusing but soon, a wave of flavors ensued — and boy, did we enjoy the ride. There were bits of saltiniess, that leveled up to bits of savory, sweetness, and a hint of smoke. We also got a welcome flavor of tartness in the mix that was almost reminiscent of our days hanging at the FroYo shop. The crunchy turkey bits added a perfect layer of texture in their almost candied bacon-like state.
Soon — and we mean within minutes — we found our cup had runneth over and we had gobbled it down to the point where we found ourselves drinking out the melted bits at the bottom. No shame here. This is a winner, winner turkey dinner. Head to your nearest scoop shop or hit their online shop immediately.