Trader Joe's Fans Can't Wait To Try Its New Vanilla Buttercream Frosting Mix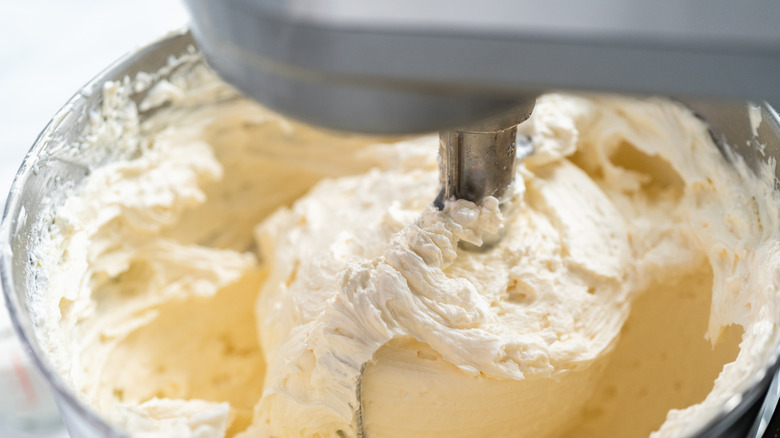 Arina P Habich/Shutterstock
When it comes to getting your hands on the perfect buttercream frosting, you either have to whip up a batch yourself or search high and low for the perfect product. The frosting, which uses copious amounts of butter and sugar, tastes iconic but takes a few minutes to assemble. On the other hand, you could go ahead and buy some pre-made buttercream frosting, with Duncan Hines and Betty Crocker ranking as superior options (via Cake Decorist). However, Trader Joe's now wishes to throw their hat in the cake ring with their very own buttercream mix.
Instagrammer @traderjoeslist discovered the new product and snapped a photo of the mix for social media. They captioned the post, "NEW VANILLA BUTTERCREAM FROSTING MIX • All you need to add is butter and milk and you're on your way to some delish frosting for your cupcakes! Frosting on its own is generally very simple to make, but with this version from #traderjoes you can enjoy a buttercream frosting! Do you prefer to make homemade frosting or use a simple mix like this?"
A ton of excitement for the icing mix
Fans couldn't wait to share their excitement for the new Trader Joe's buttercream mix. Comments responding to the Instagram post poured in, ranging from, "I made these with the vanilla cake mix for my daughters birthday and it was a huge hit!" all the way to, "I was so impressed by this!!!!" Others can't wait to try out the product and chimed in with, "Just bought some looking forward to making it," and "Simple mix exactly like this! So glad you're offering this now. Hope it's as good as your vanilla cake mix!" 
So, if you have searched high and low for a new buttercream option, you might just have to try out this new Trader Joe's baking product that can shave some solid time off of your cake decorating time. With any luck, the mix might live up to the hype and deserves a taste if you need a good buttercream shortcut for your next dessert.