The Celebrity Brothers Who Once Worked At Red Robin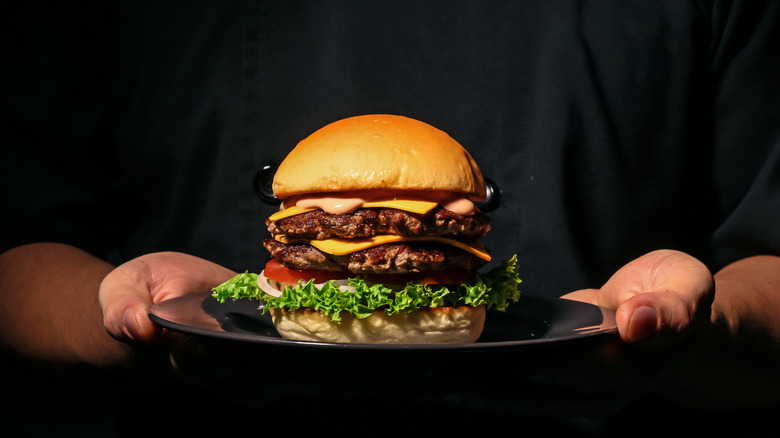 Muna Walid/Shutterstock
Some of your favorite celebrities came from humble beginnings. Although it's hard to envision the legendary Christopher Walken taming lions or the stunning Margot Robbie making your Subway sandwich — actual jobs these stars had, according to Insider— many famous people have held regular and odd jobs, just like the rest of us. Restaurants, including fast food chains, have employed many of today's A-listers. Superstars Pink, Pharrell Williams, and James Franco all worked at McDonald's, the outlet notes, along with the richest man alive, Jeff Bezos.
The Red Robin franchise is no exception to the celebrity regular-job rule, and you just may be surprised to learn who worked there! The burger and brew chain has been serving people since it was a single, local pub back in the 1940s — and, like any long standing business, has had its share of ups and downs. But perhaps the biggest highlight for Red Robin has been completely overlooked, as the bottomless fries franchise employed two rising stars in the early '90s.
Drew and Jonathan Scott bussed tables at Red Robin
In a Facebook post from 2014, "Property Brothers" star Drew Scott shared a real throwback photo of himself alongside twin brother and co-star Jonathan. The two are dressed in classic Red Robin denim button shirts, neatly pressed khakis, a busboy short apron, and, although you can't see it above, both are donning white socks. Drew captioned the post, "#TBT Way back to 1993...Jonathan Silver Scott and me at 16 in our Red Robin Gourmet Burgers busboy outfits! Oh the memories!!"
As teens, the future HGTV fan favorites undoubtedly helped keep the water glasses full and the tables clean as busboys in the popular restaurant chain. Perhaps as Drew and Jonathan spent time in Red Robin's kitchen, they contemplated over how they would design it differently, and that brainstorming contributed to their incredible success today. Of course, we can only speculate that the "Property Brothers" time working at Red Robin served as a stepping stone to their greatness — but we wouldn't be surprised!