Trader Joe's Returning Candy Cane Green Tea Has Fans Excited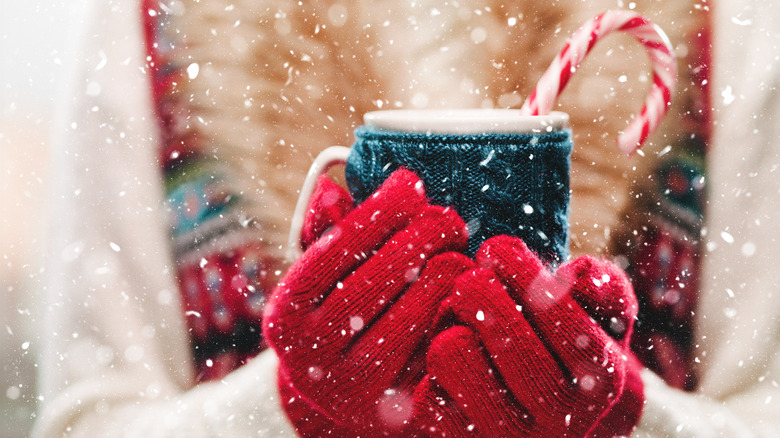 StudioSmart/Shutterstock
We may receive a commission on purchases made from links.
This weekend, tea-loving Trader Joe's fans were thrilled to learn that Candy Cane Green Tea is back, thanks to an Instagram post by super-fan account, @traderjoeslist. "IT'S BACK," the announcement shouted in joyful all caps, no less, flanked by a couple of cheery-looking Christmas tree emojis. "Is it just me or are the holiday items coming out SUPER early this year?!" the page asked its 1.7 million followers. "This is a favorite for so many people and I know a lot of you will be excited to see it's back on the shelves! Will you be revisiting this #seasonal item from #traderjoes?"
Based on recent festive product releases by other brands — from Cinnamon Toast Crunch's holiday flavor to Target's new cookie decorating kits — Trader Joes' pepperminty tea is coming out just in time. It is, after all, more than one full week post-Halloween, which can only mean one thing: It is now officially time to drink in the holiday season. For $2.79 per box of 20 tea bags, you can start your wintry sipping without breaking the bank. Trader Joe's Candy Cane Green Tea, which is caffeine-free, peppermint-flavored green tea, has shoppers excited, to say the least.
Excited fans are already planning to stock up on Trader Joe's holiday tea
An Amazon listing of Trader Joe's Candy Cane Green Tea describes it as a "delightful" and decaffeinated mix of "refreshing peppermint, creamy vanilla, and spicy cinnamon." If you're already a fan of the beloved holiday sipping treat, then you're well aware of its cozy flavor profile. In that case, you'll be thrilled to know that the product is already on shelves, as @traderjoeslist appeared to score their box of tea from a location in California, per Instagram. Be sure you look for the product at Trader Joe's itself, as the $2.79 price is much more of a bargain there than it is on Amazon, where the tea is going for $13.99 — down from $24.99.
Of course, fans are not only excited about the price. "I was just thinking about this tea earlier today. Happy to know it's back," one user commented in response to the Instagram post. "The best tea!!" enthused another. "They sold out so early last year so I'm def stocking up!" We wonder if the fans know there's a maximum amount of green tea that one should ideally be consuming each day?