This Beloved Cinnamon Toast Crunch Holiday Flavor Is Back In Stores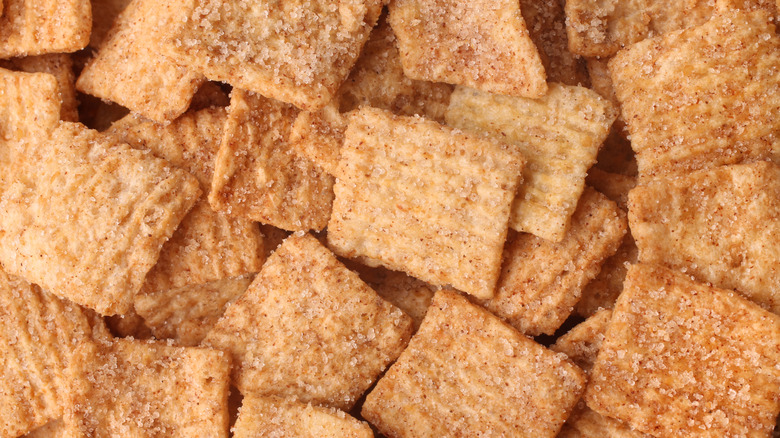 Olga Popova/Shutterstock
Now that the weather's getting colder, it's time to stay warm by cozying up with some hot chocolate and enjoying some holiday treats. So many brands have been releasing new seasonal items, but one thing that always gets us excited is when we see products we love return back to shelves. For example, Trader Joe's fans are happy to see the vegan gingerbread loaf come back to stores, and Dairy Queen's Frozen Hot Chocolate has officially returned for the 2021 season. Not to be outdone, Cinnamon Toast Crunch is also bringing back their holiday cereal.
According to Foodbeast, Sugar Cookie Toast Crunch is coming back to stores. This flavor sounds absolutely delightful, and we'll certainly be keeping an eye out for this product. Foodbeast says that Sugar Cookie Toast Crunch will be in stores around the country, but only for a limited time, so if you see it at your local grocery store, don't wait too long to purchase a box.
What does Sugar Cookie Toast Crunch taste like?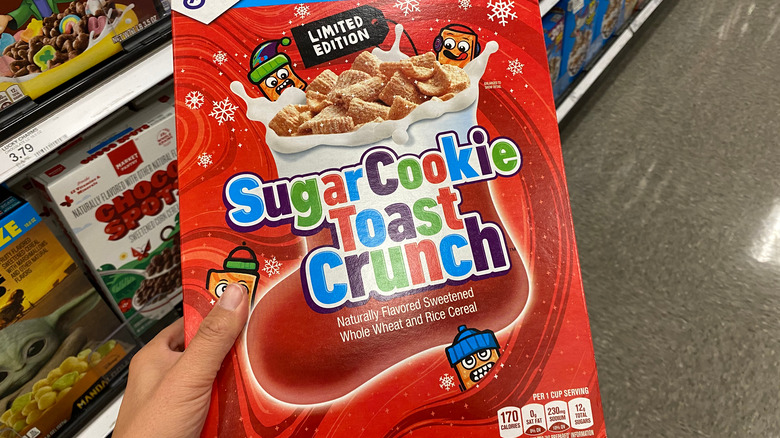 melissamn/Shutterstock
On the Cinnamon Toast Crunch website, Sugar Cookie Toast Crunch is described as "a coveted holiday season cereal. We combined our epic cinnamon-sugar flavor with a holiday season delight to create limited-edition Sugar Cookie Toast Crunch." DadBodSnacks wrote a review of this cereal for the blog The Three Snackateers. The reviewer mentions that the dry cereal smells like a sugar cookie and the reaction to tasting the dry cereal was that it was "Similar to the sugary-ness of a snickerdoodle that's not CRAZY sweet but definitely a sweet cookie."
Though the review mentions that this cereal has a more subtle taste, we still think that Sugar Cookie Toast Crunch sounds like a very festive flavor that any cereal-lover should try. But if you want to skip the cereal and go straight to the sugar cookie, we've got recipes for you. This seriously yummy sugar cookie recipe is sure to be a hit with your family and friends. You can also make your sugar cookies extra soft or whip up a batch of frosted sugar cookies!