Aldi Fans Are Pumped For Its Returning Thanksgiving Ravioli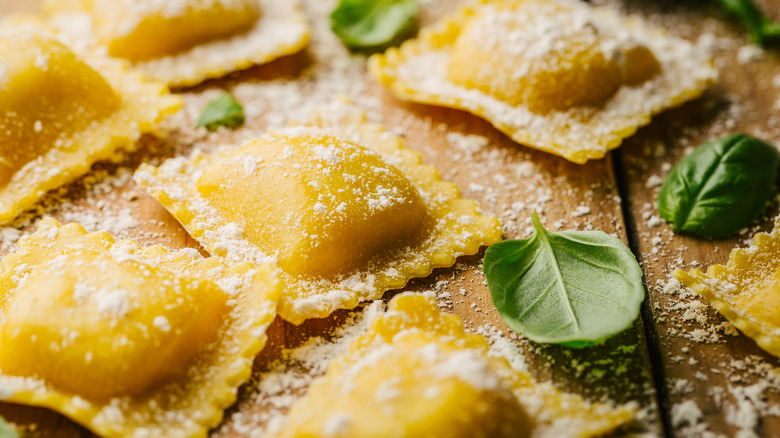 nerudol/Shutterstock
It's Thanksgiving time again, and if we had to boil this holiday down to one thing, we obviously would have to pick food. The savory flavors of the late-November celebration just can't be beaten: All year, many of us look forward to the tender and hearty taste of perfectly cooked turkey, the sweet tang of cranberry sauce, and the cinnamon and brown sugar notes in mashed sweet potatoes, all piled onto an overflowing plate to be enjoyed at a table of friends, family, and loved ones.
The food is so tantalizingly good, you might not be able to wait until the last Thursday of the month to sample some of its flavors. Luckily, you don't have to: Aldi has brought back some special ravioli for the holiday and added what appears to be a new variety as well, as advertised on the grocery store's website. The fan-favorite Priano-brand Turkey Cranberry Ravioli has returned, and Bourbon Sweet Potato Ravioli is also available for purchase. Here's everything you need to know about these Aldi Thanksgiving ravioli.
What Aldi fans are saying about the store's Thanksgiving ravioli
The Priano-brand Turkey Cranberry and Bourbon Sweet Potato ravioli are available at Aldi just in time to coax you into the Thanksgiving spirit. Aldi fans are very excited about the stuffed pasta shapes, which you can purchase for $2.79 per package, per Instagram. The pockets are filled with a blend of slow-roasted turkey, cranberries, cheeses, and Thanksgiving stuffing — or bourbon, sweet potato, and cheese, depending on which variation you get.
The products promise to be "Thanksgiving in a bite," and each package is printed with a suggested sauce: orange whiskey glaze for the Bourbon Sweet Potato and pan-gravy sauce with fine herbs for the Turkey Cranberry. Instagram user @aldiforpresident was excited to try the Turkey Cranberry Ravioli, considering serving it with a simple butter sauce. Another account that posted about the product, @aldifavoritefinds, said they buy it every year and suggested using turkey gravy as a topping. Commenters, too, shared how much they (and their kids) love the Turkey Cranberry Ravioli and are so glad to see it back on shelves. If these sound appetizing to you, head to your local Aldi and snag some for yourself.