Alton Brown Says This City Has The Best Double Cheeseburger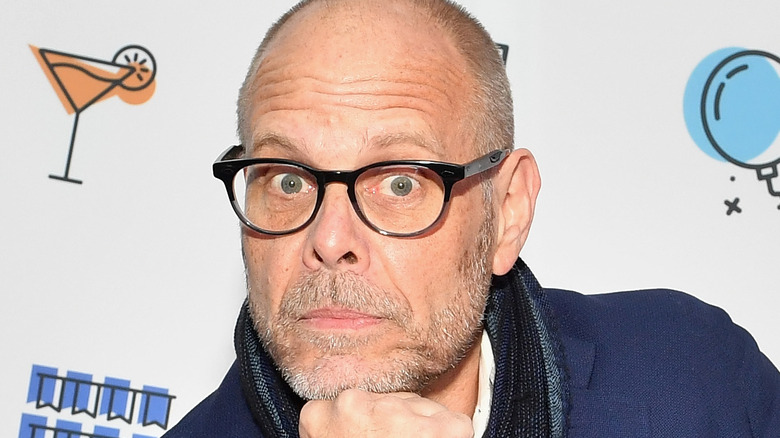 Noam Galai/Getty Images
While the Food Network boasts many episodes of the "Best Thing That I Ever Ate" and their show "Diners, Drive-Ins, and Dives" continues to traverse the country looking for that perfect bite, it seems that the channel's "Good Eats" host Alton Brown has now discovered the best double cheeseburger in America, as he shared in a recent Tweet. Although the glorious burger wasn't found in his own Atlanta backyard, and he had to travel to get it, some people might also want to plan a road trip to savor this particular food after hearing what Brown has to say about it.
Though, categorizing a particular food the "best" can yield a heated discussion — since taste is subjective, it makes sense that every city, town, and website promises they have the best menu item. Still, when a Food Network personality like Alton Brown makes a decree, many people listen. The scholarly sage of all things scrumptious not only has an impeccable palate, but he also has the food knowledge to support his subjective opinion. That quest to conquer the science behind "Good Eats" has even led to Brown becoming the food authority that many people trust. So, when he declared this city as having the best double cheeseburger, ears perked up.
Alton Brown's pick for the best double cheeseburger is in Oklahoma City
After his recent Tweet, culinary personality Alton Brown might have many foodies taking a trip to Oklahoma City, Oklahoma. That's because Brown declared the town's Bar Arbolada as having the best double cheeseburger in the country. While Oklahoma City Mayor David Holt joked in a re-Tweet that Brown was going to blow up "his cheeseburger night," many locals wholeheartedly agree with the Food Network star's assessment of this superlative statement.
Although there doesn't seem to be a menu description online, or an official website at all for the spot, 405 Magazine described the burger as "what McDonald's wants to be" when adding the burger to its 10 best in OKC list. From the "finely diced pickles and onions" to the condiments, it seems like this burger is the perfect bite. Whether or not there is some secret seasoning or it's just perfect the way it's prepared, the flavor seems to earns high praise all around.
But, there are a few caveats. According to Yelp, the burgers aren't on the menu and have to be ordered at the bar. Now that Brown has proclaimed its greatness, it might not be a secret menu item for much longer, however. And, if it becomes part of a Food Network show, the locals might have to share bar space with some out of towners looking to get in on this treat.