Bankers Are Banned From This Famous Parisian Restaurant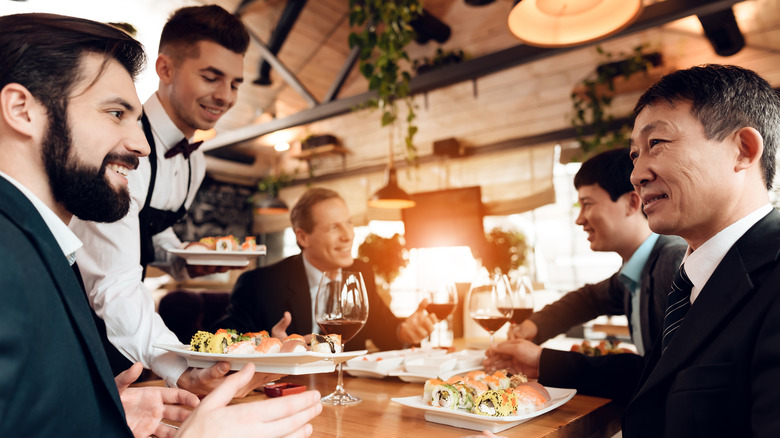 Freeograph/Shutterstock
"Dogs welcome; bankers banned," reads a chalkboard sign in the window of the Parisian restaurant Les Ecuries de Richelieu. Below this message, however, owner Alexandre Callet has scrawled, "(unless they pay an entry fee of €70,000)," which is about $81,000. The specific sum refers to a loan that was denied to him when he applied to several firms for funding for a second eatery (via Food & Wine).
The financial rejections came at the tail end of a fantastic year for Callet and Les Ecuries de Richelieu, which raked in €300,000 (about $347,500) in 2015. And when it comes to enforcing his "no bankers" policy, Callet isn't messing around. "A lot of bankers who turned me down know me. They come in here," Callet told The Local, a French news outlet published in English. "As soon as I see a banker that I recognize I won't let them enter my restaurant." Callet, then just 30 years of age, went on, "This is not just a kebab shop. My restaurant is in the Michelin guide and film stars come in here."
Les Ecuries de Richelieu has made a new name for itself as Paris' banker-less restaurant
But, there's more to the story. Callet has been denied funding by banks before. When he was 23-years-old and looking to open his first restaurant, Callet told The Local, his applications were rejected more than 20 times. He believes the problem is a much bigger one, having to do with the institution and practice of banking in France and banks' hesitancy to lend to young entrepreneurs, as well as socialism in the country in general. "I have never had financial problems and yet I find myself in this situation. Bankers are not doing their job," Callet said.
Hilariously, Callet has cashed in on the publicity he received surrounding the sign, and per the restaurant's Facebook page, after a six-month closure, Les Ecuries de Richelieu reopened in June, rebranded as "Bankster" — which the Oxford English Dictionary defines as a derogatory term referring to "a member of the banking industry seen as profiteering or dishonest." The "Dogs welcome; bankers banned" signboard remains in the window by the front door. However, Callet tells The Local that he has not yet barred entry to anyone by virtue of their profession.