Pumpkin Pie Martini Recipe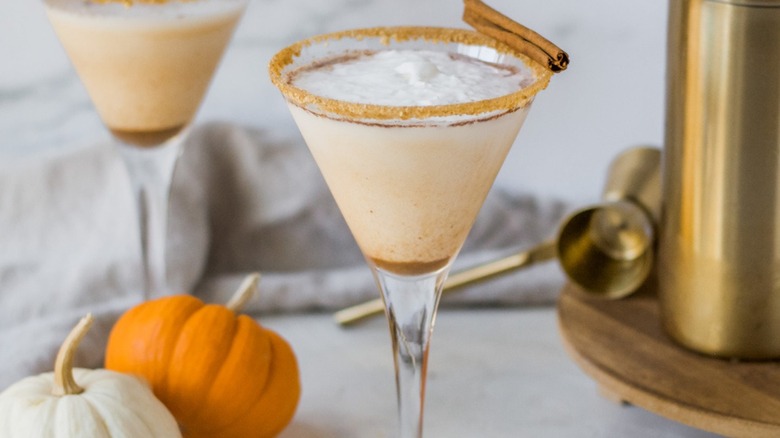 Jaime Shelbert/Mashed
Pumpkin spice is one of those flavors that people find themselves craving as soon as the weather starts to turn chillier. According to NBC News, it's been that way since 2003, the year that Starbucks introduced its pumpkin spice lattes to a very appreciative public. Since then, pumpkin spice has appeared in a myriad of recipes, both expected and unexpected. This particular recipe for pumpkin pie martinis is a little of both. On the one hand, it's got all the pumpkin pie flavor that latte drinkers have come to expect in their favorite autumn beverage. On the other hand, it's not a caffeinated beverage, but rather a cocktail. And a very elegant and decadent one at that, according to recipe developer Jaime Shelbert, who is also a holistic dietitian and blogger at Wholly Nourished.
"This martini became a thanksgiving tradition with my favorite Nordstrom pumpkin cheesecake as the inspiration," Shelbert explains. "That recipe contains Frangelico so I knew this drink had to have it." And that it does, delivering a warm, nutty hazelnut flavor with hints of coffee, cocoa, and vanilla. Combined with vanilla vodka and half and half — and sipped from a martini glass with a graham cracker-coated rim — it's like a "cocktail version of pumpkin pie," Shelbert promises. Let's explore, shall we?
Gather your ingredients to make pumpkin pie martinis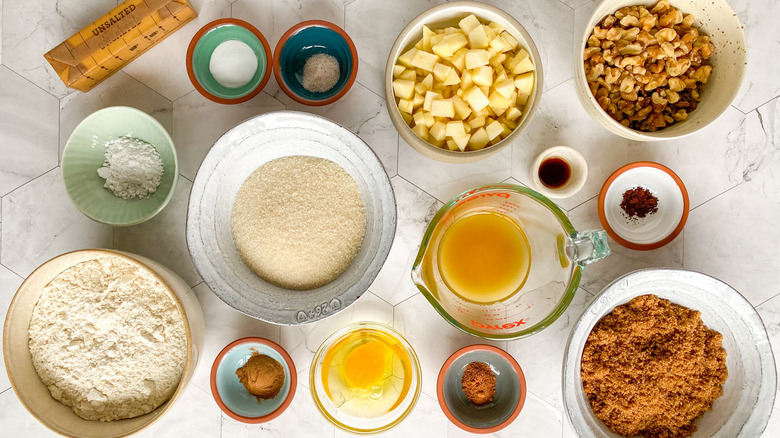 Jaime Shelbert/Mashed
As mentioned above, Shelbert's recipe for a pumpkin pie martini is, at its heart, a "1:1:1" cocktail formula. So, you'll start with equal parts Frangelico, vanilla vodka, and half and half. For a warm, spice-scented hint of pumpkin pie flavor, you'll be adding a sprinkle of pumpkin pie spice. Although this martini is meant to conjure the flavors of pumpkin pie, which usually has a pastry dough crust, Shelbert mixes things up a little by coating the rim of the glasses with a "graham cracker crust." To make this coating, you'll need graham crackers, a sprinkle of sugar, and another little sprinkle of pumpkin pie spice. If you're feeling decadent, you can also top your martinis with a dollop of whipped cream.
Let's start at the top of the glass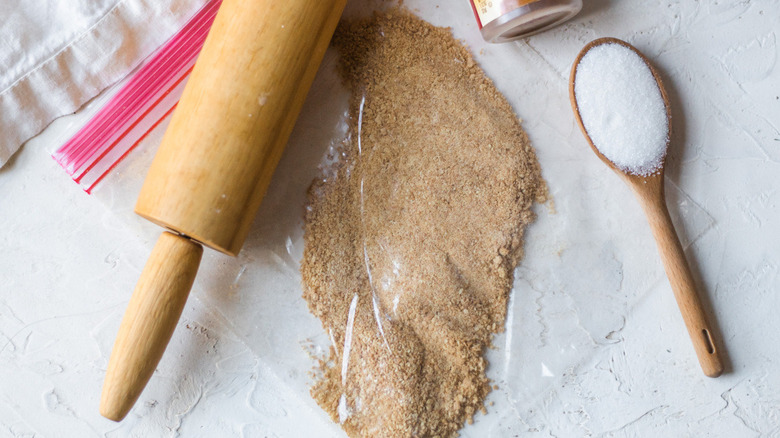 Jaime Shelbert/Mashed
And by that, we mean at the top of the martini glass. To make the graham cracker crust-like crumbs into which you will be dipping the rim of your martini glasses, place the graham cracker sheet in a zip-top bag, and seal the bag (seriously, be very careful that the bag is sealed, or you could end up with crumbs on your counter). Grab a rolling pin (or a wine bottle, which works well too and feels somehow appropriate here), and gently crush the graham cracker sheet. If you prefer, you can crush use a small food processor to accomplish the same thing. 
Decorate the rim of your martini glasses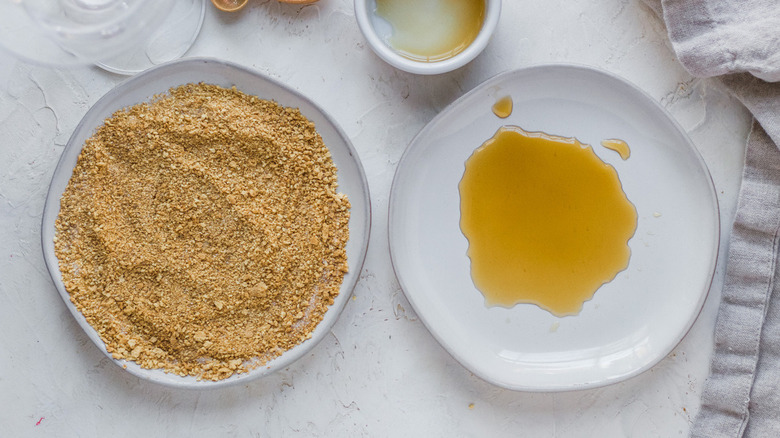 Jaime Shelbert/Mashed
To the graham cracker crumbs that you just made, add the sugar and a ¼ teaspoon of the pumpkin pie spice, stir to combine, and then transfer the crumbs to a shallow plate that's at least as big in diameter as the martini glasses. Get another plate just like that one, and pour the maple syrup into it. To coat each martini glass, turn the glass over so that the rim is facing downward, and dip the rim into the maple syrup. Immediately press the rim into the graham cracker mixture. Put the glasses aside, and now focus on the cocktail itself.
Pumpkin pie martini, shaken, not stirred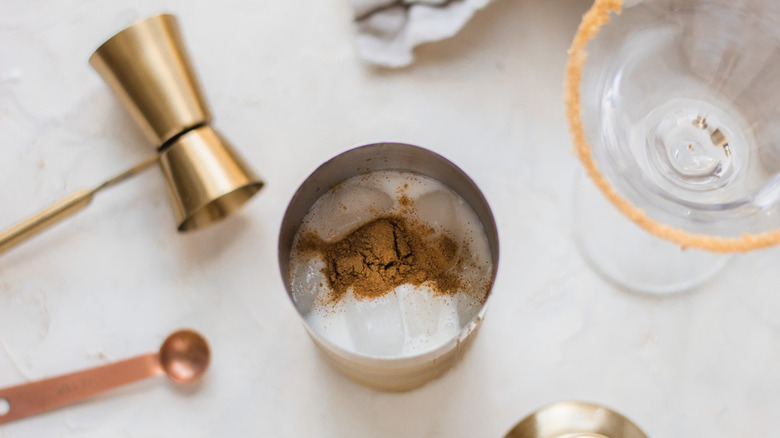 Jaime Shelbert/Mashed
Grab a cocktail shaker and fill it halfway with ice cubes or crushed ice. Pour each of the vanilla vodka, the Frangelico, and the half and half into the shaker. On top of that, sprinkle the remaining teaspoon of pumpkin pie spice, then give everything a good shake. To serve, pour the martini through a strainer into the prepared glasses. Top with whipped cream, if desired, and if you want to present your pumpkin pie martinis as Shelbert has, then simply balance a piece of cinnamon bark on the edge of the rim. Enjoy responsibly, and happy pumpkin season!
Pumpkin Pie Martini Recipe
Enjoy the flavors of fall with this pumpkin pie martini recipe — it's like the grown-up version of a pumpkin spice latte!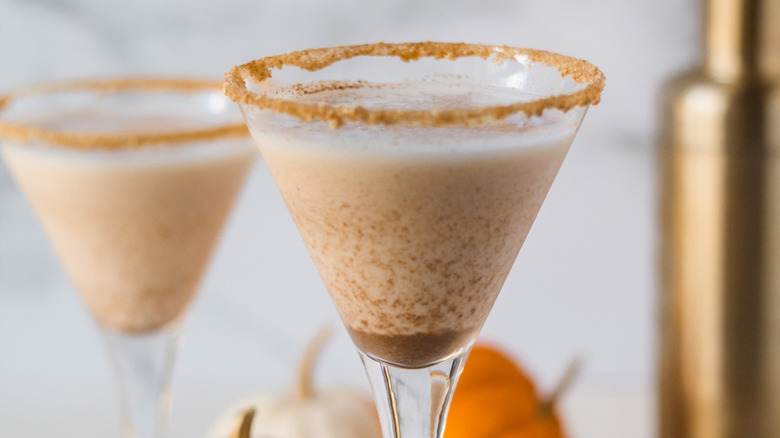 Ingredients
1 graham cracker sheet
1 teaspoon sugar
1 ¼ teaspoons pumpkin pie spice, divided
1 tablespoon maple syrup
4 ounces vanilla vodka
4 ounces Frangelico hazelnut liqueur
4 ounces half and half
Optional Ingredients
whipped cream for topping
Directions
Crush the graham crackers into crumbs using either a zip-top bag and a rolling pin, or a small food processor.
Place the graham cracker crumbs, sugar, and ¼ teaspoon of the pumpkin pie spice on a small plate and whisk with a fork to combine.
Pour the maple syrup onto a second small plate and swirl around to cover the plate.
Place the rim of a martini glass in the maple syrup. Next push the rim down into the graham mixture plate to coat. Repeat with the second glass.
Fill a cocktail shaker halfway with ice. Pour the vodka, Frangelico and half and half in the shaker. Add the remaining teaspoon of pumpkin pie spice. Shake to combine.
Pour the martini through the strainer into the prepared glasses.
Top with whipped cream if desired.
Nutrition
| | |
| --- | --- |
| Calories per Serving | 463 |
| Total Fat | 7.6 g |
| Saturated Fat | 4.3 g |
| Trans Fat | 0.0 g |
| Cholesterol | 21.0 mg |
| | |
| --- | --- |
| Total Carbohydrates | 43.9 g |
| Dietary Fiber | 0.4 g |
| Total Sugars | 34.1 g |
| Sodium | 62.3 mg |
| Protein | 2.3 g |