For Home Martinis, One Shaker Set Stands Above The Rest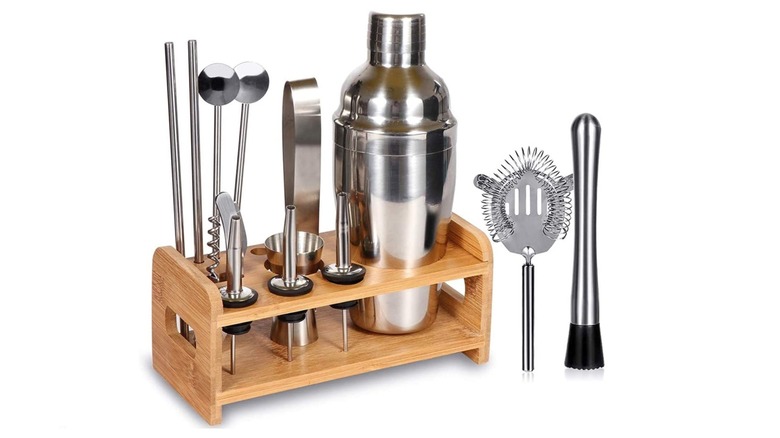 Amazon
All prices are current as of time of publication. If you click a link and buy a product from a merchant, we may be paid an affiliate commission.
If you're on the "stirred" side of the classic "shaken or stirred" martini debate, then you're probably better off moving along for two reasons: one, because Sean Connery settled the issue during his star-making turn as 007, and second because you'd be doing a spot of disrespect to the star of this bartender's cocktail set here, namely the shaker. Granted, the set does come with multiple stirring tools. And a corkscrew. And ice tongs.
And a muddler and OK let's just do this: it has all the aforementioned tools and also two metal straws, a strainer, three pouring spouts, a jigger with two measuring sizes, a muddler, and a handsome wooden stand to hold everything. All you need is a few bottles of spirits, some ice, a couple of glasses, and a fine reason to celebrate. Or one to commiserate.
Now, let's be clear: this is standard stuff, the same you'll find in lots of comprehensively curated cocktail kits. But for a kit with hardware of this solid quality that is priced this low, it's well above the standard. Dare one say it may even be a standard setter? Indeed.
And indeed hundreds of people have sounded off about this kit on Amazon. At the time of this writing, the set has more than 860 reviews and a glowing 4.60-star overall rating. 
A few of the drinks you'll mix (expertly)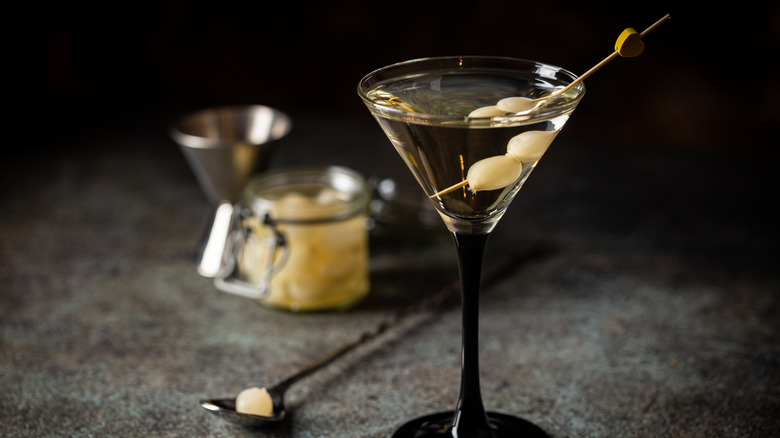 Shutterstock
So, what does one do with all that fancy bar hardware that comes in this set? Well, in short, you make professional bartended worthy drinks at home, sir or madam. As in a perfectly muddled Mojito, a sweet and spicy Moscow Mule, or a Bloody Mary that will have you back on your feet and ready for another day of vacation after a hard night of recreation (via Taste of Home). The shaker and strainer can be used for perfect martinis (pro tip: for a classic James Bond-worthy martini, add that bit of vermouth atop the ice in the shaker, then add the gin — less is more when it comes to vermouth providing you have a good quality gin in there, something like, say, Sipsmith).
From a corkscrew with a foil cutter that you'll use for opening wine bottles to those pouring spouts that will help you measure out liquids with care to the stylish stand that makes this kit as much a piece of decor as it does a functional set of tools, it's simply something you'll be glad to have around.
Even better than all that, though? You give the set as a gift to a friend, coworker, or as a housewarming present. The recipient of this set will very much appreciate the gift, and unless they're the kind of person who snoops into such things, they'll never think you spent less than $30 on the kit.
Purchase the Supersun 15-Piece Bartender Cocktail Shaker Set on Amazon for $26.99.