This Is The Only Place You'll Be Able To Try Hardee's Smoked Brisket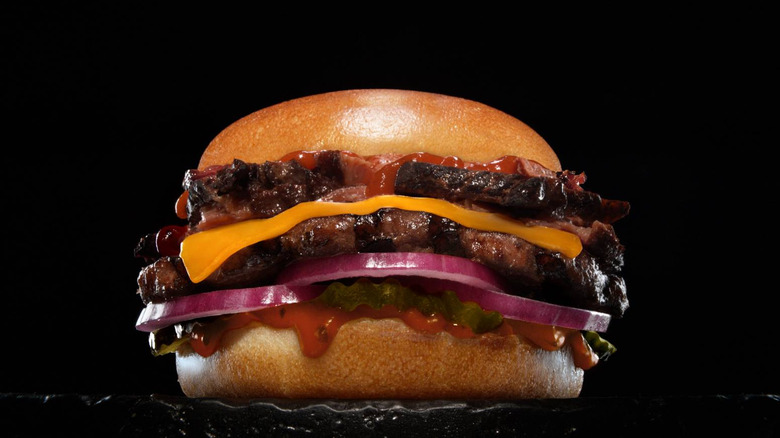 Hardee's
If you are craving something that is hearty, savory, and flavorful, what could satisfy that craving better than thick slices of smoked brisket? This tender cut of beef is a hit with many meat connoisseurs, but restaurants also know that you don't always have the time or energy to spend preparing and smoking your own brisket, which is why several savvy fast food chains have recently stepped in to deliver these tasty slices of smoked beef directly to their customers, no work required. 
The hearty meat is having its moment in the sun, with popular fast food chains like Chipotle adding smoked brisket to their menu. However, despite its immense popularity with customers, Chipotle has recently announced they will be ending their limited-time smoked brisket offering sooner than anticipated (via CNN). But fans of the smoked meat need not fear. Luckily, there is another chain ready to fill that smoked brisket hole in your stomach. Hardee's has recently announced they will be bringing their Smoked Brisket lineup, featuring a variety of flavorful smoked brisket items, back to their menu.
Hardee's new Smoked Brisket lineup will only be available in Nashville, Tennessee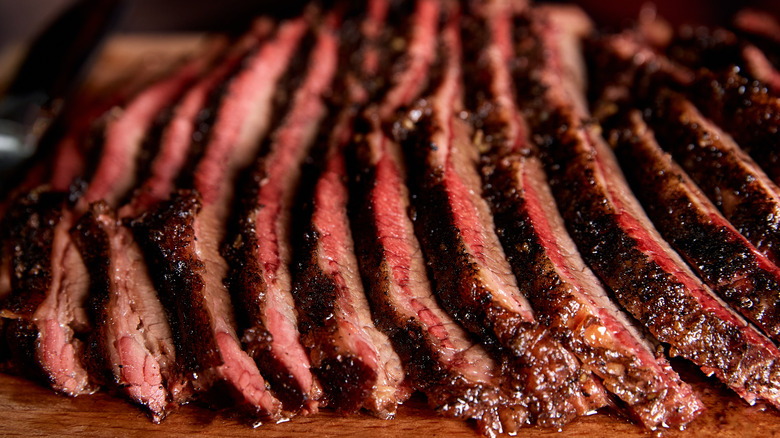 J_K/Shutterstock
Unfortunately, there is one catch. While Hardee's will be adding plenty of savory new options, including their Smoked Brisket and Cheddar Angus Thickburger, the Smoked Brisket Breakfast Burrito, and the Smoked Brisket Biscuit, these items will currently only be available at participating locations in Nashville, Tennessee. Hardee's fans in the Nashville area will be able to sample the hefty Smoked Brisket and Cheddar Angus Thickburger, which features 1/3 pounds of charbroiled, 100% Angus beef, topped with smoked cheddar cheese, pickles, red onion, and tender sliced smoked brisket, all smothered BBQ sauce and served between a toasted potato bun for just $5.99, according to a press release sent to Mashed.
Customers who are in the mood for a hearty, filling breakfast won't want to miss out on Hardee's Smoked Brisket Breakfast Burrito, a warm flour tortilla filled with sliced smoked brisket, smoked and shredded cheddar cheese, and crispy Hash Rounds folded eggs, which goes for $4.49, or the delicious Smoked Brisket Biscuit, which boasts sliced smoked brisket, smoked cheddar cheese, and a fresh cracked fried egg atop a Hardee's signature fresh, flaky, made-from-scratch biscuit for $3.99.
While the fast food chain may only be testing these items in a few select locations right now, smoked brisket fans can hope that one day soon these flavorful new items will prove popular enough to be added to Hardee's menus nationwide.