Chipotle's Smoked Brisket Is Leaving The Menu Sooner Than You Might Think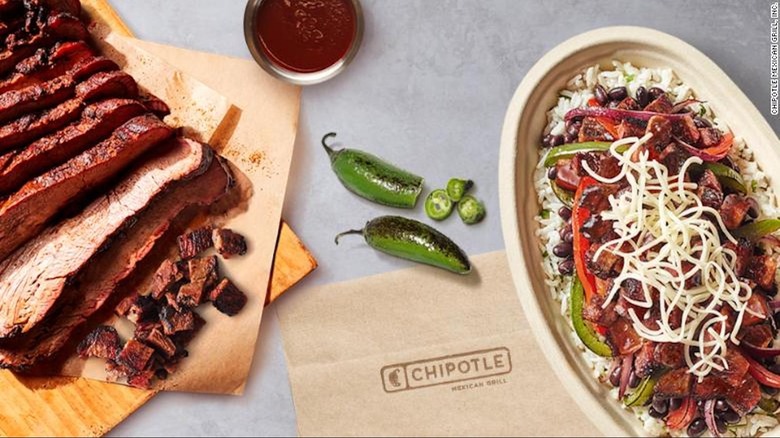 Chipotle
If you thought you had all year to enjoy the fiery tang of Chipotle's smoked brisket, think again. If you thought your children's children's children would be able to drive their flying cars to the nearest floating Chipotle, slam down a couple of bitcoin, and order up a burrito filled with tender, smoky beef, well, you were dead wrong, partner. That's because Chipotle's smoked brisket was only ever a limited-time offer, and time is running out even faster than you thought.
According to Eat This, Not That!, the smoked brisket sauntered onto Chipotle's menu in mid-September. The protein, with its charred crunch and barbecue flavor, kicked up quite a fuss in Chipotle saloons everywhere. Customers were tweeting things like, "That Chipotle brisket bowl is the business. They really need to keep this permanently." Unfortunately, this cowboy is a lone ranger, blowing into town and turning heads with a flash of smoke and a jangle of spurs... only to ride off into the sunset before the financial quarter had even ended. CNN says that while Chipotle's previous promotional successes (like last year's carne asada) usually stay on the menu for a full quarter, brisket is one wild horse that can't be tamed, and will take off at a full gallup come November.
Chipotle knows when to hold 'em, knows when to fold 'em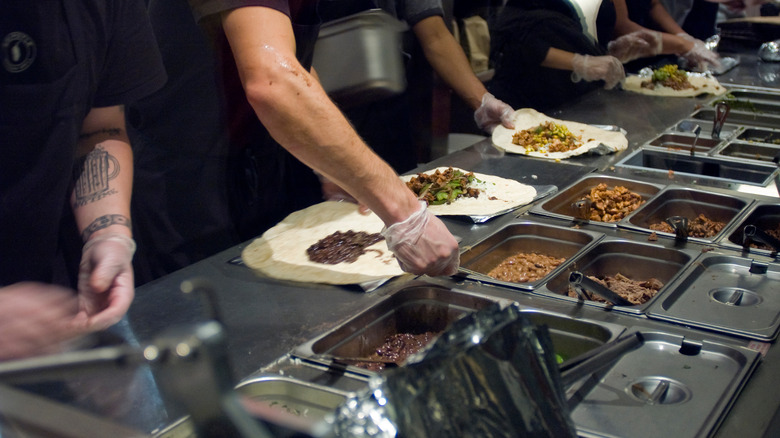 rblfmr/Shutterstock
When historians look back on the year 2020, they may notice an anomaly in which two American cities — Sacramento, California, and Cincinnati, Ohio — saw a short spike in happiness levels while the rest of the world remained down in the dumps. That's because those two cities were lucky enough to sample Chipotle's smoked brisket this time last year, in a pilot program that Chipotle calls its "stage-gate process" (via Chipotle). The test study was so successful that Chipotle launched smoked brisket nation-wide last month, which in turn was so successful that they are now pulling brisket from the shelves, according to CNN.
While CNN reports that Chipotle remains cautious about its fourth quarter earnings, it is happy to announce that the smoked brisket bet has paid dividends, which is why they're quitting while they're ahead. As any Texas Hold 'Em aficionado will tell you, once you splash the pot with a little smoked brisket, you better be ready to show your cards, collect your winnings, and know when to walk away. Chipotle's CEO Brian Niccol told CNN that they are in the "early stages of developing other exciting menu items," but that townsfolk shouldn't panic, because the restaurant will "probably do brisket again at some point in the future." And when that black hat rolls back into town, you bet your bottom dollar we'll be ready for it.