Here's What Happened To Atlas Monroe Vegan Fried Chicken After Shark Tank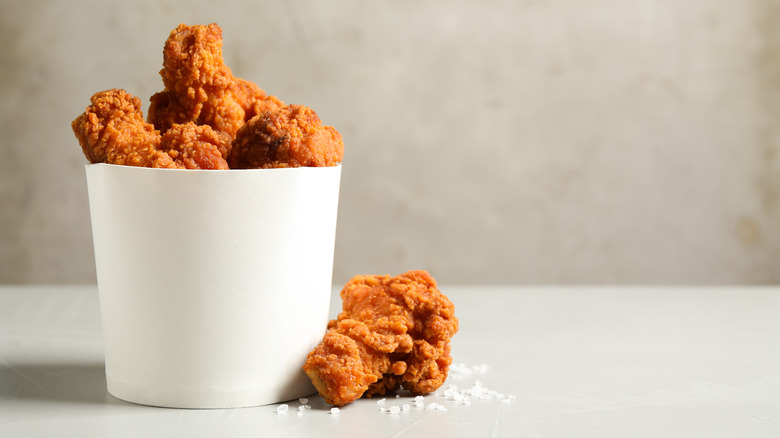 New Africa/Shutterstock
The demand for plant-based meat has been skyrocketing as more people have adopted a vegan or vegetarian lifestyle over the years. As of 2019, there are nearly 10 million vegans in the United States, compared with only 290,000 in 2004, an Ipsos study found. And in recent years, food companies from Beyond Meat to Impossible Foods have released a slew of vegetarian proteins for plant-based customers and open-minded omnivores.
Another one of these companies is Atlas Monroe, a vegan food company based in San Francisco. The founder and CEO, Deborah Torres, appeared on Season 11, Episode 2 of "Shark Tank," alongside her brother, Jonathan Torres, according to Shark Tank Tales. At the time, their goal was to buy a facility to fulfill orders for their growing business. But after the judges sampled some of the company's famous fried "chicken," the pair ended up declining the Sharks' $1 million offer (via CNBC). Despite that decision, their food venture is doing swimmingly well since its television appearance.
What is Atlas Monroe and where is it now?
Deborah Torres founded Atlas Monroe after her father was diagnosed with Type 2 diabetes, according to Shark Tank Tales. She helped him make the switch to a raw vegan diet for 30 days, which inspired her to create a company that makes creative and exciting plant-based dishes. When she appeared on "Shark Tank," she felt that the Sharks' $1 million offer was not high enough, as Torres estimated that her business would eventually rake in $24 million, reports CNBC.
Season 11, Episode 2 of "Shark Tank" aired in October of 2019, and as of late 2021, Atlas Monroe is now on track "to become the largest manufacturer of vegan fried chicken in the world," says the Shark Tank Tales update. The company is constantly selling out of its goods, even though its owners now have the multi-million dollar facility they had always wanted — as well as plans to open a second. Atlas Monroe has also won multiple awards and accolades at fried chicken festivals, according to press mentions shown on its website.