Aldi Shoppers Are Obsessed With These Chocolate Lava Cakes
Food historians have a hard time pinpointing the exact origin of the chocolate lava cake. Chocolatier Jacques Torres states that he invented the dish, but Jean-Georges Vongerichten also claims to have invented it when he prematurely pulled a chocolate sponge cake out of the oven, per Chocolate Noise. Others even say the recipe dates back to a second-place 1966 Pillsbury bake-off contest entry called the Tunnel of Fudge Cake. No matter where this confection came from, one thing is easy to agree on: it tastes delicious.
Enjoying this dessert at home requires some effort. Not everyone has the time to bake a chocolate lava cake with a perfectly soft center when the craving strikes. Luckily, Instagrammer @theamazingaldi has discovered that Aldi now carries two-packs of them. They posted a picture of their find alongside the caption, "Hello! Lava cakes in chocolate and caramel," and followers couldn't wait to share their reactions. Excited replies like, "My daughter was with me when I bought these and asks EVERY DINNER TIME if tonight's the night we're going to eat them!" and "These are absolutely amazing!!!! I hope you got them both," quickly flooded the post. Clearly, these Aldi lava cakes are doing something right.
A chocolate cake-lover's dream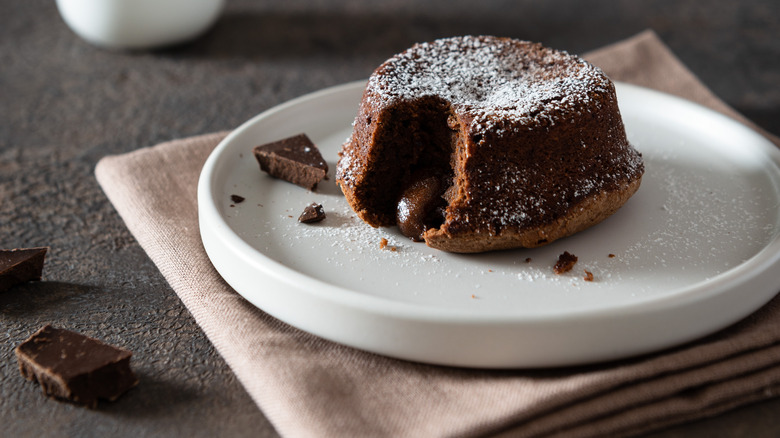 Dina Photo Stories/Shutterstock
Another Aldi fan account on Instagram, @aldi.is.my.jam, also discovered the new lava cakes. They posted an image of the Aldi find alongside a caption reading, "These little cakes are a seasonal treat at Aldi and I found them in the refrigerated section near the cinnamon rolls. I love Lava Cake! This didn't get as gooey as the photo depicted, but it was still really good. These are very rich so a small portion is all you need. This would be excellent with vanilla bean ice cream. They also had a caramel version that looked divine as well. If you want a little something decadent after dinner I would grab these and enjoy with a nice glass of wine."
Fans concurred with this sentiment and chimed in with, "These were so good!" and "I need to try the caramel ones now." According to sweet-toothed Instagrammers, these cakes have some serious potential and deserve a taste if you happen to see them during your next Aldi run. While no one knows who created the first chocolate lava cake, this version might just end up as one of the easiest to take home and eat.