Best Pumpkin Chocolate Chip Muffins Recipe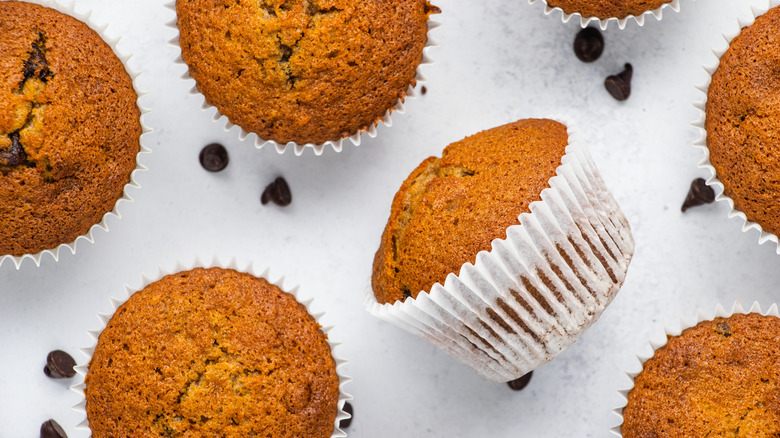 Catherine Brookes/Mashed
Plain and simple — pretty much everything is better with the addition of pumpkin. We'll just call it the flavor of the fall, but you can enjoy pumpkin-flavored delights all year round. From pasta to lattes and everything else in-between, there's just something about this wonderful, earthy flavor that puts a smile on our faces. Just when you thought that we couldn't thing of anything else to add pumpkin to, enter the pumpkin chocolate chip muffin. That's right — chocolate chip muffins just got a pumpkin upgrade, and we're not complaining!
Recipe developer Catherine Brookes of Blue Sky Eating has a knack for coming up with incredible sweet treats that will satisfy your sweet tooth, no matter your age. We think she knocked it out of the park with these pumpkin chocolate chip muffins, and if you want to impress your kiddos or guests, they are a must-try. "Those fall flavors are perfect baked into a soft, fluffy muffin," Brookes raves. "Pumpkin and chocolate is such a great combination."
Gather the ingredients to make pumpkin chocolate chip muffins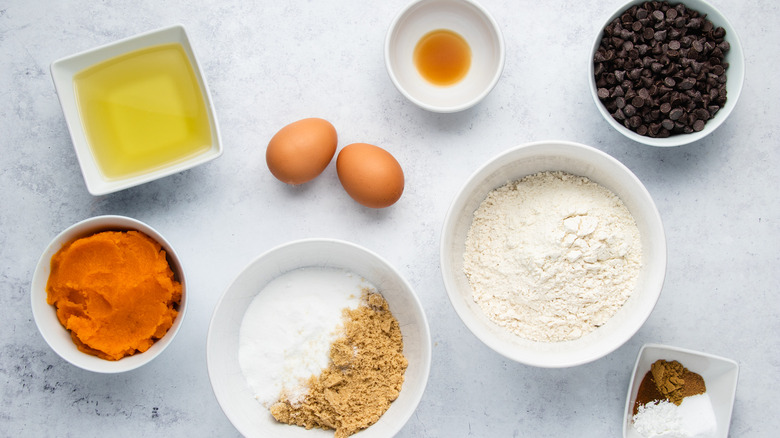 Catherine Brookes/Mashed
The first step in any recipe is to gather all of the ingredients necessary to whip up the main event. In this case, you will need some pumpkin puree, white sugar, and brown sugar. Like most other baking-related recipes, this recipe also calls for eggs, vegetable oil, and the ever-popular vanilla extract.
While you're in the baking aisle, you can also grab some flour. Always be sure to check at home for items that you may have already. In terms of spices, you will just need cinnamon, nutmeg, and ginger. Last but not least, pick up a cup of dark chocolate chips. You can also sub white chocolate or milk chocolate chips, depending on your preference. And just like that, you're ready to get started on this recipe!
Preheat your oven and start mixing ingredients
Catherine Brookes/Mashed
Before you start mixing ingredients, preheat your oven to 350 F and line your muffin tin with paper liners. Now, take out a large mixing bowl and add some of your ingredients. Start with the pumpkin puree, followed by the brown and white sugar. You can also throw in your eggs and vegetable oil. To add a little bit of sweet flavor to the batter, drizzle in the vanilla extract. Whisk everything well to combine. Then, use a smaller mixing bowl to add your dry ingredients. Start with flour and then add cinnamon, nutmeg, and ginger. 
Combine the wet and dry ingredients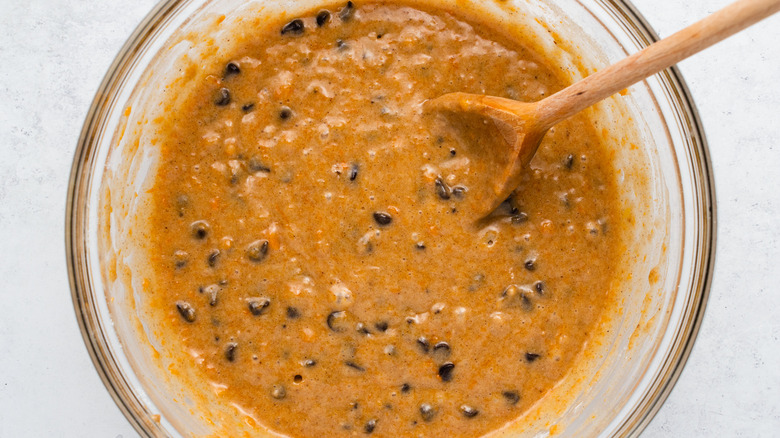 Catherine Brookes/Mashed
Once you have both of your bowls set, it's time to combine the two. "Whisking the dry ingredients separately ensures that the spices, baking powder and soda are evenly incorporated throughout the flour, and therefore the whole mixture once we sieve it in to the wet ingredients," Brookes says. "We want to fold the wet and dry ingredients together as gently as possible." Then, sieve (or sift) the flour mixture into the bowl with the wet ingredients. Gently fold the two mixes together until they are well combined. The last thing you need to add are the chocolate chips. Give the mixture a few more big stirs so everything combines well.
Fill the muffin tins with the batter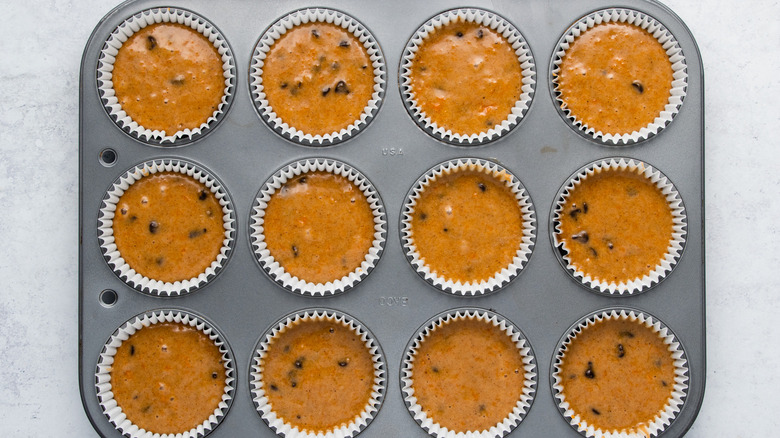 Catherine Brookes/Mashed
Now, have officially finished your batter. Only a few more steps and you are well on your way to enjoying these tasty and delicious pumpkin chocolate chip muffins. Using a spoon, ice cream scoop, or anything else that you have at your disposal, scoop the batter from the bowl to the muffin cases. You need to fill each about ⅔ of the way up. Obviously, the muffins will rise as they bake, which is why you need to leave a little bit of extra room for them to expand as they bake. 
Bake and enjoy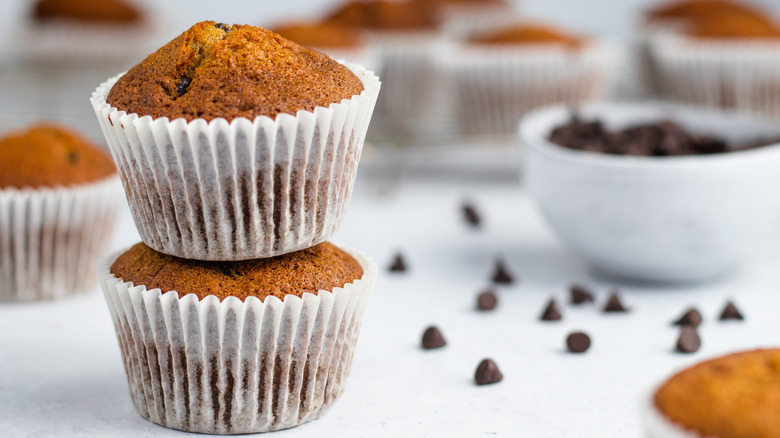 Catherine Brookes/Mashed
Before you pop the muffins into the oven, double check to be sure that it has fully preheated. Then, set your timer for 18 minutes. Baking times varies a bit depending on your oven, so the muffins may have to bake for up to 22 minutes. You can check for doneness by poking the center of the muffin with a toothpick to see if it comes out clean. If it does, the muffins are done, but if not, they need to bake a little longer. Once they are indeed done, you're ready to enjoy these delicious pumpkin chocolate chip muffins!
These would be great for a quick breakfast but they would also be wonderful for an after-dinner treat to satisfy that sweet tooth. If you have some left, no worries. Store in an airtight container for "up to 3 days at room temp," Brookes recommends. Now, dig in! 
Best Pumpkin Chocolate Chip Muffins Recipe
If you aren't in the fall spirit, these pumpkin chocolate chip muffins are guaranteed to get you there!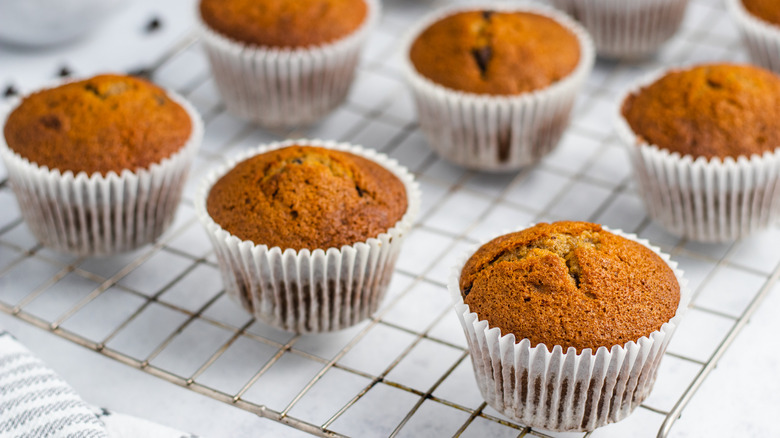 Ingredients
¾ cup pumpkin puree
½ cup brown sugar
½ cup white sugar
2 large eggs
⅔ cup vegetable oil
½ teaspoon vanilla extract
1 ½ cups flour
1 teaspoon cinnamon
½ teaspoon nutmeg
½ teaspoon ginger
1 cup dark chocolate chips
Directions
Preheat the oven to 350 F and prep a muffin pan with 12 muffin liners.
Add the pumpkin puree, brown sugar, white sugar, eggs, vegetable oil and vanilla extract to a large mixing bowl. Whisk to combine.
In a separate mixing bowl, whisk together the flour, cinnamon, nutmeg, and ginger.
Sieve the flour mixture into the bowl with the wet ingredients and gently fold them together until just combined.
Fold the chocolate chips into the batter.
Transfer the mixture to your muffin liners. Each should be about ⅔ of the way full.
Bake for 18 to 22 minutes, or until a toothpick in the center of a muffin comes out clean.
Nutrition
| | |
| --- | --- |
| Calories per Serving | 331 |
| Total Fat | 19.9 g |
| Saturated Fat | 4.9 g |
| Trans Fat | 0.1 g |
| Cholesterol | 31.5 mg |
| | |
| --- | --- |
| Total Carbohydrates | 34.7 g |
| Dietary Fiber | 2.7 g |
| Total Sugars | 18.4 g |
| Sodium | 17.8 mg |
| Protein | 4.0 g |