This Is Probably Why Your Pie Crust Is Too Stiff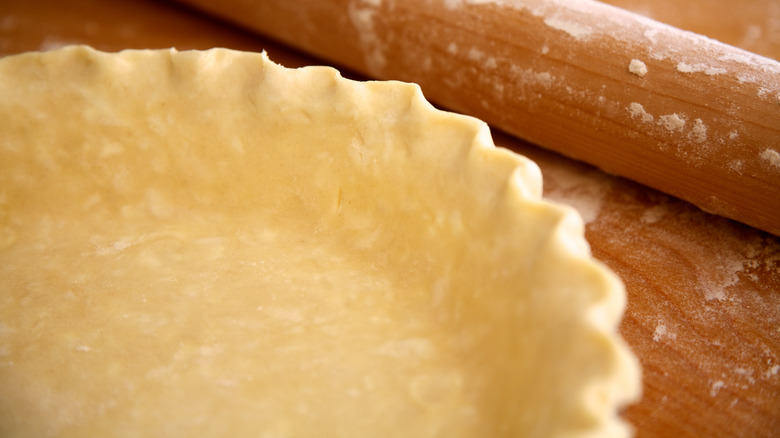 Julie Vader/Shutterstock
As much as your crew is going to primed to love everything you put out on the Thanksgiving table, we assume you'll still want everything to be just right. That's where our Thanksgiving tips and tricks come in. And where better to begin than with dessert, and, more specifically, homemade pie — one that begins with a homemade pie crust. Pie crust is deceptively easy. Sure, there's that fear of the "soggy bottom" that's been perpetuated thanks to the "Great British Baking Show." But the truth is, that's easily solved with blind baking. Your true challenge as pie maker is attaining a tender and flaky crust. It's not as hard as it sounds, either, regardless of how many stiff pie crusts you've had to endure over time. 
You know the old saying, "work better, not harder"? The adage also applies to pie crust. If your pie crust is too stiff, it can only be because you're working it too hard. Unlike bread and pizza dough, which require kneading in order to develop the gluten, pie dough should never be kneaded (via Tulsa World). Pie crust dough should be handled as little as possible. And when we say that, we mean at every juncture, from the cutting in the butter or shortening, to forming your dough into a cohesive mound, to rolling out your dough disk(s), to the final crimping of the dough before you pop your pie into the oven to bake.
There are simple tips to avoid stiff pie crust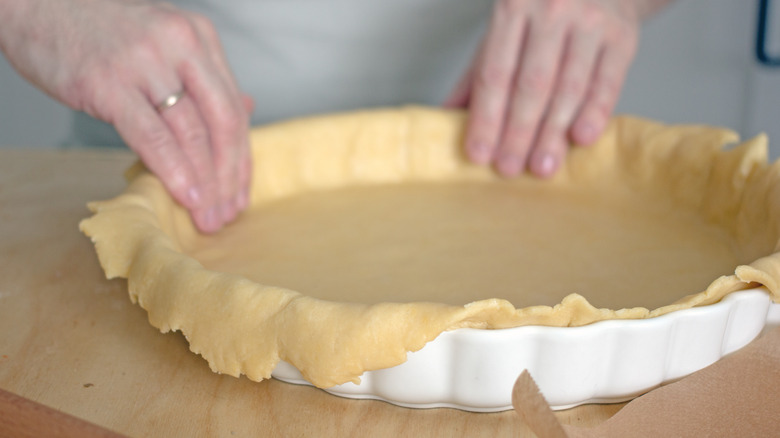 FotoFreshka/Shutterstock
For the perfect pie crust, sift your flour before measuring. Even better, measure by weight, not volume. The goal is to use the minimal amount of flour needed to hold the crust together — and you might be surprised to know how much extraneous flour can get into your dough just by packing it into a measuring cup. Whisk in any salt or sugar that your recipe calls for.  
Next, measure your butter right out of the refrigerator, dice it into tiny pieces, and then stir them into the flour mixture just to coat. Using a pastry cutter, a couple of knives, or just a fork, break the butter up further into the flour mixture — but only just until what you have in the bowl is starting to look "kind of" like dough, except much shaggier than you might think dough "should" look. Add the water called for in the recipe, but make sure the water is icy cold. 
To form this wet and shaggy mess into pie crust, use your hands to coax it together into a clump without allowing the butter to fully incorporate. Gently roll the clump, and gently transfer it into your pie pan. At this point, you should still be able to see distinct bits of butter throughout. And if you're looking to say bye-bye to stiff pie crust, those bits are going to make all the difference.