Why This Thanksgiving Might Be The Most Expensive Ever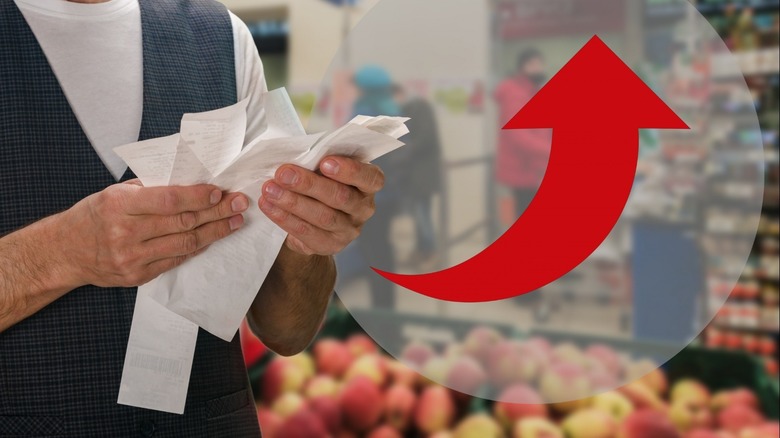 Denys Kurbatov/Shutterstock
As anyone who has ever hosted a Th​​anksgiving gathering knows, it's not cheap to provide a spread like that. First, there are the big-ticket proteins, like turkey or ham, of which you'll have to buy several pounds if you're dishing up dinner for a sizeable crowd. Then, there are all the side dishes, little bites to nibble on throughout the day, and at least a few desserts — not to mention the wines and alcoholic beverages that may top off the feast.
At the end of the shopping trip, that all makes for a serious grocery bill. In 2020, estimates from the American Farm Bureau Federation suggested a simple dinner for 10 with the traditional fixings would cost around $47, which isn't too crazy. Granted, that's not taking into account booze, premium food items, or houseware such as flowers and decorations. But this year, you may want to get out your expense-tracking sheet. In 2021, putting on a full Thanksgiving meal will definitely impact your monthly grocery budget, with many sources claiming it'll be the most expensive Thanksgiving ever.
The reason behind your inflated grocery bill — and what to do about it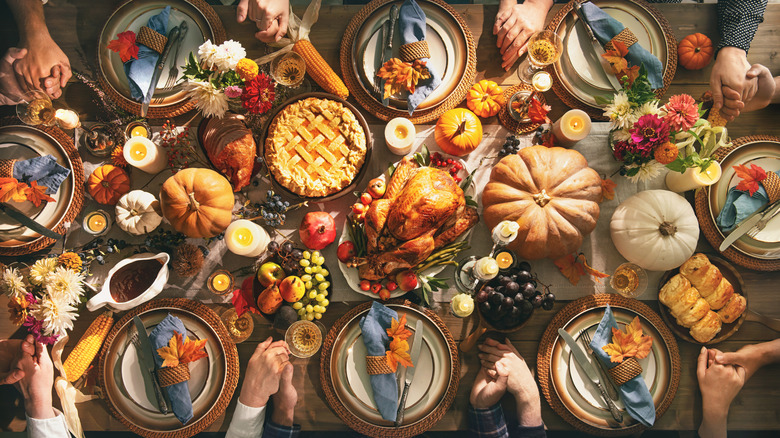 Alexander Raths/Shutterstock
As CNBC reports, your Thanksgiving meal will likely cost more this year than ever before because of a few reasons. The first is inflation: Simply put, food costs are up across the board. In the 12 months since last Thanksgiving, the prices of meat, poultry, and eggs — important components in any Thanksgiving feast — have gone up 10.5%. According to Today, a "perfect storm of factors" contributed to the bump, from labor shortages at meat plants to the increased cost of animal feed. Even things like fruits and vegetables received a 3% bump across the board, while that salad dressing you're drizzling on your simple side of greens is costing 7.2% more than it did last year.
Supply chain issues are another contributor. Various factors have limited the supply of staples like turkeys and yams, according to Deseret News. That means there will be a lower supply to accommodate the same amount of demand, hence the increased prices on the items that are available. For example, as Food & Wine reports, the total number of turkeys available for purchase is 6% lower than last year. So, if you're a budget-conscious Thanksgiving host who doesn't want your holiday feast to break the bank, you'll want to start shopping a bit earlier than you may have in previous years, keep an eye out for sales or coupons, and maybe make some savvy swaps to lower that grocery total.